Written By: Gloria Tsang, RD
Last Updated on:
Coca-Cola/Nestle jointly boasts that three cans of Enviga can help you burn 60 to 100 calories. A new green tea beverage containing calcium, caffeine and epigallo-catechin gallate (EGCG), Enviga is marketed as "the Calorie Burner."
The Hype about Enviga's EGCG
EGCG is the main polyphenol, a powerful antioxidant, found in green tea. Coca-Cola claims that the combination of EGCG and caffeine can boost metabolism. Compared to its rivals, Lipton and Snapple Green Tea, Enviga contains the highest levels of EGCG among all ready-to-drink green tea beverages.
Editor's Note: Can Enviga burn Calories? Very unlikely.
If you believe the five studies quoted by Coca-Cola/Nestle, the answer is yes, Enviga can burn calories. However, we don't think so. These studies are exceptionally small, involving not more than 15 men. Based on these studies, it is simply premature to conclude that drinking Enviga can burn calories.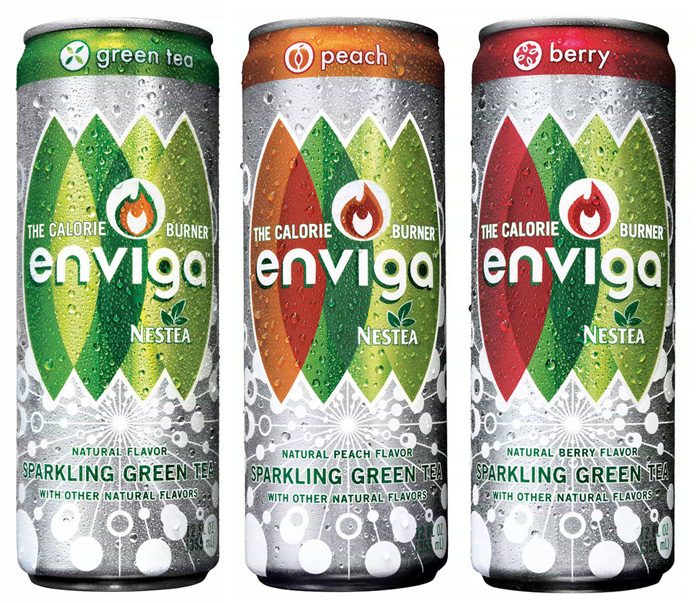 Indeed, no claims regarding the health benefits of green tea were approved by the FDA. In May 2006, The FDA rejected green tea's heart health claim after reviewing 105 studies and concluded that there is "no credible scientific evidence" to support qualified heart health claims. In addition, the FDA turned down green tea's cancer health claim in June 2005. If Coca-Cola submits its Enviga's studies, it is very unlikely that the FDA will approve its calorie-burning claim. In addition, the Center for Science in the Public Interest filed a lawsuit on February 1 against Coca-Cola/Nestlé for making fraudulent claims in marketing and labeling for Enviga.
Bottom Line
Tea is the most commonly consumed beverage in the world after water. All tea (including black, green and oolong tea) contains polyphenol catechins. Green tea, in particular, has been touted heavily for its potential role in preventing cancer and heart disease.
Instead of drinking three cans of green tea beverage as suggested by Coca-Cola/Nestle, why not try brewing a genuine cup of green tea? This will not only save your wallet but also spare you from drinking artificial sweeteners and 300 milligrams of caffeine (equal to three cups of coffee). To reap the health benefits of green tea, brew it for at least three to five minutes to bring out the beneficial polyphenols.
Gloria Tsang is the author of 5 books and the founder of HealthCastle.com, the largest online nutrition network run by registered dietitians. Her work has appeared in major national publications, and she is a regularly featured nutrition expert for media outlets across the country. The Huffington Post named her one of its Top 20 Nutrition Experts on Twitter. Gloria's articles have appeared on various media such as Reuters, NBC & ABC affiliates, The Chicago Sun-Times, Reader's Digest Canada, iVillage and USA Today.