Five Office Lunch Ideas to Keep You Healthy

When it's time to break for lunch, what food calls your name? If you've come to work unprepared, it's all too easy for the ease of the drive-through or a quick deli stop to beat out healthy selections. Your best defense against a waistline-expanding lunch is a simple-to-prepare and tempting spread of foods that will have you anticipating lunch – and leaving your colleagues jealous of your brown bag.
Something for Everyone: Five Tasty Office Lunch Ideas
Brown Bag Traditional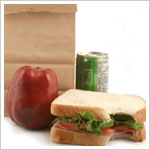 If sandwiches are your bag, seize the inspiration and run with it – just remember to keep variety in the mix. Occasional lean cold cuts are fine, but steer clear of using them every day. June 2010 Harvard School of Public Health research found a 42 percent higher risk of developing coronary heart disease with the daily consumption of nearly two ounces of processed meat (prepared by smoking, curing, salting or adding other chemical preservatives) such as deli meat. For healthy variety, try a wrap with hummus, leftover meat from the night before, and plenty of crunchy raw veggies; good old peanut butter – but hold the jelly and use strawberry or banana slices instead; or a tasty tuna salad using Greek yogurt instead of mayo, a squirt of Dijon, and diced grapes. For your side, lose the chips and toss in some fruit and a cup of yogurt and lunch is packed!
Leftover Extravaganza
What office lunch idea requires no creativity and tons of economic ease?  Leftovers from last night's dinner! Make it easy on yourself and do the portioning of your lunch while you clean up dinner – adding extras to round out the meal. Spare chicken breast? Slice it up and add it to a big bowl of greens. A too-tiny-to-satisfy scoop of shepherd's pie? Add a side salad, fruit, or cup of soup and it will take your lunch up to filling speed.
Partial Victory
Depending on your situation, it might be easier to bring some of your lunch and buy the rest. If the cafeteria usually has plain baked potatoes on hand, for instance, but they use heart-stopping toppings, make a plan to bring your own steamed broccoli and chili to use to top your potato off. Or, does the salad bar have an inviting array of veggies, but you're tired of the same suspicious chicken they serve day in and day out? Bring your own protein (another way to work in leftovers) to top the salad bar selections.
Going Halvsies
There's a certain temptation that lies in having two good things – a half sandwich and a cup of tasty, warm soup. That's exactly how some fast casual restaurants have achieved popularity – so take a cue for your own office lunch ideas and create your own healthy (and economical) version. Go gourmet on your own with a sandwich using tasty and wholesome breads like those from Pepperidge Farm's Whole Grain line, or other ethnic bread like naan or brioche. Fill your sandwich the way you like, then channel restaurant-worthy fancy flavors using creative spreads like raspberry mustard, a touch of pesto mayo, or even an olive tapenade. For the soup, use your weekend to try a new recipe that takes a healthy spin on fattening faves, like broccoli cheddar or potato leek. Portion the soup into cups for the freezer, so all you have to do when packing lunch is grab and go!
Hors d'Oeuvres Hoppers
If a "square meal" isn't in the cards for you, make the best of your busy schedule. You can alleviate temptations that come from being overly hungry by preparing yourself with appetizer-type portions of healthy foods to nibble throughout the afternoon. Start with a cup of Greek yogurt,  followed by a cup of fresh berries. Later in the afternoon, enjoy carrots and hummus and handful of whole grain crackers. Even if you can't stop for lunch (though we do recommend it!), preparing small, healthy portions to snack on can keep you satisfied as you work the day away.
The Bottom Line
No matter what your lunch style, time allowance, or preference, there's no excuse for skipping a meal or resorting to artery-clogging fast food or fast casual restaurant diet bombs. Use our office lunch ideas to prepare a few healthy and filling essentials sure to keep you whistling while you work!

Alumni: University of Tennessee, Knoxville – Beth Sumrell Ehrensberger is a Registered Dietitian and holds a Master Degree in Public Health. An experienced nutrition counselor, writer and public speaker, Beth specializes in translating complex nutrition information into practical concepts. Beth was awarded a Nutrition Communications Fellowship to the National Cancer Institute, and has worked on the internationally recognized Nutrition Action Healthletter of the Center for Science in the Public Interest.