A Healthy Trip through the Paris Markets

Ah, Paris. The City of Lights – and croissants. And macarons. And cheese. Paris is well known as a foodie destination, but with so many wonderful foods to try, it can be tempting to overindulge. One great way to sample a number of French treats without going overboard (or blowing your budget) is to eat your way through the city's many markets. Some markets have food stalls where you can enjoy your meal at a table. At others, you can gather supplies for a picnic-style lunch. If you've rented an apartment  in Paris, you can shop the markets for a meal you'll cook there. No matter what you choose to eat, you'll be experiencing a little slice of local Paris life while eating some fantastic French food that's easy on your wallet.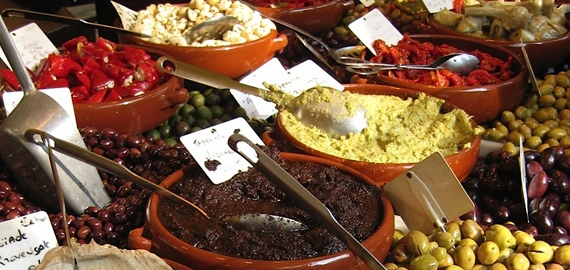 Top Parisian Market Picks for Healthy Eating
Marché Batignolles
Batignolles was the first organic market in Paris. There are now two others (Raspail and Brancusi), but Batiognolles remains the favorite for many. Here, you will find organic cheese, meat, bread, nuts, seafood, and even prepared foods like pies in addition to a wide variety of fruits and vegetables that changes with the seasons. If organic eating is important to you, this market is an excellent starting point. Note that prices can be quite high, so it's worth the time to check the prices at a few different stalls before making your purchase.
Boulevard des Batignolles between rue de Turing and rue de Moscou
Saturday 8 a.m. to 2 p.m.
Marché des Enfants Rouge
This is the oldest covered market in Paris, established in 1628. You'll find loads of fresh produce here, but this is perhaps the best market at which to sit down and enjoy a meal. There are many food stalls offering food from all over the world, from Moroccan to Greek to Spanish to Japanese (you get the idea), as well as many traditional French options, all made from fresh ingredients and prepared onsite. Have a seat at one of the tables and enjoy what will likely be your most budget-friendly sit-down lunch in Paris!
39 rue de Bretagne
Tuesday to Saturday 8:30 a.m. to 1 p.m. and 4 p.m. to 7:30 p.m.
Sunday 8:30 a.m. to 2 p.m.
Marché Richard Lenoir
This is the largest outdoor market in Paris. It stretches for blocks and blocks – and you can do much of your souvenir and gift shopping while also seeking out a healthy lunch. You will find some of Paris's best seafood here, so if you have a kitchen, be sure to stop in. This market also makes a great place to shop for a picnic lunch to enjoy along the Canal Saint-Martin. You'll find exceptional breads and cheeses, olives, and fruit and vegetables for a make-your-own kind of picnic. Or, if you prefer a hot lunch, you can pick up roast chicken, curry, or falafel, among many other choices. If you hadn't planned to picnic but you're convinced by the vast array of wonderful choices available, no problem: You can pick up everything from knives and forks to a bottle opener to a picnic blanket before leaving the market.
Boulevard Richard Lenoir from rue Amelot to rue Saint-Sabin
Thursday 8 a.m. to 1:30 p.m.
Sunday 8 a.m. to 2 p.m.
Tips
The outdoor markets in Paris may have the look and feel of farmers' markets back home, but you can't assume all the produce is local. All produce in France must be labeled to show where it comes from, so be sure to check if you're looking for local food. If you see the words "notre production" or "producteur," you'll know you're buying from the producer or farmer directly. For organic produce, look for the word "biologique" (or just "bio"). You can find some organic items at most markets.
The process of buying is a bit different from home as well. Rather than selecting the items you want and handing them to the vendor, in many cases you are not supposed to touch the food. Watch other customers to see what's appropriate, but you are often expected to tell the vendor which items you want rather than choosing them yourself.
Finally, bring your euros, as many vendors do not accept credit cards.
The Bottom Line
There are dozens and dozens of markets in Paris, spread all across the city. You may stumble across a market by accident – it's always worth stopping in for a look. You'll never feel more like a Parisian than you do while strolling through a market gathering supplies for a delicious, healthy meal.
Photos Credits: Christina Newberry.

Alumni: University of Victoria – Christina Newberry is a writer and editor whose work has appeared in national and local magazines and newspapers. With a Bachelor's degree in English and Anthropology from the University of Victoria and a Journalism Certificate from Langara College, Christina brings keen curiosity and the love of a good story to her work with HealthCastle.com.
Christina is a passionate traveler and urban gardener with an interest in vegetarian eating and making good, tasty food from scratch. Sharing lessons learned from her own experiences, Christina writes about lifestyle topics for HealthCastle, with a focus on eating well at home and on the road.