Local produce is fresh, nutritious, and environmentally friendly. But that doesn't mean we should shun produce from afar, especially those items we can't find close by. I checked out the Canadian Produce Marketing Association conference in Vancouver – a paradise for fresh produce lovers – and discovered some exotic fruits that offer great tastes and textures not found in our local fruits.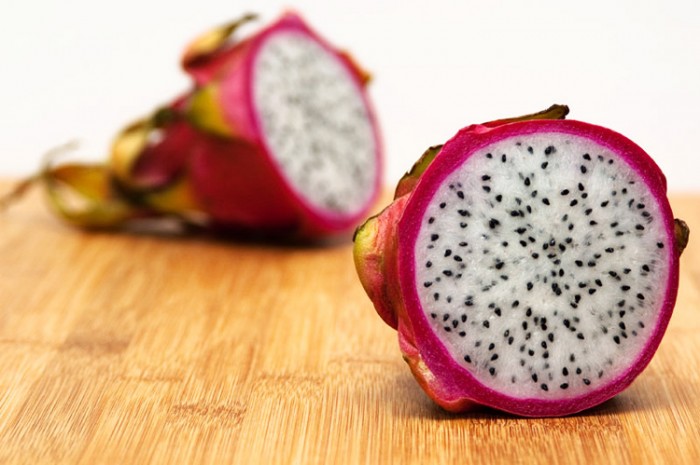 4 Exotic Fruits To Try
Gold Kiwi from New Zealand – This version of the kiwi is sweeter and less fibrous than the usual green kiwi, with fewer seeds. For those who don't like "hairy" fruit, take note that there's less hair on the skin as well. Kiwi is rich in Vitamin C, potassium, fiber, magnesium, and Vitamin E, and contains phytonutrients.
Taylor's Gold Pears from New Zealand – These unique golden pears are juicier and more fragrant than local pears, with a crunchier skin. Pears are good source of Vitamin C and fiber.
Dragon Fruit from Southeast Asia – This scary-looking fruit is the opposite of the gold kiwi – very bland in taste, but still juicy. The most interesting thing about dragon fruit is actually the texture – the crunchy seeds create an interesting sensation in your mouth. Dragon fruit contains Vitamin C, fiber, calcium, phosphorus, and antioxidants.
Mangosteen from Southeast Asia – If you're expecting mangosteen to be like mango, you're in for a surprise. It's actually a Thai fruit with a woody rind that's white inside. Xango has made mangosteen juice famous – but instead of drinking the juice, why not eat the fruit instead? Mangosteen is a good source of fiber and contains phytonutrients.
The Bottom Line
These fruits won't be available at your local farmer's market, but that's no reason not to give them a try. Incorporating a wide variety of produce into your diet is the best way to ensure you get the maximum amount of nutrition from your fruits and vegetables. Who knows – you might just discover a new favorite fruit!
Gloria Tsang is the author of 5 books and the founder of HealthCastle.com, the largest online nutrition network run by registered dietitians. Her work has appeared in major national publications, and she is a regularly featured nutrition expert for media outlets across the country. The Huffington Post named her one of its Top 20 Nutrition Experts on Twitter. Gloria's articles have appeared on various media such as Reuters, NBC & ABC affiliates, The Chicago Sun-Times, Reader's Digest Canada, iVillage and USA Today.