Health Benefits of Pomegranate Juice

Pomegranate has been one of the most talked about health foods in the past year. From the fashion runway to the produce aisle, pomegranates are all the rage. The deep ruby color of pomegranates has been used to describe everything from lipstick shades to fabric colors.
In the refrigerated aisle of the grocery store, there's an ever-growing display of juices boasting that they're made from pure pomegranate juice, or fortified with it. What's more, a mounded display of pomegranates will likely meet you at the market's front door during autumn. There's an awful lot of fuss over this little red fruit that only makes an appearance October through January.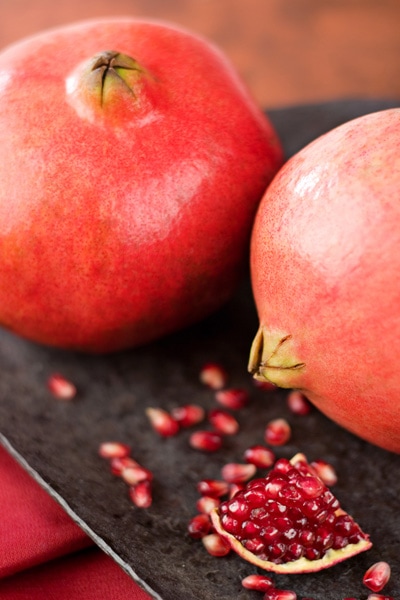 Many readers wrote to us and asked about the health benefits of pomegranate juice. Not only is it popular among the health conscious crowd, we are surprised to see that pomegranate fruits are becoming widely used as hot trendy home decor in more and more home decorating television programs! This ever popular fruit contain many types of antioxidants including polyphenols, tannins and anthocyanins. Interestingly, pomegranate juice contains higher levels of antioxidants than other fruit juices, red wine or even green tea.
Pomegranate Juice and Cholesterol
Israeli researchers, published a small clinical study in June 2004 in Clinical Nutrition, suggested that "drinking a glass of pomegranate juice a day for one year reduced blood pressure (particularly systolic pressure) and slowed down LDL cholesterol (the bad cholesterol) oxidation". It was suggested that "drinking a glass of pomegranate juice a day for one year reduced blood pressure (particularly systolic pressure) and slowed down LDL cholesterol (the bad cholesterol) oxidation". Preliminary evidence suggests that drinking concentrated pomegranate juice may reduce cholesterol.
A new study showed pomegranate juice may help fight heart disease in people with diabetes
This time, Israeli researchers studying the effect of pomegranate juice on heart disease parameters in patients with diabetes. They found that those patients who consumed 50 milliliters of pomegranate juice for three months had a reduced uptake of oxidized bad low density lipoprotein or LDL cholesterol by the body as well as reduced levels of other heart disease indicators. In addition, sugar present in pomegranate juice did not appear to worsen blood sugar levels in these patients. The researchers concluded that pomegranate juice may help halt the development of atherosclerosis (hardening of the arteries) in people with diabetes. The results of this study were published in the Atherosclerosis journal in August 2006.
Pick Pomegranates for Health
What is it about the pomegranate that's stirring up such a buzz? In recent years, numerous research studies have pointed to the antioxidant tannins, polyphenols, and anthocyanins in pomegranate juice to benefit several chronic disease conditions. Recent studies suggest that pomegranate juice can slow the progression of prostate cancer, improve blood flow in patients with heart disease, and prevent the hardening of arteries.
Though juice is the most potent, it isn't the only way to enjoy the health benefits offered by the pomegranate. Since pomegranate season coincides with the time of year when the market is filled with sugary holiday treats, there's no better time to enjoy experimenting with something sweet, but healthy, too.
Pomegranates: Patience Required
Preparing a pomegranate for eating does require patience, but the distinctive, delicious flavor will be your reward. Simply cut the leathery outer skin, and peel it back to reveal hundreds of glistening red seeds, called arils, which are embedded in a creamy white membrane. Pluck out the arils and store in a container in your refrigerator for use in almost anything that you want to dress up with color and a powerful health punch.
Toss a handful of seeds into a fruit or green salad. A combination of orange sections sprinkled with pomegranate seeds is festive, and both of these fruits are at their flavor peak during the fall and early winter season.
Missing your summer berries in your yogurt? Substitute pomegranate seeds instead.
If you're looking for a flavorful sauce to dress up roasted pork or turkey, try a reduction of pomegranate juice for drizzling, with a sprinkling of pomegranate seeds to add flavor and crunch.
Jazz up your holiday potluck dish with pomegranate seeds, and prepare to surprise and delight your fellow diners.
You will likely be giving a gift of good health to your friends, since many people have never tried a pomegranate.
The Bottom Line
An entire medium-size pomegranate yields about 1/2 – 3/4 cup of seeds, and supplies about 100 calories. The United States Department of Agriculture's MyPyramid suggests a daily two cup serving of fruit for all men and for women ages 19-30; women 31 and older need one and a half cups of fruit. As the produce selection narrows with the approaching winter season, adding pomegranate seeds to old favorites (think: sliced bananas mixed with pomegranate seeds) will perk up your choices, while helping you meet your daily goal.
For a sensible heart smart diet, emphasize fruits & vegetables, whole grains, fatty fish and choose skinless lean meats. Antioxidants are generally found in bright colored fruits and dark green vegetables as well as whole grains.

Alumni: University of British Columbia – Gloria Tsang is the author of 6 books and the founder of HealthCastle.com, the largest online nutrition network run by registered dietitians. Her work has appeared in major national publications, and she is a regularly featured nutrition expert for media outlets across the country. The Huffington Post named her one of its Top 20 Nutrition Experts on Twitter. Gloria's articles have appeared on various media such as Reuters, NBC & ABC affiliates, The Chicago Sun-Times, Reader's Digest Canada, iVillage and USA Today.
anthocyanins, antioxidant, cholesterol, diabetes, polyphenols, pomegranate, tannins
Saturated Fat in Coconut Oil is Bad for Your Heart