Last Updated on:
If your workday involves a short lunch break and you tend not to pack a lunch, you may find yourself frequenting fast food restaurants because of their quick turnaround time and convenient locations. But you probably know that fast food options are absolutely packed with fat, sodium, and calories. Even the salads at many fast food restaurants are not as healthy as they may seem (for example, the Premium Southwest Salad with Crispy Chicken from McDonald's had 450 calories, 21 g fat, and a whopping 820 mg sodium – more if you add extra dressing).
So what's a busy worker with a short lunch break supposed to do? The great new option in many areas is local food trucks. They can get your lunch ready to go almost as fast as a fast food chain, but they tend to use way less sodium and better, fresher ingredients to create something that can reasonably be classified as real food. (Their food is much more varied, too.)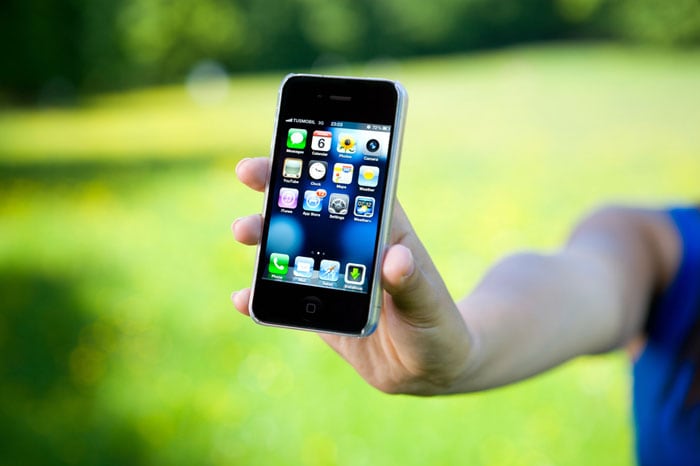 The trick, of course, is that food trucks are mobile. When you're in a rush, you need to be sure your favorite "restaurant" is where you expect it to be. Fortunately, there are several mobile food truck apps available that can help you keep tabs on your favorites, and discover new options. The bonus is that most include coverage of multiple cities, so you can use them when you travel, too.
Top 5 Free Food Truck Apps
1. Roaming Hunger: This app tracks food trucks in 25 major U.S. cities plus Vancouver, Canada, updating their locations in real time based on tweets and calendars, and the positive reviews indicate it does a pretty good job of providing real-time locations. Over 2,500 food trucks are tracked, and you can search specifically for trucks with sweet, savory, or vegetarian options. Available for iPhone only.
2. TruxMap Lite Food Truck Map: Tracking food trucks in 34 U.S. and 2 Canadian cities, TruxMap uses tweets to show where food trucks are located as well as where they are going – maps show both open food trucks and where food trucks will open shortly. Available for iPhone, iPad, and Android, plus there's a mobile web application for some cities for those on other mobile devices. Note: This app is no longer working.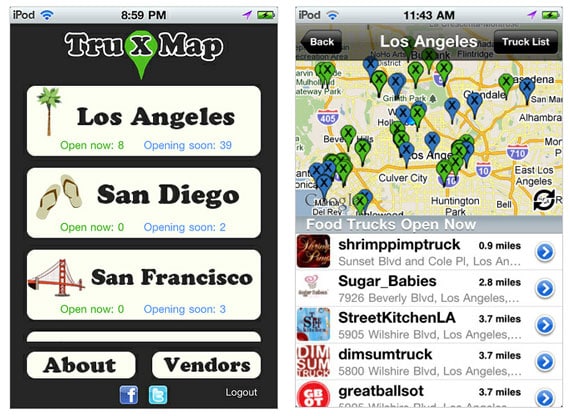 3. Eat St.: This app includes content from the Eat St. TV series, and it claims to have the largest food truck database of any app, covering "every city in North America." Based on reviews, it seems it's not quite up to par for maintaining real-time locations of food trucks, so it may be a good way to discover new trucks but not to keep tabs when you're in a rush. Available for iPhone only, or use the mobile web app.
4. Street Food: With individual apps for Boston, Calgary, Toronto, and Vancouver, Street Food drills down to the details of each city's local food truck scene, showing food trucks on a real-time map, including their opening hours (so you know how long they'll be there!). User ratings are consistently positive for all four cities. Available for iPhone and iPad.
5. Mobilecious Food Truck Locator: If you like cute graphics, this is the app for you. It tracks food trucks in San Francisco, Los Angeles, San Diego, New York, and Miami, and gets positive reviews, especially for San Francisco. Available for iPhone only.
The Bottom Line
Food trucks don't always serve healthy food, of course. But you're likely to find more options and fresher ingredients than you would find at your local fast food joint. Plus, since many cities now have serious food truck scenes, you can vary your lunch routine rather than getting stuck in a rut.

Christina Newberry is a writer and editor whose work has appeared in national and local magazines and newspapers. With a Bachelor's degree in English and Anthropology from the University of Victoria and a Journalism Certificate from Langara College, Christina brings keen curiosity and the love of a good story to her work with HealthCastle.com.
Christina is a passionate traveler and urban gardener with an interest in vegetarian eating and making good, tasty food from scratch. Sharing lessons learned from her own experiences, Christina writes about lifestyle topics for HealthCastle, with a focus on eating well at home and on the road.