It's an interesting question: What, exactly, is Canadian food? As a relatively young and multicultural country, is there really such a thing as Canadian cuisine?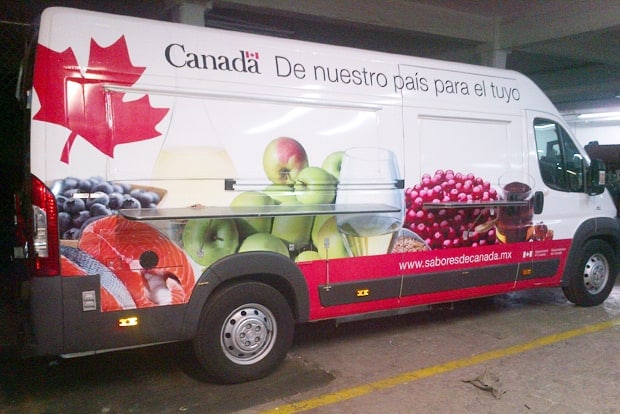 Recently, the federal government decided to promote Canadian food in Mexico by launching a Canadian food truck in Mexico City. So, what is the "Canada Brand" food truck serving up? And how do those dished align with your perception of Canadian food?
What's On the Menu at the Canada Brand Food Truck
Poutine a la Mexicana: This is a take on the classic Quebecois staple, using french fries from Canadian company McCain and local Mexican Oaxaca cheese in place of cheese curds.
Vegan Lover Salad: This is a hearty salad made with Canadian lentils.
Tourtiere: Another classic Quebecois dish, this meat pie is stuffed with Canadian beef and pork.
Albacore Tuna: This dish features a maple glaze, showing off Canada's iconic maple syrup
Apple crumble: The truck's featured dessert includes Canadian apples and oats.
How do these foods match up to your perception of Canadian foods? Celebrity chef Jorge Valencia, who's helping to promote the food truck, told CBC that these products use most of the main ingredients Mexicans think of when they think of Canadian food:
"It's really well known that Canadian pork, it's the best, and also your beef, you're the No. 1 producer of beef in the world," he said on CBC Radio's Ottawa Morning. He also listed canola oil, lentils, and maple syrup as well-known Canadian ingredients.
The Toronto Star asked one woman waiting in line at the food truck what she thought of as typical Canadian foods. Her answer? Maple syrup, apples, and back bacon (known to the rest of the world, of course, as Canadian bacon).
Tell Us: What does Canadian food mean to you? Has the government got it right in terms of what they're promoting? How do you define Canadian cuisine? Let us know in the comments.
Photo Credit: Agriculture Canada