Top Foodie Tours in New York City

New York City. It's a foodie paradise, and both top-notch restaurants and foodie tours abound. In the heart of a massive city, surrounded by concrete and steel, is it possible to connect with the land and find opportunities to explore local, natural foods? We found the answer is yes!
Odds are, you'll eat more than a few memorable meals on any visit to NYC. When it's time to recharge your body and soul by finding a connection to healthy, local foods, check out some of the foodie tours below.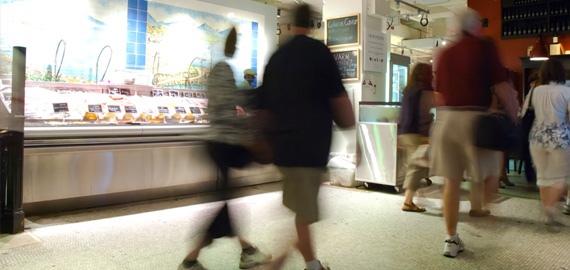 Top Local, Natural Foodie Tours in New York City
Union Square Market Tour by the Natural Gourmet Institute
This all-day tour ($150) starts with a lesson in making focaccia bread in an NGI classroom. While your bread rises, a cookbook author and chef instructor guides you through the Union Square Greenmarket, where you'll earn how to choose what's fresh, seasonal, and local. Once your ingredients are selected, you'll return to NGI, where you'll turn those purchases into a meal (including that focaccia you started earlier in the day). Finally, you'll sit down to eat (and drink – wine is served) with your fellow foodies.
Shop & Cook: Chinatown for Fish by Camaje
In this all-day tour/cooking class ($105), a professional chef brings you into the kitchen of her restaurant – while the restaurant is open – so you get to see how it all works behind the scenes. The tour starts in Chinatown, where you'll shop for fresh fish from the area's fishmongers. You'll then go back to the restaurant, where you'll gather in the restaurant dining room to learn how to filet, sauté, poach, bake, and grill fish. You'll finish your day by heading into the kitchen to prepare your meal, then sitting down to eat your creations (served with wine).
Food Truck Tours by Sidewalks of New York
We're big fans of food trucks for their healthier-than-fast-food options for a quick lunch. New York City has a thriving food truck scene, and Sidewalks of New York has two food truck tours (Downtown and Midtown, each $48) that can help you sample some of the best food trucks, learn about the history of the area and its food truck scene, and chat with the food truck owners. The tours last about two hours starting right at lunchtime, and include five tastings.
Vegetarian & Health Food Tour by Snackin' Tours
This tour of the East Village ($55), a funky area with a burgeoning vegetarian dining scene, includes stops at four vegan and vegetarian restaurants, where you can taste hummus, dips, and a healthy dessert. The tour lasts two and a half hours and has a maximum of eight people.
Queens Country Farm Museum
The Queens Country Farm Museum is actually a working farm located within the city. Its 47 acres make up the longest continually farmed parcel of land in New York State – its history dates back more than 300 years. The farm has an orchard, food fields, a greenhouse, and livestock. It's open daily 10 a.m. to 5 p.m. Admission is free and allows you to stroll through the farm. On the weekend, the farm  offers tours of the historic farmhouse (free) and hay rides ($2; seasonal). While there, you can buy many of the farm's products, including wine and honey. Farm eggs and produce are available Wednesday through Sunday 12 to 5 p.m. To get to the farm, you can rent a car, or follow the directions for getting there by public transportation.
The Bottom Line
Whether you want to learn hands-on skills, eat your way through a neighborhood, or visit a traditional farm, there are plenty of options to explore healthy local foods in New York City.

Alumni: University of Victoria – Christina Newberry is a writer and editor whose work has appeared in national and local magazines and newspapers. With a Bachelor's degree in English and Anthropology from the University of Victoria and a Journalism Certificate from Langara College, Christina brings keen curiosity and the love of a good story to her work with HealthCastle.com.
Christina is a passionate traveler and urban gardener with an interest in vegetarian eating and making good, tasty food from scratch. Sharing lessons learned from her own experiences, Christina writes about lifestyle topics for HealthCastle, with a focus on eating well at home and on the road.