Tips for Creating a Healthy Breakfast in a Hurry

Almost all fast-food chains have been promoting their breakfast items in the past few years. Occasionally, you may find some healthy breakfast options from these chains.  However, some items, like breakfast burritos, are over 700 calories with 45 grams of fat! It seems a quick breakfast that you can hold in your hand is quickly getting out of hand.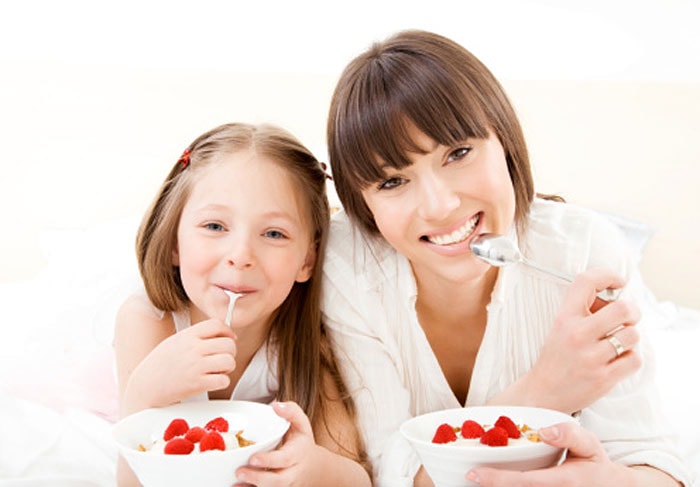 Beware of Breakfast Blowouts
We bet you wouldn't consider a six-piece chicken McNugget order and small fries for breakfast. But if you eat a typical bakery-style bagel smeared with 2 oz of cream cheese, you'll take in the same amount of calories and almost as much fat.
Surprised? How about this shocker: You might not think twice about enjoying a coffee shop muffin with a steaming café mocha, but maybe you should. You'd take in just as many calories and nearly as much fat with that mocha and muffin as you would eating an entire supreme personal pan pizza. While a few healthy fast food breakfast choices do exist, you undoubtedly have better control over the calories, fat, and sodium if you pack your own at home before you go.
Healthy Breakfast in the Fast Lane
For fast living folks, the key to creating a quick breakfast is keeping a few key ingredients on hand. The best breakfasts contain a whole grain or fruit/vegetable-based carbohydrate to provide a quick burst of energy to your body after "fasting" overnight, plus a low-fat protein source to help make you feel full longer. Some carbohydrates, like milk products, do double duty and provide the protein too.
For a winning combination, add an item from the "Sustainable" column to an item or two from the "Energy" column to create "sustainable energy" that will keep you moving all morning long:
Sustainable Breakfast Choices
1 Tablespoon of peanut butter
1 Egg, any style
Handful of nuts (almonds, peanuts, walnuts)
Low-fat cottage cheese
Fat-free skim milk
Low fat yogurt
Canadian bacon
Lean ham or turkey
Silken tofu
Energy Breakfast Choices
Whole grain mini bagel
Whole wheat tortilla
Dried fruit
Fresh fruit
Oatmeal
Whole wheat toast
Whole wheat pita half
100% fruit juice
The Bottom Line
You don't have to invest a lot of time or half a day's calories to start your day with a great meal. With a few key ingredients on hand, you can create a fast and healthy breakfast that will fuel your busy life.
If you're not up to morning mixing, we've created a few examples of healthy breakfast choices using the listed suggestions. With so many possibilities, don't stop here!
Trail mix of nuts, dried fruit, and a whole grain cereal
Whole wheat tortilla with a scrambled egg (add a dollop of salsa to spice it up)
Smoothie made from silken tofu, milk, and berries
Yogurt mixed with a chopped apple and whole grain cereal

Alumni: University of Tennessee, Knoxville – Beth Sumrell Ehrensberger is a Registered Dietitian and holds a Master Degree in Public Health. An experienced nutrition counselor, writer and public speaker, Beth specializes in translating complex nutrition information into practical concepts. Beth was awarded a Nutrition Communications Fellowship to the National Cancer Institute, and has worked on the internationally recognized Nutrition Action Healthletter of the Center for Science in the Public Interest.