By: Gloria Tsang, RD
Last Updated on:
Tea is one of the most widely consumed beverages in the world, and tea-drinking experiences around the world vary from one culture to another. Have you ever wondered what traditional afternoon tea on Park Lane in London may consist of, or how to prepare the sweetened mint tea served in Marrakech, Morocco? Well, fasten your seatbelt for your personal tour of 5 tea-drinking nations and their tea-drinking cultures.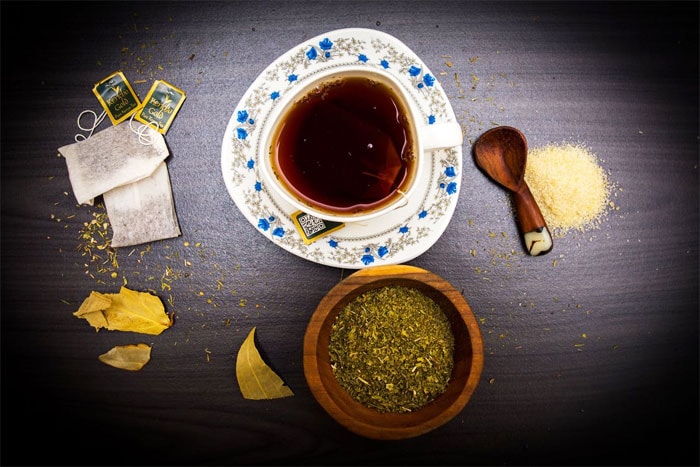 Ever Wonder How Some Cultures Enjoy Tea? Check out These 5 Tea-Drinking Nations
The United Kingdom
Teatime is the customary time for tea – the late afternoon or early evening. Anna, the seventh Duchess of Bedford, is credited with originating the idea of afternoon tea in the early 1800s after she started having tea at around four or five in the afternoon in an effort to reduce her between-meal hunger pangs.
Tea is very much a part of everyday life in the UK, where the pleasure of drinking tea is introduced early in childhood and enjoyed at home or at one of the Tea Guild's fine tea venues. The Tea Guild was founded in 1985 and is an organization that recognizes and encourages those venues dedicated to brewing and serving tea to the highest standards as set out by the UK Tea & Infusions Association. Luscious afternoon tea is best enjoyed with a selection of scones with a dollop of cream and jam, classic finger sandwiches, and fancy cakes and biscuits.
The UK Tea Advisory Panel approximates that 40% of its nation's fluid intake is tea. With about 70% of the population drinking tea regularly, that equates to roughly 165 million cups of tea being consumed in the UK every day.
Nutrition Info of a traditional tea in the UK: 1 cup of tea with 2 tbsp of milk and 1 tsp of sugar = 34 kcal
China
Tea drinking was an established tradition in China many centuries prior to its introduction to Western civilization, and China is credited with tea's introduction to Japan by the Japanese monks who had traveled to China to study.
Tea culture in China is held in high regard, and tea is often considered one of the seven necessities to begin one's day. Tea drinking is celebrated daily in the many traditional Chinese tea houses that dot the streets of Chinese neighborhoods, and tea is prepared and consumed in a variety of ways for a variety of special circumstances. The most informal method of brewing and enjoying green, black, and oolong teas is simply adding hot water to a pot containing the selected variety of tea leaves. More elaborate brewing methods and teaware are used in tea-tasting situations and during tea ceremonies where tea drinking is a way of connecting families and expressing gratitude to elders. Our editor Gloria Tsang knows first hand of the importance of tea drinking tradition during Chinese weddings. Tea ceremony is a cultural tradition where the newly-wed couples present a small cup of hot tea to the parents and elders in the family. "Sipping the tea symbolizes approval of the marriage", said Tsang.
Whether a casual or formal Chinese occasion, tea is regularly consumed as a favorite beverage and continues to be an important component used in Chinese herbal medicine and Chinese cuisine.
Nutrition Info of a traditional tea in China: 1 cup of tea = 0 kcal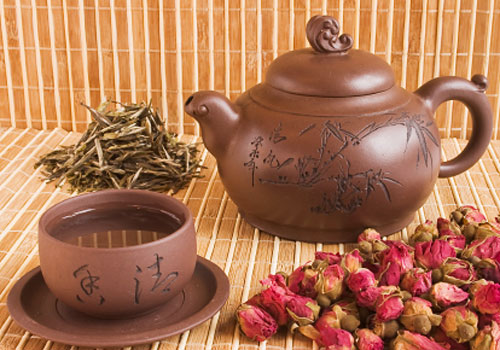 Morocco
Tea drinking is an important part of Moroccan culture; tea is frequently consumed throughout the day and most notably during mealtimes. It is estimated that green tea was introduced to Morocco in the 18th century and began spreading through the country soon thereafter.
Traditional Moroccan mint tea is sweeter than many teas, as it is considered a dessert and is prepared with hefty amounts of sugar, along with fresh mint, dried green tea (referred to as Chinese gunpowder), and boiling water. Moroccan mint tea is prepared by stuffing fresh mint inside a teapot and adding 1 part green tea leaves to approximately 4 parts sugar, then topping with boiling water. The ingredients are thoroughly mixed by pouring the tea into a glass and then back into the teapot several times. The tea is then poured through a filter and served during social visits with guests. Morocco's traditional mint tea routinely accompanies the rich flavors of Moroccan cuisine as stated in the pages of Moroccan National Tourism.
As one of the biggest tea importers in the world, Morocco continues to enjoy and consume the addictive sweet traditional mint tea in record-breaking volumes.
Nutritional Info of a traditional Moroccan mint tea: 1 cup of tea + 3 tsp sugar = 49 kcal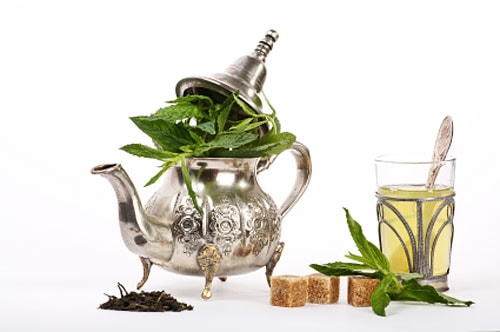 Peru
Tea drinking in Peru, and in surrounding countries such as Ecuador, continues to have many uses and benefits for local tea drinkers, just as it did centuries ago in the elevations of the Andes mountain range.
Coca tea is a herbal tea made using the leaves of the coca plant, which is infamous for containing small amounts of cocaine. It is prepared simply by submerging the coca leaf, or a tea bag, into hot water. The greenish-yellow-colored tea has been compared with the slightly bitter-tasting green tea, but with a hint of natural sweetness.
Consuming coca tea at mealtimes in the region of the Andes mountain range, a range with average elevations of 4,000 meters above sea level, continues among locals and tourists in hopes of alleviating symptoms of altitude sickness.
Nutritional Info of herbal coca tea: 1 cup of tea = 0 kcal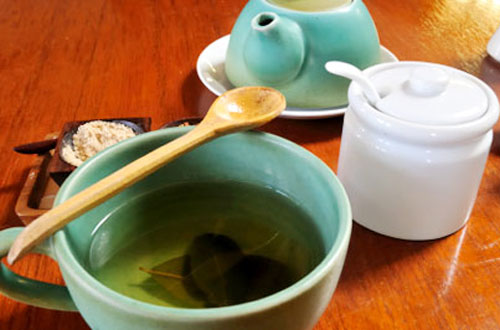 United States
The United States may not have the tea-drinking history of our other tea-drinking nations, but the United States is credited with the invention of the tea bag and iced tea.
While tea consumption in the United States stagnated in the 18th century following the events of the Boston Tea Party, where American colonists destroyed the tea cargo of British ships by dumping the tea into the Boston harbor in protest of the British tea tax, there has been a resurgence of tea drinking in America and now tea can be found in almost 80% of U.S. households. Tea in America is served and consumed hot or cold, any time of the day and on any occasion. Popular black tea and increasingly popular green tea are commonly prepared hot from a tea bag, while iced tea can either be brewed and sweetened or left unsweetened, or prepared using instant iced tea mixes.
The Tea Association of the U.S.A Inc. approximates that 85% of tea consumed in America is iced. The lack of healthful antioxidants in bottled iced tea have been under scrutiny. In a study recently reported on at the 240th National Meeting of the American Chemical Society (ACS), it was suggested that many of these bottled beverages contain fewer polyphenols than a single cup of home-brewed green or black tea. It's also important to note the calorie impact of bottled iced tea; a popular brand, for example, clocks in at 86 calories per 8 fluid ounces.
The United States continues to embrace tea drinking, and in 2009, it was estimated that Americans consumed well over 60 billion servings of tea.
Nutritional Info of iced tea: 1 cup of bottled iced tea = 86 kcal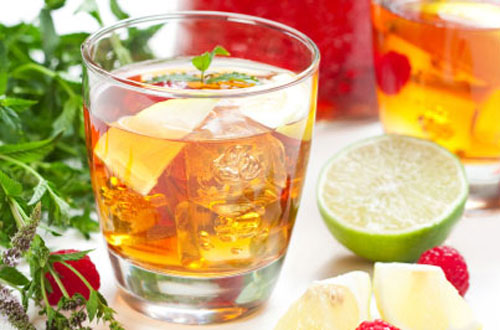 Gloria Tsang is the author of 5 books and the founder of HealthCastle.com, the largest online nutrition network run by registered dietitians. Her work has appeared in major national publications, and she is a regularly featured nutrition expert for media outlets across the country. The Huffington Post named her one of its Top 20 Nutrition Experts on Twitter. Gloria's articles have appeared on various media such as Reuters, NBC & ABC affiliates, The Chicago Sun-Times, Reader's Digest Canada, iVillage and USA Today.