7 Healthy Snacks at Work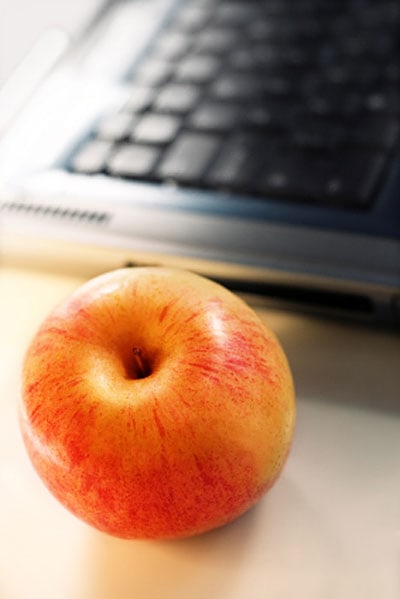 Snacking Smart at Work
It's hard enough to think about preparing a lunch for work tomorrow, never mind a snack too! But what if you had a stash of healthy snack foods with you at work so you could snack healthy without having to prepare something the night before?
Snacks provide you with an extra little boost in the morning or late afternoon. When choosing a snack, make sure it contains both some protein and carbohydrates so that you are able to better maintain your blood sugar level and stave off your hunger until the next meal.
Here are a few examples of foods to have on-hand at work for snacking:
Nuts: Although nuts are high in calories and fat, a handful goes a long way to keep you satisfied. They are power foods in that they also provide healthy fats along with some fiber.
Apple and peanut butter: An apple is a classic example of a healthy food, Add some peanut butter for dipping, and you have a snack that is well-rounded with both healthy carbs and protein!
Cottage cheese with 5 baby carrots: Cottage cheese is a powerhouse for protein, so combined with carrots (or other vegetables such as celery, cherry tomatoes, broccoli, cauliflower, zucchini, etc.) it provides a nice light, balanced snack.
Yogurt and Fruit: Yogurt comes in different fruit flavors, but a lower sugar plain yogurt combined with fruit (berries are always a favorite) or granola can provide a satisfying snack.
Crackers and cheese stick: A few crackers (4-5) with a cheese stick will provide you with a nice snack to help curb your appetite.
Jerky and a fruit or vegetables: Beef or turkey jerky is a very portable snack coupled with cut vegetables or a peach or dried fruit.
Edamame with Crackers: Soy beans (edamame) are a vegetable loaded with protein. When you have them with a high-fiber cracker like Triscuits, you have a simple, easy-to-prepare snack that you can keep at work.
The Bottom Line
Consider the snack options above to keep on-hand at work so that you take the guesswork out of snack time. If all else fails, keep a few higher protein (at least 10g/serving) energy bars (such as Solo, Kashi Go Lean, Zone bars, or others) or energy shakes (Slimfast, South Beach, Boost, Ensure, etc.) in your desk or the refrigerator at work so that you always have at least one healthy option to choose from.
With a little pre-planning, you are less likely to sabotage your healthy dietary efforts when you feel the need to have a snack at work.

Alumni: Colorado State University – Elizabeth Daeninck is a Registered Dietitian with a master's degree in Exercise Physiology and Nutrition. She has taught classes at the college level and facilitated weight loss group meetings, presented a variety of nutrition seminars and is a published author and researcher in the field of nutrition.