No More Frozen Buffalo Wings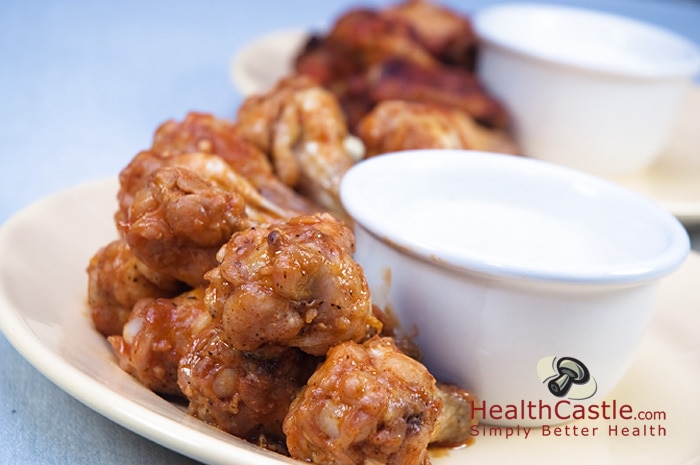 This time around, we tackle one of the most well-known and beloved pub and tailgate party foods: buffalo-style chicken wings. The most common variety of these wings, whether you get them in a restaurant or buy them in a store, is deep-fried and quite high in salt. Our store-bought box lists mysterious ingredients such as acetic acid and sodium diacetate.
Generic Store-Brand Buffalo-Style Wings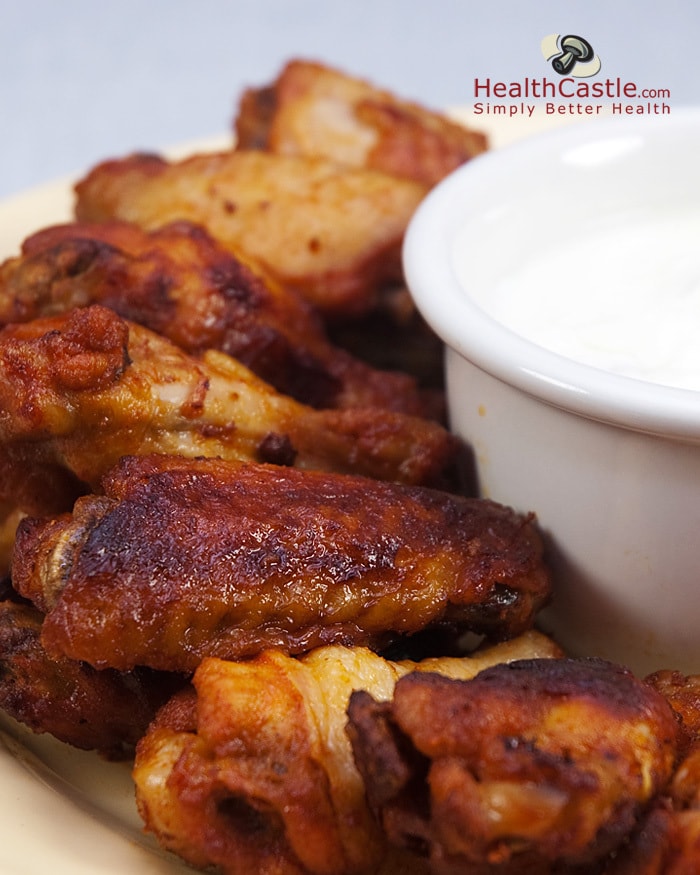 Healthy Chicken Wings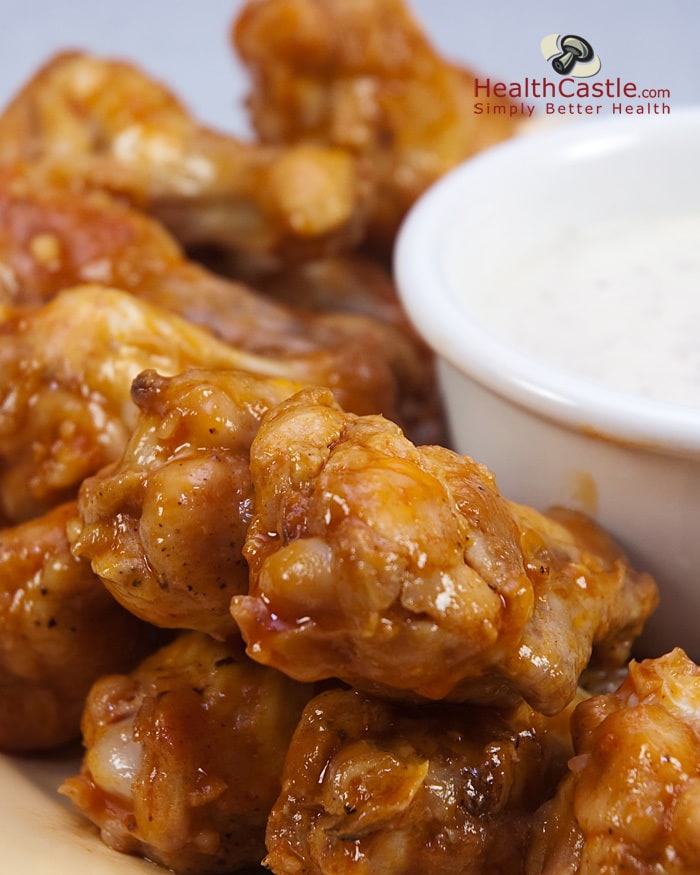 We set out to make our own baked version of this favorite from scratch and compared the results to a store-bought frozen variety. Here is what we found:
Generic store-brand
buffalo-style wings

Healthy
Chicken Wings

Serving Size:

6 wings (200 g)
5 wings (200 g)

Calories:

500 kcal
440 kcal

Protein:

36 g
62 g

Fat:

32 g
18 g

Trans Fat:

0.4 g
0 g

Carbohydrate:

10 g
2.7 g

Sodium:

1980 mg
785 mg

Iron:

20% DV
18% DV

Preparation time:

15 minutes to preheat the oven + 17 minutes baking = 32 minutes
15 minutes to preheat the oven and prep wings + 25 minutes baking = 40 minutes

Price per serving:

$3.12
$2.11
How Did the Two Stack Up?
Compared to the store-bought variety, our homemade wings:
had more protein
had much less sodium and fat
had no trans fat
The higher protein load of the homemade version basically means you're getting more chicken for your money, since it was not battered. (The total yield from the store-bought box was 4 servings of wings, while we got 8 servings out of the homemade version.) The dramatic difference in the amount of fat per serving is because the store-bought wings were pre-deep-fried. The packaging was a little sneaky about it, since the only way we could confirm this was through a phrase at the very end of the ingredient list that said the wings were "deep fried in canola oil." Taste-wise, the store-bought variety was lip-puckeringly salty, while the homemade version had the right balance of chicken plus seasonings.
The Bottom Line
For a staple that's often associated with sports-watching and sports celebration, opt for a healthier homemade version that trims off the fat and sodium. Both the athletes and sports fans will appreciate it!
Our Wings and Dip Recipes:
The original wings recipe is courtesy of Food & Wine.The recipe came with a blue cheese dip, which is not included here. Instead, the blue cheese dip recipe we've used is a lower-fat version, courtesy of "The Food You Crave" by Ellie Krieger. Nutritional information does NOT include the blue cheese dip.
Recipe makes 8 servings of chicken wings.
Ingredients:
For the chicken wings
4 pounds chicken wings
3 tablespoons cooking oil
4 cloves garlic, chopped
1 3/4 teaspoons salt
1 1/2 teaspoons cayenne
5 teaspoons vinegar
1/4 teaspoon fresh-ground black pepper
1/4 cup ketchup
1 tablespoon Tabasco sauce
8 ribs celery, cut into sticks
For the dip
1/4 cup plain nonfat yogurt
1/4 cup low-fat buttermilk
2 tbs mayonnaise
1 tbs white wine vinegar
1/2 tsp sugar
1/3 cup crumbled blue cheese
Salt and freshly ground black pepper to taste
Steps:
For the chicken wings
Heat the oven to 425°. In a large bowl, combine the wings, oil, garlic, 1 1/2 teaspoons of the salt, and the cayenne. Arrange the wings in a single layer on two large baking sheets. Bake until just done, about 25 minutes.
In a large bowl, combine the ketchup, the remaining 4 teaspoons vinegar, and the Tabasco sauce. Add the wings and toss to coat.
For the dip
Fold a full sheet of paper towel into quarters and put it into a small strainer. Spoon the yogurt onto the paper towel and place over a bowl in the refrigerator for 20 minutes to drain and thicken.
In a medium bowl, whisk the buttermilk and thickened yogurt into the mayonnaise until smooth. Add the vinegar and sugar, and continue to whisk until well combined. Stir in the blue cheese and season with salt and pepper.
Serve the wings with the celery sticks and blue-cheese dressing alongside.

Alumni: University of California, Berkeley – Sofia believes in bringing back fun and pleasure into everyday eating. She loves cooking, and is constantly experimenting with ingredients, creating recipes and trying them out on family and friends. Her latest interest lies in finding realistic and practical ways of environmentally-friendly food/eating habits.