Last Updated on:
Las Vegas: It's the home of huge buffets, giant steaks, and the deep-fried Twinkie. Finding a healthy meal in a city that tries its best to encourage grown-ups to misbehave may seem like an insurmountable task. But the truth is, there are ever-more options for those looking to skip the giant, grease-fueled meals and explore the lighter side of Vegas dining. With a little pre-planning, you can make it through your whole Vegas vacation without eating a single meal you'll regret.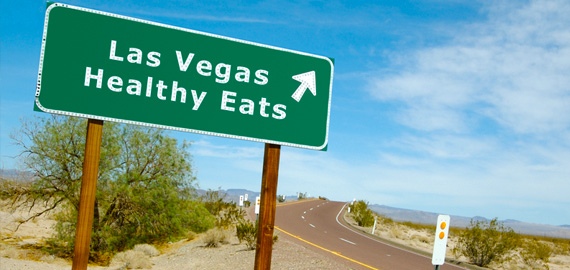 On the Strip
Most of the big hotels on the Las Vegas Strip now offer at least a few healthy options in at least some of their restaurants, but a few stand out for offering menus that specifically offer light and healthy options.
Wynn/Encore: The restaurants at the Wynn and Encore all offer extensive vegan options, based on a vegan program that stemmed from Steve Wynn's own vegan lifestyle. Vegan options are not always healthy (potato chips, after all, are a vegan food) but the vegan menus at Wynn and Encore offer a great starting point for exploring the lighter side of dining at a Vegas mega-resort.
Canyon Ranch at the Palazzo: The menu at the Canyon Ranch Grill proclaims that their dishes feature "fresh fruits and vegetables, organic lean proteins and oils, fiber-rich whole grains and beans in satisfying portions," while the Canyon Ranch Cafe offers custom-made fruit smoothies. Both are open for breakfast and lunch only.
Michael Mina at the Bellagio: As a seafood restaurant, Michael Mina has plenty of healthy options, but the standout is the vegetarian tasting menu, featuring heirloom beet salad and fennel tortellini.
MOzen Bistro at the Mandarin Oriental: MOzen's light fare menu offers several healthy sushi and salad options, while the vegan and gluten-free specialty menus offer great options like lentil curry or green apple and arugula soup.
Fremont Street Area
Fremont Street captures the essence of "Old Vegas," with tons of flashing neon signs, casinos that still take real coins, and restaurants that are more about quantity than quality. If you want a huge, cheap buffet, or a 12-oz steak for less than $10, you'll have no problem finding it here. Finding something healthier to eat can be a bit of a challenge, but there are a couple of options.
The Mob Bar: Located in the newly revitalized "

Downtown3rd"

area just off Fremont, the Mob Bar offers a break from the flashing lights and dinging slot machines as well as some lighter food options. They have several small plates for $5-$6, including Caprese salad bites with excellent fresh basil, and eggplant rollatini.
Triple George Grill: Sister restaurant to the Mob Bar, and located right next door, the Triple George Grill offer several entree-size salads as well as seafood dishes and lemon roasted chicken.
Triple 7 at the Main Street Casino: As a restaurant/brewery, the Triple 7 offers lots of the heavy items you'd expect from a brewpub. Surprisingly, they also offer a full, fresh sushi bar, and several sandwich options featuring fresh or grilled vegetables.
A Quick Drive Away
If you're willing to hop in a cab or your rental car for 10 to 20 minutes from the Strip or Fremont, you'll have access to a much broader range of healthy dining options.
Daily Kitchen & Wellness Bar (Summerlin area): Daily Kitchen offer light salads (including, for example, sugar snap pea and quinoa with tofu), sandwiches, wraps, and pasta, including many vegetarian and gluten-free options. They also have a custom juice bar.
Go Raw (Summerlin South or southeast of the airport): Go Raw's menu features "organic, live, vegan cuisine," including sandwiches, wraps, and hot entrees. Several sampler platters, such as the Mexicali, allow you to get a taste of several items without gorging buffet-style.
Mint Bistro (Flamingo Road): This Indian restaurant offers vegetarian, vegan, and gluten-free prix fixe menus, as well as stand-alone dishes. They also offer organic samosas and fresh-baked whole-wheat roti.
Greens and Proteins (southeast of the airport): This cafe offers juices and smoothies in addition to light wraps, sandwiches, pizza, and burgers. The menu lists the calories for each item, so you can be sure you're not breaking your calorie budget by indulging in, for example, the 247-calorie Greek pizza.
If You Really Need a Burger Fix
Slidin' Thru is a food truck that appears in a different location each day (you can find out where they'll be at slidinthru.com). They offer Angus beef and pulled-pork sliders that, while not exactly healthy, are at least made with quality ingredients and served in small portions, offering you a good option to get your burger fix without blowing your calorie budget for the whole day. They also offer a healthy take on the slider in the form of a Caprese sandwich with grilled eggplant.
The Bottom Line
Eating well in Las Vegas is not as hard as it used to be. You should be able to find healthy seafood, chicken, and salad options at most restaurants. Just keep in mind that a serving of meat is 3 ounces, so those 12-ounce steaks you see advertised are a sure thing to avoid. Head to the restaurants on this list to make finding healthy options for your meals a little easier in Sin City.

Christina Newberry is a writer and editor whose work has appeared in national and local magazines and newspapers. With a Bachelor's degree in English and Anthropology from the University of Victoria and a Journalism Certificate from Langara College, Christina brings keen curiosity and the love of a good story to her work with HealthCastle.com.
Christina is a passionate traveler and urban gardener with an interest in vegetarian eating and making good, tasty food from scratch. Sharing lessons learned from her own experiences, Christina writes about lifestyle topics for HealthCastle, with a focus on eating well at home and on the road.