Farmers' Markets: A Guide to Making the Most of Local Summer Markets

During the summer months, there's something irresistible about the call of a farmers' market. All those stands filled with the freshest, local fruits and vegetables is enough to get anyone dreaming about preparing a healthy meal, or just snacking on summer's bounty before you even make it home. There's just nothing better than popping a sun-warmed cherry tomato into your mouth that was picked mere hours ago. Plus, who doesn't like doing their grocery shopping outside on a beautiful summer day?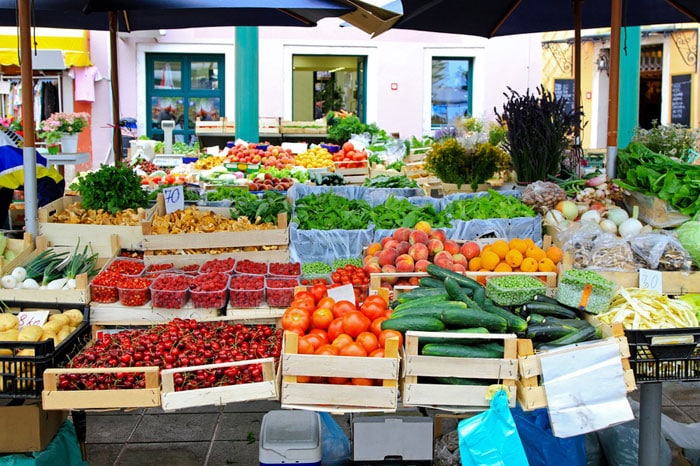 Here are our top tips for finding a farmers' market near you and making the most of your local produce-shopping day out.
Find a Market Near You
The first step in visiting a local farmers' market is to figure out where one is happening near you, on a day that works for your schedule. There are some great online resources to get you exactly the information you need.
LocalHarvest.org provides a directory of farmers' markets across the United States, searchable by zip code.
EatWellGuide.org allows you to search for farmers' markets by city, zipcode, or keyword, and refine your search by choosing specific products or production methods (like organic) that you're looking for.
Farmers Markets Canada provides listings of farmers' markets by Canadian province.
What to Buy
The best produce, of course, is whatever is currently in season. During the summer months, there's a huge list of seasonal fruits and vegetables available right across the country. Since the produce at a farmers' market is local, you can generally tell what's in season just based on what the farmers have brought to the market that day. You can also check out our list of seasonal summer produce you should keep an eye out for during June, July, and August.
If something doesn't look quite how you expected, it may be a little too early or too late in the season for peak freshness and flavor. As long as you know what you're getting, these can be some great deals. For example, late-season fruit that has become unattractive to look at and a bit too soft can be great for preserves – and you should be able to get an extra-sweet deal on the price.
What to Bring
Bags: Many farmers' markets are trying to cut down on garbage by offering discounts to customers who bring their own bags, or by eliminating bags altogether, so make sure to pack both small cloth or re-used plastic bags (for each purchase), and larger carry bags or a basket so you can get everything back home.
Water: You might not think about bringing water to do your shopping, but if you get drawn in to the shopping experience and spend longer than you'd planned at the market, you'll be glad you did (especially if you've got thirsty kids in tow). Some markets also offer entertainment or kids' activities that could cause you to stick around long enough to be glad you're able to rehydrate.
Cooler: Produce doesn't need to be refrigerated before you get home, but some farmers' markets also offer fresh or frozen local seafood, meat, eggs, and other animal products that you won't want to put directly into the hot truck of your car. Put some ice in a cooler and leave it in the trunk so you have a way to keep these treasures cool and safe to eat on the way home.
Cash: You may use plastic to do most of your shopping, but at farmers' markets cash is still king. Make sure you bring enough to be able to buy all the goodies that catch your eye. Making a list is almost pointless when it comes to the market, since you'll see and smell things you hadn't thought about purchasing (or may never even have heard of) and you'll simply have to have them. Fill your wallet accordingly!
When to Go
Markets can get absolutely packed in the middle of a warm summer day. If you like the festival atmosphere that can happen when there are that many happy shoppers and farmers interacting with each other, then mid-day might be the perfect time for you to go.
If, however, you want a little room to really explore, early morning is going to be your best bet. The added bonus is that the produce is as fresh as it can possibly be, as it hasn't spent hours sitting in the hot sun. It may have been picked just an hour or two before you buy!
If you're looking for the best deals, try the last hour (or less) of the market day. Farmers don't want to pack home their leftover produce and will be more open to negotiating on price. You won't have access to the same selection as you would earlier in the day – farmers plan to sell out of most items, after all, and they often do – you may be able to talk your way into more produce per dollar than earlier shoppers.
The Bottom Line
Shopping at a farmers' market is a sensory experience. The sights and smells are enough to get anyone excited about summer produce. They also present a great opportunity to get to know more about the foods you eat, as most farmers are happy to tell you about their farms and the methods they use (as long as you don't start asking all our questions when they've got a line-up of people to serve). If you prefer organic, keep in mind that not all farmers' market produce is certified organic – but many farms may be using organic methods even if they are not certified. Have a quick chat with the farmers to find out for sure.

Alumni: University of Victoria – Christina Newberry is a writer and editor whose work has appeared in national and local magazines and newspapers. With a Bachelor's degree in English and Anthropology from the University of Victoria and a Journalism Certificate from Langara College, Christina brings keen curiosity and the love of a good story to her work with HealthCastle.com.
Christina is a passionate traveler and urban gardener with an interest in vegetarian eating and making good, tasty food from scratch. Sharing lessons learned from her own experiences, Christina writes about lifestyle topics for HealthCastle, with a focus on eating well at home and on the road.