4 Healthy Foods You Don't Expect to Contain Aspartame and Artificial Sweeteners (2023 Update)
Many of us have the best of intentions when it comes to eating well. Since the WHO July 2023 announcement, we have received numerous requests on what healthy packaged foods contain aspartame and/or artificial sweeteners. Hence, we went exploring down the grocery aisle, and here's what we found:
Four Surprises: "Healthy" Foods with Artificial Sweeteners
1. Breakfast cereal
Having breakfast certainly sets you up right for the rest of the day, but some low-sugar breakfast cereals contain artificial sweeteners. For example, FiberOne contains sucralose, while HyVee Fiber Active Bran cereals contains aspartame (We see this particular ingredient list in other products such as Publix Fiber Active as well as Best Choice Fiber Active cereals). Take away the aspartame, and the cereal looks pretty decent, high in fiber with whole grains and fortified vitamins/minerals.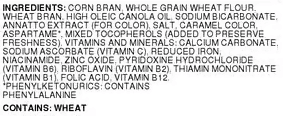 2. Yogurt
Zero sugar or low-sugar yogurts used to add sucralose in combination with acesulfame potassium for flavoring. The latest low-sugar flavored yogurt now uses stevia leaves, like Dannon's Light and Fit line. It's surprising to find Lucerne Light yogurt sweetened with aspartame. Certainly, your best bet when it comes to yogurt is to purchase plain unflavored yogurt, and sweeten it yourself with puree fruits.
The following yogurt contains aspartame:
Lucerne Light Non-Fat Yogurt, Black Cherry
Lucerne Light Non-Fat Yogurt, Vanilla
Lucerne Light Non-Fat Yogurt, Blueberry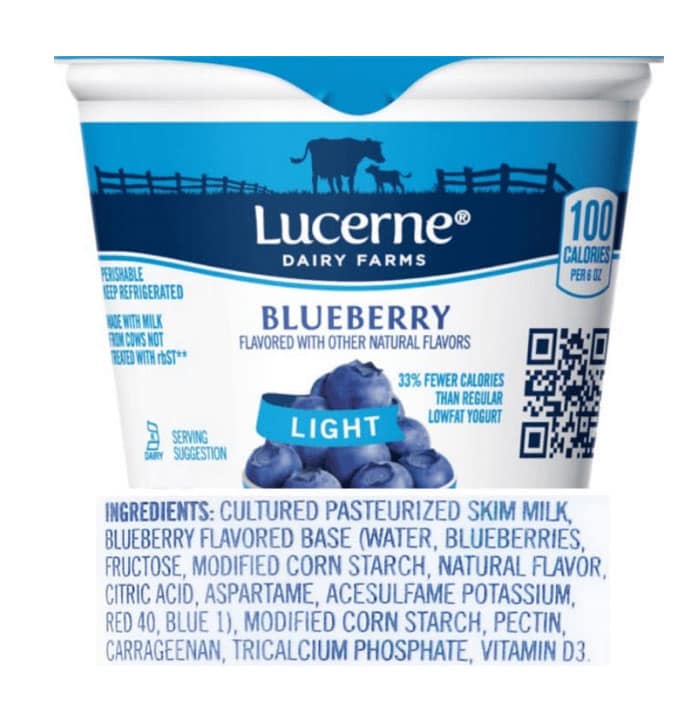 3. Cottage Cheese
High in protein yet low in calories, cottage cheese is one of the go-to high-protein snack options for many. Half-cup serving provides a whopping 13 grams of protein while only a mere 110 calories. However, if we aren't being diligent in checking labels and ingredients, we may choose products added with artificial sweeteners. For instance, this Axelrod Non-Fat Cottage Cheese with Pineapple contains aspartame.
4. Fiber Supplements
Natural fruits and vegetables, whole grains, and nuts & seeds are certainly ideal fiber sources. For some population group, fiber supplements are needed. While Metamucil has been common household name for years, it's a known fact that its powder products are sweetened by sweeteners. For instance, their Premium Blend Sugar-Free orange-flavored powder is sweetened with stevia. However, the 4-in-1 Metamucil (both orange-flavored and berry-flavored) are sweetened with acesulfame potassium and aspartame. If possible, choose their "No Added Sweeteners" version; it only has 3 ingredients – Psyllium husk, maltodextrin, citric acid.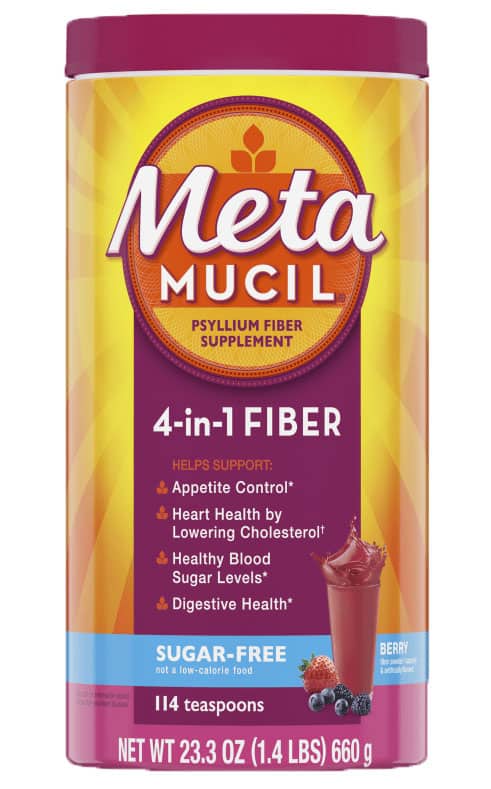 The Bottom Line
It pays to be a label reader! If you are interested in a product, spend a bit of time skimming the ingredient list, particularly if the product is of the "diet", "light", or "Sugar-Free" variety.

Alumni: University of British Columbia – Gloria Tsang is the author of 6 books and the founder of HealthCastle.com, the largest online nutrition network run by registered dietitians. Her work has appeared in major national publications, and she is a regularly featured nutrition expert for media outlets across the country. The Huffington Post named her one of its Top 20 Nutrition Experts on Twitter. Gloria's articles have appeared on various media such as Reuters, NBC & ABC affiliates, The Chicago Sun-Times, Reader's Digest Canada, iVillage and USA Today.