Health Risks of Drinking Diet Pop

Diet pop is linked to the same health problems as regular pop, according to a new study. Researchers from Boston University studied data from more than 6,000 middle-aged adults participating in the large-scale Framingham Heart Study. These participants were all free of metabolic syndrome – a cluster of symptoms such as excessive fat around the waist, impaired fasting glucose, high blood pressure, low levels of "good" HDL cholesterol, and more – when the study started. After four years of follow up, researchers found that adults who drink one or more sodas a day (diet or regular) had about a 50 percent higher risk of metabolic syndrome. The results of this study were published online on the Circulation Journal website on July 23, 2007.
Editor's Note – Diet pop is not a healthy alternative
Prior studies have linked consumption of regular pop and its high levels of sugar with multiple risk factors for heart disease. The Framingham study is the first to find that the link extends to low-calorie diet pop. The most intriguing fact researchers found was that participants who drink one or more pop per day – again, regular or diet – had a 31 percent greater risk of becoming overweight.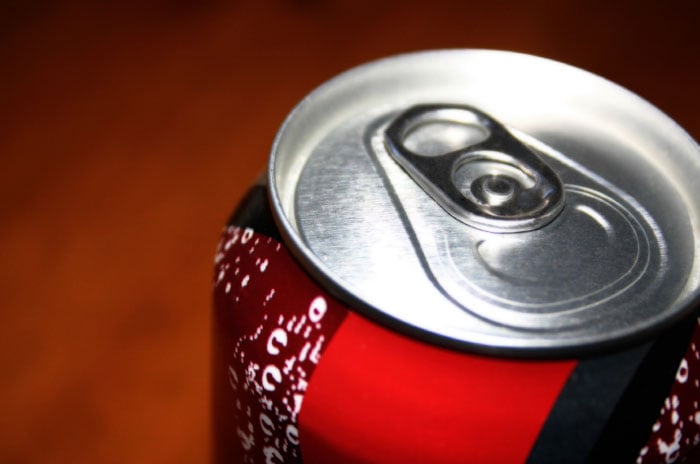 Facts about Diet Pop
Calories: 0
Caffeine: varies from 0 to 55 mg per can
Typical Ingredients:

Carbonated Water
Caramel
Sodium Benzoate
Artificial Sweeteners (Aspartame or Acesulfame Potassium)
Natural Flavor
Artificial Flavor
Sodium Citrate
Malic Acid
The results surprised the researchers, who expected to see a difference between regular and diet pop drinkers. Researchers observed a few possible reasons for their findings – one being that people who drink any kind of pop on a regular basis tend to have similar diet patterns: a diet with higher calories, saturated and trans fat, lower fiber and dairy, and a sedentary lifestyle.
The Bottom Line
What's considered Pop?
Regular pop
Diet pop
Commercial canned Ginger Ale
Commercial bottled or canned Iced Tea (including the Diet version)
Commercial bottled or canned Green Tea (including the Diet version)
Commercial bottled White Tea (including the Diet version)
There are lots of better options you can reach for when you need some refreshment. Try any of these natural alternatives for a much healthier pick-me-up!
Calorie-free bottled water
Real fruit juice
Low fat (1%) or skim milk
Or, for a special summer treat, make your own crisp and refreshing lemon-lime drink, by squeezing some real lemon and lime juice in plain water!

Alumni: University of British Columbia – Gloria Tsang is the author of 6 books and the founder of HealthCastle.com, the largest online nutrition network run by registered dietitians. Her work has appeared in major national publications, and she is a regularly featured nutrition expert for media outlets across the country. The Huffington Post named her one of its Top 20 Nutrition Experts on Twitter. Gloria's articles have appeared on various media such as Reuters, NBC & ABC affiliates, The Chicago Sun-Times, Reader's Digest Canada, iVillage and USA Today.