Sugar: Would You Like Bone Char and GM Beets with That? (Safe Brands List included)

Sugar: It's a topic that's always controversial. It turns out there's a lot more than just calories and obesity that we need to worry about when it comes to sugar!
Sugar: Cane vs Beets
Regular white sugar is made from either sugar cane or sugar beets. Both are plants that naturally contain large amounts of sucrose, which is refined into the sugar. So why should you care whether your sugar is made from sugar cane or sugar beets? As of 2010, 95% of sugar beets are primarily a GMO crop in the United States. Some blamed the USDA for partial-deregulation of GM beets multiple times between 2005 and 2011, resulting in more GM sugar beets being planted. These GM beets are modified to be resistant to Monsanto's Roundup. The same is true in Canada; sugar beets are primarily a GMO crop and are grown in Southern Alberta.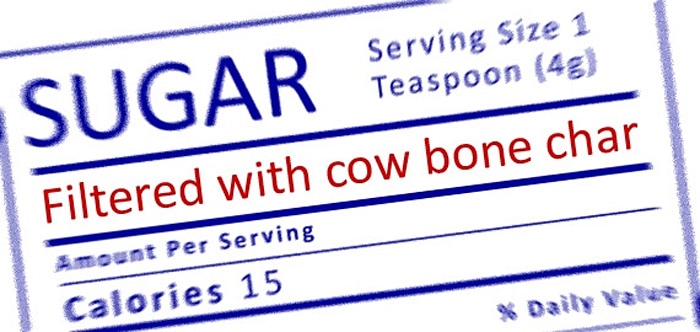 Animal Bone Char In Cane Sugar?
You might think the solution is just not to buy sugar refined from sugar beets and to switch to sugar refined from sugar cane. That's a good logical thought process. But what you may not know is that sugar cane is mostly refined with animal bone char, usually from cows. The bone char is used in the cane-refining process to help make sugar white in color. Some manufacturers call this cow bone char "natural charcoal." It may be natural, but this is not good news for vegans and those with allergies.
Sugar without GM Beets or Bone Char?
This is the difficult part. That's why it took me much longer to compile this list than it did when I compiled a list of Canadian brands of sugar. One reason is that manufacturers don't really label sugar properly; the other is that some did not respond to my inquiries. For instance, I learned that three out of four refining plants for Domino Foods (which makes Domino Sugar and C&H Sugar) use bone char in the cane-refining process, while one out of two Imperial Sugar refining factories use bone char, and there's no easy way for consumers to figure out which plant their sugar was refined at. In Canada, only the Vancouver plant uses bone char for Rogers Sugar, and sugar from that plant is marked with a code 10 on the the package.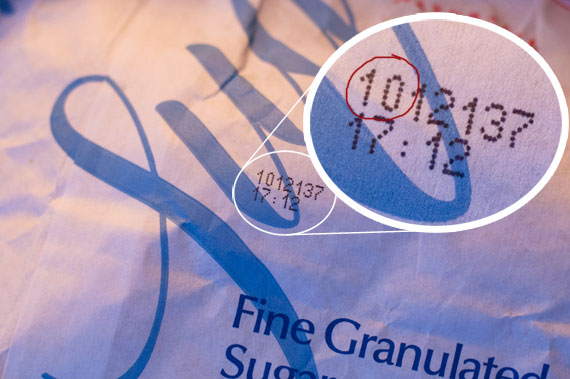 Option 1: Go Organic
If you would like a sugar that is not from GM sugar beets or bone-char-refined sugar cane, go organic! Organic products cannot come from GMO sources, and none of the organic sugar cane I've found use bone char, so these are your best bets! Organic sugar brands include:
Wholesome
365 By Whole Foods Market
Kirkland Organic
Option 2: Choose Raw Cane
Cane sugar is not genetically modified – yet. So choose raw sugar, turbinado, and demerara; they are not refined using bone char. Many national brands carry raw sugar, like C&H and Domino. Please note that brown sugar is NOT a raw sugar. Raw cane sugar products clearly mark "Raw" on the front label. They include:
Sugar In The Raw Granulated Turbinado Cane Sugar
Trader Joe's Fair Trade Turbinado Raw Cane
Wholesome Natural Raw Cane
Option 3: Can't Tell? Skip It
The Great Value Granulated Sugar sold in Walmart is a typical example. It doesn't say what the source of the sugar is. A quick online search revealed that it contains both GM sugar beets and sugar cane, and that bone char is used in refining the sugar cane. On the other hand, Great Value does have another sugar (Organic Cane Sugar) which clearly indicates cane sugar as the source, both on the front label as well as on its ingredient list.
Tell Us: Which brand of sugar do you use? If you are not sure about the source or bone char use for the sugar brand you usually purchase, comment below and we will do some investigative work.

Alumni: University of British Columbia – Gloria Tsang is the author of 6 books and the founder of HealthCastle.com, the largest online nutrition network run by registered dietitians. Her work has appeared in major national publications, and she is a regularly featured nutrition expert for media outlets across the country. The Huffington Post named her one of its Top 20 Nutrition Experts on Twitter. Gloria's articles have appeared on various media such as Reuters, NBC & ABC affiliates, The Chicago Sun-Times, Reader's Digest Canada, iVillage and USA Today.