Written By: Gloria Tsang, RD
Last Updated on: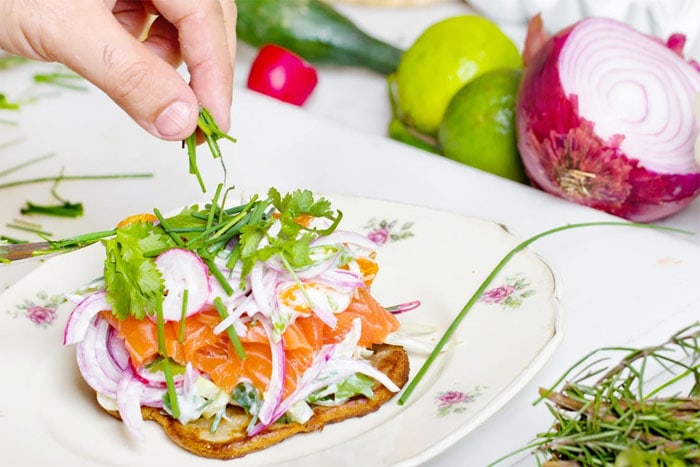 FDA's Recommendation on Fish and Salmon
In March 2004, FDA and EPA revised its advisories on mercury in fish for pregnant women and young children. Generally they are advised to eat no more than 2 meals of low-mercury fish per week – one can of salmon or half a salmon steak is considered one meal.
Target
Women who may become pregnant, pregnant women, nursing mothers, and young children to avoid some types of fish and eat fish and shellfish that are lower in mercury
Avoid Fish with High levels of Mercury
Shark, Swordfish, King Mackerel, or Tilefish
12 oz. (~2 meals) of Low-Mercury Fish per week
shrimp, crab, cod, clams, scallops, canned light tuna, canned salmon, pollock, and catfish etc.Note: Albacore "White" tuna contains more mercury. Limit 6 oz (~1 meal) of albacore tuna per week.

For a complete list of low-mercury fish, please check FDA website here.
What are the nutrition values in Fish and Salmon?
Fish and shellfish contain high-quality protein and other essential nutrients, are low in saturated fat, and contain omega 3 fatty acids. A well-balanced diet that includes a variety of fish and shellfish can contribute to heart health and children's proper growth and development. For more info about the health benefits of salmon, please read Salmon: Health Benefits and How-To.
What about PCBs in Farm Raised Salmon?
There are studies showing that farm raised salmon contain higher level of toxic substance PCBs than wild salmon. However FDA maintained that the level found in farm raised salmon is well below the safety standard. Canned salmon are generally safe as manufacturers usually use wild salmon to can for the firmer texture. To make a sound decision, please read Farmed Salmon vs. Wild Salmon.
Key Message: Fish and Salmon offers benefits in heart health. Indeed, the American Heart Association recommends salmon and salmon oil for prevention and treatment of heart disease. So don't give up fish completely, but do choose wisely for an average of 2 meals a week.
Gloria Tsang is the author of 5 books and the founder of HealthCastle.com, the largest online nutrition network run by registered dietitians. Her work has appeared in major national publications, and she is a regularly featured nutrition expert for media outlets across the country. The Huffington Post named her one of its Top 20 Nutrition Experts on Twitter. Gloria's articles have appeared on various media such as Reuters, NBC & ABC affiliates, The Chicago Sun-Times, Reader's Digest Canada, iVillage and USA Today.