Written By: Sofia Layarda, RD
Last Updated on: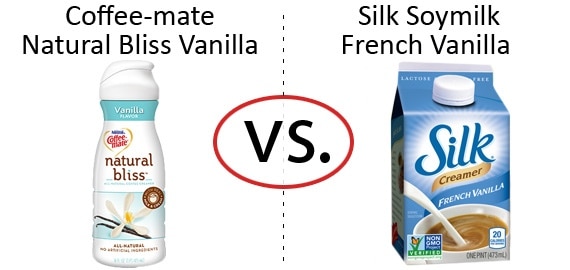 While many of us use regular milk (or plain non-dairy alternative) in our morning cup of coffee, there are some who insist on coffee creamer. Here we take a closer look at two coffee creamers.
Nutrition Faceoff: Natural Bliss by Coffee-mate vs. Silk Soy Creamer
| | | |
| --- | --- | --- |
| | Natural Bliss by Coffee-mate Vanilla Flavor | Silk Soymilk Creamer French Vanilla Flavor |
| Serving Size | 1 tbs | 1 tbs |
| Calories | 35 kcal | 20 kcal |
| Total Fat | 1.5 g | 1 g |
| Saturated Fat | 1 g | 0 g |
| Protein | 0 g | 0 g |
| Total Carbohydrates | 5 g | 3 g |
| Sugar | 5 g | 3 g |
| Ingredients | Nonfat milk, heavy cream, sugar, natural flavor. | Soymilk (filtered water, whole soybeans), cane sugar, palm oil, natural flavor, soy lecithin, potassium phosphate, sodium citrate, tapioca starch, carrageenan. |
Nutrition Faceoff: Coffee Creamers – Dietitian's Take
We looked at the original Coffee-mate liquid creamer and decided not even to include it for comparison. It has partially hydrogenated oils, which means the product contains trans fats. The Natural Bliss line is marketed as being simpler and containing all-natural ingredients. A few highlights:
There is more fat and sugar in the Natural Bliss product, which means it contains more calories per serving than the Silk soy creamer.
Silk uses palm oil, which contributes saturated fat despite the Nutrition Facts label showing zero grams.
There are more additives in the Silk product than the Natural Bliss product.
Our Pick: Natural Bliss
If you are a person who must use creamer in their coffee, stick to those with the simplest ingredient list. If not, we recommend using plain cream, milk, or soymilk instead of a creamer product.

Sofia believes in bringing back fun and pleasure into everyday eating. She loves cooking, and is constantly experimenting with ingredients, creating recipes and trying them out on family and friends. Her latest interest lies in finding realistic and practical ways of environmentally-friendly food/eating habits.