Nutrition Faceoff: Apples vs. Oranges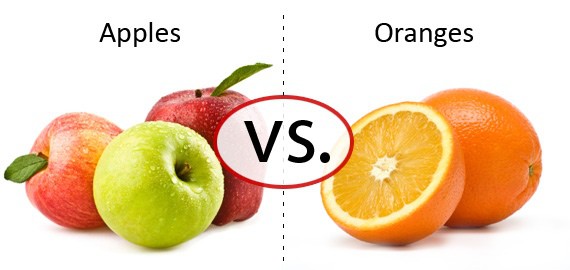 We're all familiar with the phrase "don't compare apples to oranges." We thought it would be fun to take that familiar phrase to heart and actually compare these two different fruits. Is there a clear winner between the two?
Nutrition Faceoff: Apples vs. Oranges
| | | |
| --- | --- | --- |
| | Apples | Oranges |
| Serving Size | 1 medium (3″ diameter),skin on | 1 navel orange, peeled, 2 7/8″ diameter |
| Calories | 95 kcal | 69 kcal |
| Carbohydrates | 25.1 g | 17.6 g |
| Protein | 0.5 g | 1.3 g |
| Fat | 0.3 g | 0.2 g |
| Fiber | 4.4 g | 3.1 g |
| Vitamin C | 8.4 mg | 82.7 mg |
| Potassium | 195 mg | 232 mg |
| Folate | 5 mcg | 48 mcg |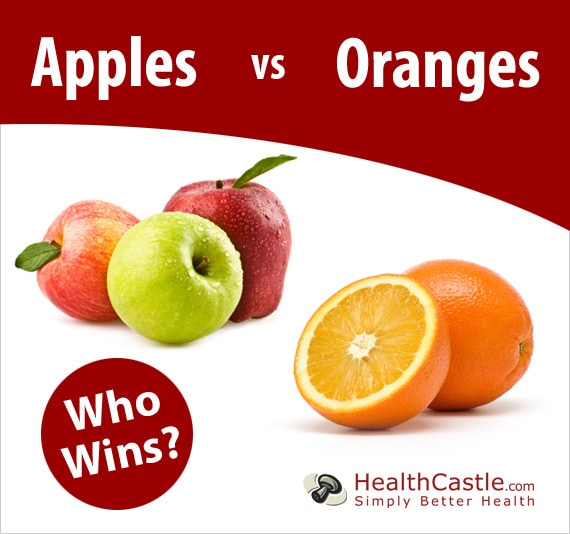 Nutrition Faceoff: Apples vs. Oranges – Dietitian's Take
Oranges are a well-known source of Vitamin C, and the numbers confirm it. Both fruits are also good sources of potassium and fiber. What may be less known is that oranges also contain folate, while there is very little of it in apples.
Our Pick: Oranges
If we were looking strictly at the numbers in the table above, we would pick oranges as the winner! For fewer calories per fruit, oranges have higher levels of Vitamin C, folate, potassium, and protein.
However, the benefit of fruits is more than just the identified nutrient levels as shown. What the table doesn't show is what other phytonutrients are contained in both apples and oranges. Apples, particularly when consumed with their skin on, deliver polyphenols that have antioxidant benefits. These polyphenols are particularly good at preventing oxidation of fats in our cell membranes, which is a key factor in the development of atherosclerosis. Regular consumption of apples has been associated with lower cholesterol levels. The various phytonutrients also have anti-cancer and anti-inflammatory properties, which benefit those with asthma. In addition, some apple polyphenols help slow down both carbohydrate digestion and glucose absorption, which in turn help blood sugar regulation.
More and more emerging research about phytonutrients in fresh fruits and vegetables suggests there are other factors at play when it comes to what makes a fruit "nutritious," and we don't yet have ways to quantify all the phytonutrient levels needed to produce a health benefit. Therefore, to cover all your bases, aim to include both fruits on your grocery shopping list, especially because they are both widely available and are easy snacks on the go.

Alumni: University of California, Berkeley – Sofia believes in bringing back fun and pleasure into everyday eating. She loves cooking, and is constantly experimenting with ingredients, creating recipes and trying them out on family and friends. Her latest interest lies in finding realistic and practical ways of environmentally-friendly food/eating habits.
apples, food faceoff, fruits, grocery aisle, healthy snacks, nutrition faceoff, oranges
Energy Shots and Caffeine Safety