Written By: Sofia Layarda, RD
Last Updated on: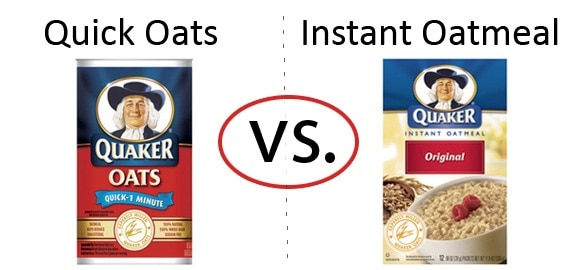 If instant oatmeal is a breakfast staple at your house, have you ever wondered how close the microwaveable packets of oatmeal come to the actual oats?
Nutrition Faceoff: Quaker Quick Oats vs. Instant Original
| | | |
| --- | --- | --- |
| | Quaker Quick Oats | Quaker Instant Oatmeal – Original |
| Serving Size: | 1 oz (30 g) | 1 packet (28 g) |
| Calories: | 113 kcal | 100 kcal |
| Fat: | 2.3 g | 2 g |
| Saturated Fat: | 0.4 g | 0 g |
| Protein: | 3.8 g | 4 g |
| Total Carbohydrates: | 20.3 g | 19 g |
| Fiber: | 3 g | 3 g |
| Sodium: | 0 mg | 75 mg |
| Vitamin A: | 0% DV | 25 % DV |
| Vitamin C: | 0 %DV | 0% DV |
| Calcium: | 0% | 10% DV |
| Iron: | 8% DV | 40% DV |
| Thiamin: | 8% DV | N/A |
| Phosphorus: | 12% DV | 10% DV |
| Magnesium: | 19% DV | 8% DV |
| Cooking time (microwave): | 1 minute | 1.5 minutes |
| Price per serving: | $0.13 | $0.24 |
Dietitian's Take: Quaker Quick Oats vs. Instant Original
At the same serving size, the calories, carbohydrate, fat, protein and fiber contents are basically the same between the two versions of oats. Money-wise, the quick oats are way cheaper: almost 50% less than the instant version! A closer look at the nutritional information and ingredient lists also reveals some noticeable differences:
Quick oats contain zero sodium. This is because quick oats are basically rolled oat flakes and nothing else. Instant oats have added salt.
The instant oats have higher levels of Vitamin A and the minerals iron and calcium. Why? A look at the ingredient label shows that the following additives are included: Vitamin A

palmitate, calcium carbonate, and reduced iron. 

​The quick oats contain more thiamin and magnesium than the instant.

While the amount of fiber is the same in the two oat versions, the instant oatmeal has guar gum as an additive. Guar gum acts as thickener and is high in soluble fiber, so there is no telling how much of the fiber from the instant oatmeal came from the actual oats vs. the guar gum. This a perfect example of why a Nutrition Facts label that looks "good" may not tell the whole story if you don't look at the ingredient list.
The instant oatmeal also has caramel color added.
Our Pick: Quick Oats
Since you are spending money for oats, get the most bang for your buck by getting the quick oats, which contain just oats and nothing else. Why pay more for less oatmeal and extra additives in the instant oatmeal?
You can easily bump up the calcium, Vitamin A, and Vitamin D by adding milk to cooked oats yourself. A serving of quick oats can easily cook in 1 to 2 minutes in the microwave, so buying the instant packets of oatmeal isn't really saving you any time. (Steel-cut oats, on the other hand, take about 30 minutes to cook, so the time saving is significant when you get the quick oats.)
For those watching the glycemic index of foods they eat, it should also be noted that the smaller the oat flakes, the higher the glycemic index of the oats will be. So, the instant oats will most likely have a higher GI than the quick oats or steel-cut oats.

Sofia believes in bringing back fun and pleasure into everyday eating. She loves cooking, and is constantly experimenting with ingredients, creating recipes and trying them out on family and friends. Her latest interest lies in finding realistic and practical ways of environmentally-friendly food/eating habits.