Pancakes Two Ways: Whole Wheat and Gluten-Free

Mother's Day is approaching. Here's an easy idea for breakfast in bed to treat mom! We've tested this recipe for both whole wheat white flour and a newly introduced gluten-free flour mix; they both turn out excellent!
We've decided to use a white whole wheat flour in this recipe.  White whole wheat flour is indeed whole wheat. The reason it appears "whiter" in color is because the species of wheat is different from traditional whole wheat. White whole wheat flour is made with white wheat (an albino variety of wheat). The resulting product is softer and milder in taste.
As for our gluten-free version, we chose a new flour mix invented by a dietitian – Patricia Chuey. Quite simply, all we need to do is substitute 1:1 for the flour portion in any bakery recipes. We've tried her gluten-free flour mix in many muffin recipes and turned out excellent. So we are giving it a try in this pancake recipe.
Easy Pancakes Recipe: Whole ​Wheat or Gluten-Free Recipe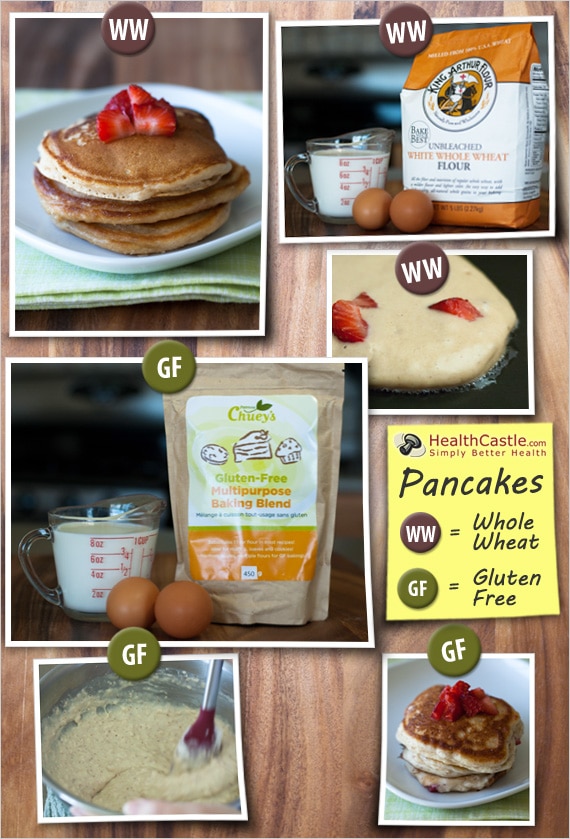 Pancakes Two Ways: Whole Wheat and Gluten-Free
Ingredients (makes 4 servings)
1 cup

whole wheat white flour or gluten-free flour mix

2 Tbs

sugar

2 tsp

baking powder

1/2 tsp

salt

1 cup

milk

1 large

egg

1 Tbs

vegetable oil

1 tsp

vanilla extract

1 cup

frozen or fresh berries (mixed or use your favorite kind)

Optional toppings or sides: Greek yogurt, maple syrup, cinnamon, additional fruit.
Cooking Directions
In a small bowl, mix the flour, sugar, baking powder, and salt. Set aside.
In a medium bowl, beat the egg, then add milk, oil, and vanilla extract.
Add the dry ingredients from the small bowl into the milk mixture. Whisk until just mixed; don't worry if there are small lumps.
Heat a large non-stick griddle or cast iron pan until a drop of water sizzles in the pan. Brush with oil. If you can set your burner or griddle to a specific temperature, use 350F. If cooking with gluten-free flour, set it at 300F.
Using a 1/4 cup measure, pour pancake batter onto the heated pan. Spoon a few berries onto each pancake as it is cooking, then drizzle a little batter over the fruit.
Flip the pancakes once the surface begins to bubble and pop (about 2 minutes). The edges may begin to brown a bit.
Once flipped, cook for 1 or 2 minutes more, then transfer to a serving plate.

Alumni: University of California, Berkeley – Sofia believes in bringing back fun and pleasure into everyday eating. She loves cooking, and is constantly experimenting with ingredients, creating recipes and trying them out on family and friends. Her latest interest lies in finding realistic and practical ways of environmentally-friendly food/eating habits.