Pineapple: Health Benefits and How-To

The month of June always brings to mind pleasant images of summer, including having a picnic on a sunny day. Here's a fruit we associate with summer, or at least the leisure of sunny days spent by the beach: pineapple. You may associate the pineapple with the state of Hawaii, but in recent years the bulk of the pineapple crop consumed globally has been grown elsewhere. Hawaii used to be a significant player, but nowadays the main pineapple growers are the tropical countries, such as the Philippines, Thailand, Brazil, and Costa Rica.
Nutrition Tidbits for Pineapple
1 cup of pineapple chunks contains:
Calories: 74 kcal
Carbohydrates: 19.5 g
Protein: 0.9 g
Fat: 0.2 g
Fiber: 2 g
Glycemic Index: Medium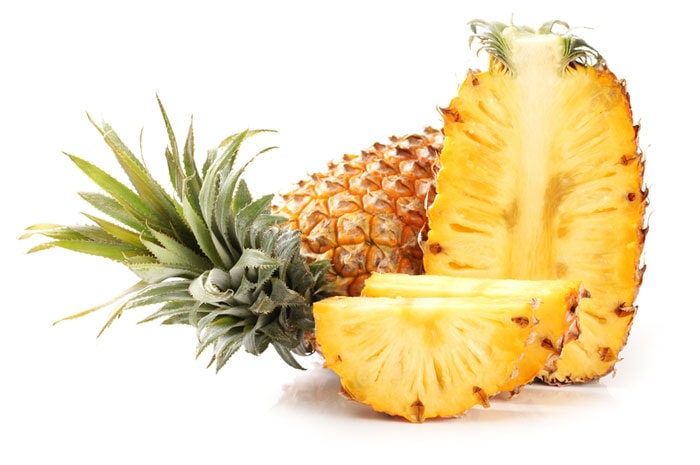 Pineapple is an excellent source of manganese. Although needed only in very small amounts, manganese is a mineral that plays an important role in the body's detoxifying capabilities. Specifically, it is part of an antioxidant enzyme called superoxide dismutase, which fights free radicals. Manganese is also needed for blood sugar regulation, normal functioning of the brain and nervous system, calcium absorption, and metabolism. Pineapple also contains potassium, which is important in the maintenance of healthy blood pressure. As with many fruits, pineapple also supplies Vitamin C, an antioxidant.
In addition, regular consumption of pineapple appears to have beneficial effects on digestion. In some  research, bromelain, a substance obtained from pineapple juice or pineapple core extract, has been shown to reduce inflammation. Some uses for bromelain include reducing swelling after injury or surgery (particularly ear, nose, or throat surgeries), treating osteoarthritis pain and swelling, or treatment of hay fever.
When it comes to picking a ripe pineapple, size does not matter. Obviously, a larger fruit will have more edible portion, but you cannot tell the degree of ripeness by looking at the size. Instead, choose fruit that feels heavy for its size. Avoid fruits that have soft spots, bruises, or sunken "eyes."
There are several ways of cutting a whole pineapple. First, cut off the tip and the base of the pineapple. Rest the flat base on the cutting board. One method is to cut the pineapple lengthwise into quarters. Remove the core from each quarter section, then slice the whole quarter off the skin. Another method involves cutting off the skin in long strips and removing the "eyes" with the tip of a knife before slicing the pineapple into sections.
You can buy a pineapple corer from the store, but it isn't our favorite method of dealing with pineapple because it can result in more wastage.
Pineapple stops ripening as soon as the fruit is picked. If you buy a whole pineapple, consume it within a couple of days. Cut-up fruit should be stored in the fridge and will keep for about 5 to 6 days.
How to Include More Pineapple in Your Diet
Add to salad or make this easy Pineapple Salsa to accompany grilled seafood
Include pineapple in your smoothies
Top sandwiches or burgers with pineapple slices
Serve grilled pineapple slices for dessert: Cut a fresh pineapple into thick rings, lightly brush with canola oil, and grill for 2 minutes on each side

Alumni: University of California, Berkeley – Sofia believes in bringing back fun and pleasure into everyday eating. She loves cooking, and is constantly experimenting with ingredients, creating recipes and trying them out on family and friends. Her latest interest lies in finding realistic and practical ways of environmentally-friendly food/eating habits.