7 Ways to Revamp Your Pantry for Back-To-School

Have you peeked in your pantry lately? While we're enjoying the heat and time spent outdoors, it's hard to believe that school starts very soon! This time around, get a head start on stocking your pantry with the right items so that you can send the kids to school with homemade items you feel good about.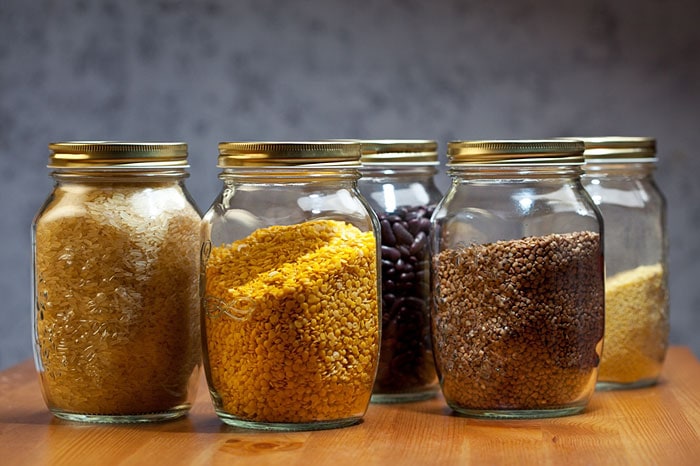 Revamp Your Pantry for Back-To-School
1. Out with the Junk
Cast a keen eye over the contents of your pantry, and be ruthless. Throw away any candies or assorted junk foods that may have collected throughout the summer from birthday loot bags, camping trips, or trips to the carnival. If these items are not around, no one will be tempted to eat them or ask for them.
2. Get Dried (Whole Grains, Legumes, Fruits, and Nuts or Seeds)
Want to get the family eating more legumes? If you haven't already, stock a few cans of beans and a bag or two of easy-to-cook dried legumes such as lentils or split peas, which do not require pre-soaking. Lentils and split peas can easily be added by the handful into soups, pasta sauces, stews, or casseroles. Canned beans can be part of a hearty salad (rinse and drain well) or snack. Dried fruits and nuts or seeds are handy, high-energy snacks that can also perk up salads. Bonus: Dried nuts can easily be ground in a food processor with garlic and herbs to make easy pesto. Whole grains such as oats, quinoa, and wheat berries are versatile and can be used in any meal, so have a few types on hand.
3. Stock Your Baking Basics
If you want to bake more often at home, make sure you've always got the basic ingredients. Besides flour, salt, sugar, and oil, muffin recipes will typically call for baking powder and/or baking soda and vanilla extract. Yeast is good to have on hand if you plan to do dough (for bread or pizza crust).
4. Collect U-Pick Goodies
This time of the year, many u-pick farms are offering great deals on u-pick berries and vegetables. Berries freeze well and are so easy to add to smoothies, yogurt parfait, pancakes, and breakfast cereal. If you are already into home canning, you can really cook up a bounty that can last through the colder months.
5. Full of Fish
Canned salmon, tuna, and sardines can be used in frittatas and omelets, to top pizza, or to add more oomph to pasta sauce. And it certainly doesn't hurt to get a good dose of brain-friendly DHA as school starts again.
6. Flavor Friends
Spices that are pantry staples in our house include garlic powder, onion powder, paprika, turmeric, cinnamon, nutmeg, bay leaves, coriander, and pepper. Dried herbs I always stock are basil, thyme, rosemary, and oregano. While I prefer fresh herbs, as well as fresh garlic, ginger, and onion in cooking, sometimes you need to put together a rub or marinade in a hurry, so having dried spices on hand will help you prepare many seasoning mixes from scratch and avoid the need for a pre-packaged mix. In addition, many of these can be used to perk up an existing entree. For condiments, depending on your taste preference or cooking style, consider stocking Dijon mustard, Worcestershire sauce, chili sauce, tamari sauce, a sweetener such as honey, and vinegars (like balsamic vinegar, white wine vinegar, and red wine vinegar).
7. Seeing Red
Instead of buying pasta or pizza sauce, which tends to be high in sodium, I stock unseasoned tomato-only products (strained crushed tomatoes in jars, tomato paste, and canned whole tomatoes) so that I can use them in different types of cuisine as needed. You can make tomato soup, pasta sauce, pizza sauce, or add tomatoes to curries or stews.
The Bottom Line
Cooking tasty and nutritious foods in the home kitchen means starting off with the right pantry ingredients. Use this list as a guide when planning and strategizing your family's back-to-school ramp-up plan.

Alumni: University of California, Berkeley – Sofia believes in bringing back fun and pleasure into everyday eating. She loves cooking, and is constantly experimenting with ingredients, creating recipes and trying them out on family and friends. Her latest interest lies in finding realistic and practical ways of environmentally-friendly food/eating habits.