Top 4 Healthy Kansas Foods

This month, Kansas celebrates its 150th anniversary of becoming a state. To celebrate, we're featuring some of the top foods produced in Kansas, which is often referred to as the "Breadbasket of America," as well as being officially identified as the Sunflower State. With 88% of its land dedicated to agriculture, Kansas supplies the nation with many important agricultural products that find their way onto tables across the country every day.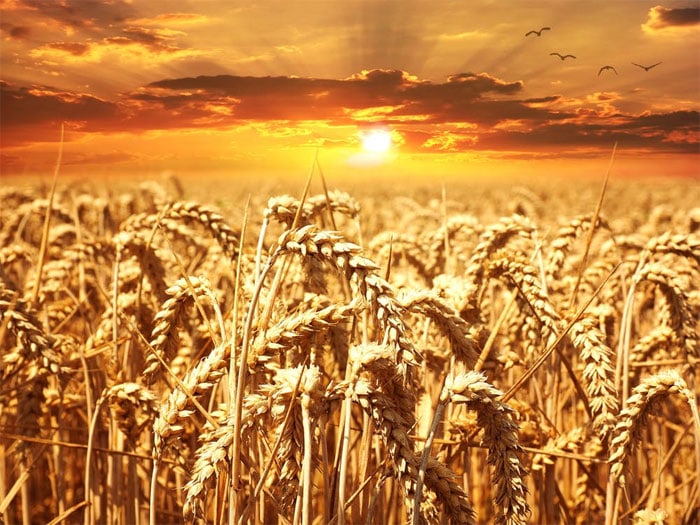 Here's what Kansas's top agricultural products have to offer in your daily diet:
Wheat
Kansas ranks #1 in the U.S. for wheat flour milling capacity and #2 for overall wheat production. As a whole grain, wheat is a good source of B vitamins, Vitamin E, magnesium, iron and fiber, as well as valuable antioxidants. Whole grains have been shown to reduce cholesterol levels lower blood pressure, and reduce the risks of many types of cancer. You can find whole grain wheat in whole wheat bread and some breakfast cereals.
Beef
Kansas ranks #3 in the U.S. for red meat production, including 5.3 billion pounds of beef in 2009. Beef is a great source of protein and provides Vitamin B12. Beef sometimes gets a bad rap for being high in fat and calories, but if you stick to reasonably-sized portions of lean, healthy cuts like eye of round, top round roast, top sirloin, and flank, beef can be a healthy part of a balanced meal.
Sunflower Seeds
As the Sunflower State, Kansas ranks #3 in the U.S. for sunflower production. While sunflowers are certainly nice to look at, it's important to know that their seeds are nutrition powerhouses! They are very high in antioxidant Vitamin E, and a good source of magnesium, as well as providing some calcium and protein.
Sorghum
Kansas ranks #1 in the U.S. for sorghum production. So what's sorghum? It's a grain product that in the U.S. is often used to feed livestock, though the demand for food-grade sorghum is on the rise. It can mainly be found as a whole grain in cereals. Since it's gluten-free, sorghum flour is a great alternative to wheat flour for those with celiac disease, or simply on a gluten-free diet.
The Bottom Line
The Sunflower State produces much more than just sunflowers! With all of these agricultural products from Kansas, it's no wonder the state is also known as the Breadbasket of America. Try incorporating some of these Kansas foods into your meals this month to help Kansas celebrate 150 years of statehood!

Alumni: University of British Columbia – Gloria Tsang is the author of 6 books and the founder of HealthCastle.com, the largest online nutrition network run by registered dietitians. Her work has appeared in major national publications, and she is a regularly featured nutrition expert for media outlets across the country. The Huffington Post named her one of its Top 20 Nutrition Experts on Twitter. Gloria's articles have appeared on various media such as Reuters, NBC & ABC affiliates, The Chicago Sun-Times, Reader's Digest Canada, iVillage and USA Today.