Protein Content of Foods
Protein is  important as building blocks in our bodies. While we often associate protein with "meaty" foods, how much protein is actually in the foods we eat? Here are some foods and their protein content per serving.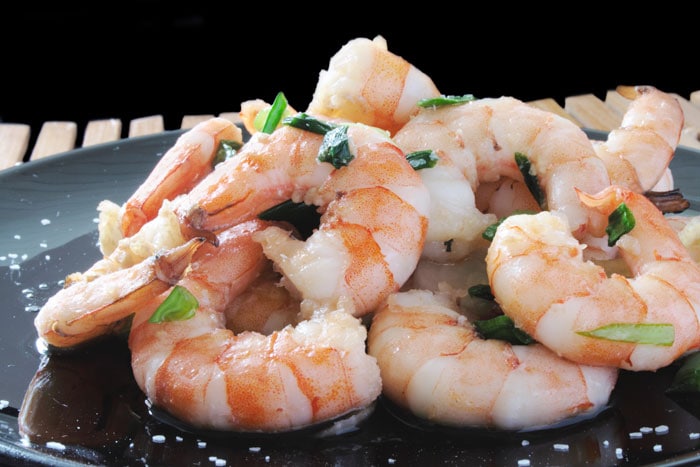 How Much Protein is in Common Foods?
Beef
Hamburger patty: 24 g per quarter pound
Tenderloin: 23 g per 3-oz serving
Prime rib: 38 g per 6-oz serving
Pork
Pork chop, ground pork, or tenderloin: 22 g per 3-oz serving
Sausage, Italian: 13 to 16 g per piece
Ham, deli: 4 to 5 g per slice
Chicken or Turkey
Breast, skinless: 27 g per half breast
Thigh, skinless: 28 g per thigh
Chicken drumstick, skinless: 23 g per drumstick
Turkey leg, skinless: 65 g per leg
Chicken wings, skin-on: 9 g per wing
Seafood (3-oz serving)
Fish filet or steak: 20 to 22 g
Tuna, canned, drained: 22 g
Salmon, canned, drained: 20 g
Shrimp: 19 g (~12 to 15 medium shrimp)
Dairy
Milk: approximately 8 g per cup
Cottage cheese: approximately 14 g per half cup
Cheese: 6 g per oz for soft cheeses (Brie, camembert),  7 to 8 g per oz for medium cheeses (cheddar, mozzarella, Swiss), 10 g per oz for hard cheese (parmesan)
Yogurt: 6 to 10 g per 6-oz serving, depending on type and flavor
Greek yogurt: 17 g per 6-oz serving
​Note: ​For dairy foods, lower fat items  contain slightly more protein than higher fat items, but the difference is not significant.
Non-dairy Milk (1 cup serving)
Soy: 7 to 11 g
Coconut: 1 g
Rice: 1 g
Almond: 1 g
Hemp: 2 to 4 g
Eggs
5 to 8 g per egg, depending on size
Beans and Lentils (half-cup serving)
Tofu: 8 g (soft) to 10 g (firm)
Edamame: 8.5 g
Beans (black, pinto, navy, kidney, etc.): 7 to 10 g
Lentils: 9 g
Nuts and Seeds (1-oz serving unless specified otherwise)
Walnuts: 4.3 g
Almonds: 6 g
Pecans: 2.7 g
Peanuts: 6.7 g; peanut butter: 8 g per 2 tbs
Pistachios: 6 g
Sunflower seeds: 5.5 g
Sesame seeds: 4.8 g
Pumpkin seeds: 5.3 g
Flax seeds: 5 g
Whole Grains (cooked, 1 cup serving)
Oatmeal: 5.9 g
Brown rice: 4.5 g
Quinoa: 8.1 g
Millet: 6.1 g

Alumni: University of California, Berkeley – Sofia believes in bringing back fun and pleasure into everyday eating. She loves cooking, and is constantly experimenting with ingredients, creating recipes and trying them out on family and friends. Her latest interest lies in finding realistic and practical ways of environmentally-friendly food/eating habits.
beans, beef, chicken, dairy, eggs, legumes, lentils, nuts, pork, seafood, seeds, soy, turkey, whole grains
Infant Formula 101 – Finding the Right Baby Formula