Written By: Gloria Tsang, RD
Last Updated on: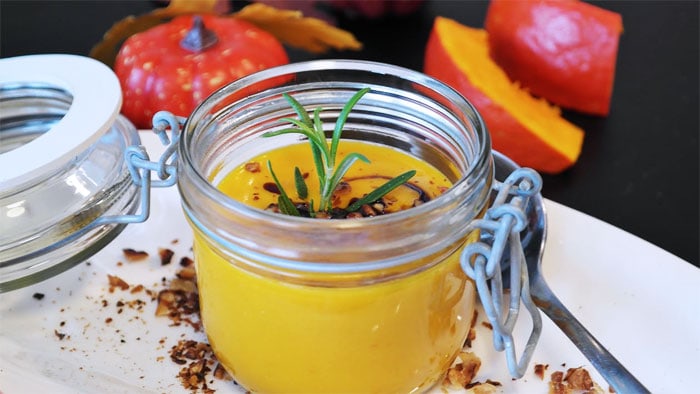 Cozy Up to a Warm Bowl of Healthy Soup
As the winter weather really starts to chill us to our bones, there's nothing more satisfying than a steaming bowl of hot, delicious soup. But when many of us think of eating soup at home, we turn to canned soups and packaged noodles, which are full of sodium, and often high in calories and fat. There's no reason to limit ourselves to the pre-made varieties on store shelves. It's really easy to make homemade soup that satisfies your craving for something hot and soothing, in a much healthier way than store-bought.
Top 4 Tips for Healthy Homemade Soup
Make Your Own Stock
Soup stock is surprisingly expensive to buy, and it's actually very easy to make at home. Just save your vegetable trimmings and chicken bones (or chicken back if you buy whole chickens) in your freezer during the week. On the weekend, throw them all into a pot with some water and spices and simmer until you get the flavor you want. Use right away or freeze to use later.
Watch Out for Sodium and MSG
These are often included in canned and packaged soups and noodles, including stock. If you must buy packaged stock as a base for your own homemade soup, choose one with lower sodium and avoid those with added MSG.
Add Flavor Instead of Fat
Broth-based soups have much less fat and fewer calories than cream-based soups, and are anything but boring. Add international flare and flavor using regional ingredients. For example, for Chinese hot and sour soup, simply add Chinese ingredients like tofu, shiitake mushrooms, bamboo shoots, and sesame oil into your stock. For Thai Tom Yum Goong, add Thai ingredients like lemongrass, fish sauce, shrimp, limes, and so on.
Thicken Up with Food, Not Cream
Many thicker soups use cream to create a hearty mouth-feel. But cream significantly boosts the fat and calorie content of soup. A healthier alternative is to use pureed pumpkin, squash, beans, lentils, or potatoes to create a luxurious thickness with extra nutritional value and much less fat.
The Bottom Line
Soup is one of the most satisfying winter foods. Why not try inventing some custom-made soup recipes for your family based on their favorite foods and flavors? Using the tips in this article, you can be sure your creation will be a healthy alternative to packaged store-bought soup or noodles that's easy to make, too.
Gloria Tsang is the author of 5 books and the founder of HealthCastle.com, the largest online nutrition network run by registered dietitians. Her work has appeared in major national publications, and she is a regularly featured nutrition expert for media outlets across the country. The Huffington Post named her one of its Top 20 Nutrition Experts on Twitter. Gloria's articles have appeared on various media such as Reuters, NBC & ABC affiliates, The Chicago Sun-Times, Reader's Digest Canada, iVillage and USA Today.