Five Healthy Breakfast Ideas for Dinner

Cooking even a simple hot breakfast can seem like too great an investment of precious time when you're rushing to get out the door in the morning. But when day turns to night, even the most time-consuming breakfast is still quicker than most things you can whip up for dinner. With minimal cleanup, easy ingredients, and comforting flavors, breakfast for dinner makes the perfect meal swap for a healthy evening nosh.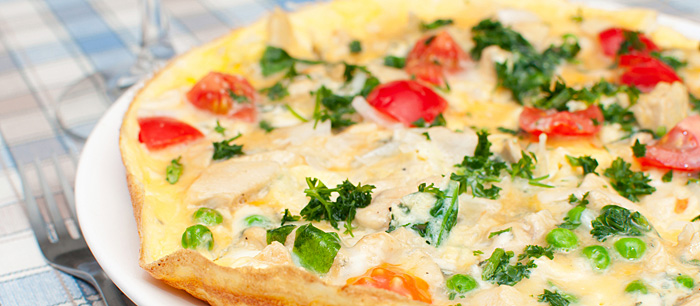 Meals Trading Places: Breakfast for Dinner
Ode to an Omelet
There is no better fridge-cleaner-outer than making a giant omelet to share. Whisk together eggs or egg whites with a little milk to form your egg "base," then scrounge the fridge for whatever you can find. Spinach, mushrooms, onion, cheese – even chopped, leftover deli cuts or roasted veggies from last night's dinner will do the trick. With a side of whole wheat toast and fruit, you've got a complete meal in a flash.
Open-Faced Egg Sammy
Really beat from a tough day?  The good news is, a balanced, hot meal really doesn't get any easier than this: Prepare two eggs any style and set them aside. Toast up a whole wheat English muffin, lay a bed of baby spinach on top, then layer the eggs on top of that. Top with pre-shredded Swiss cheese and pop under the broiler to melt the cheese. For a quick veggie side, halve a tomato and sprinkle with salt and pepper and broil while you melt the cheese on your sandwich. Et voila! Dinner is served.
Go South of the Border
Want to make breakfast for dinner Mexican? Scramble up a couple of eggs with two tablespoons of cheddar cheese and layer into a whole wheat wrap with canned black beans, sliced avocado, and plenty of salsa. Add a melon wedge and a glass of milk and dinner is done!
Host a Pancake Supper
Pancakes – who doesn't love them? Make yours healthier by choosing a 100% whole wheat mix, then embellishing them with extras. Add veggies by grating in carrots or zucchini, or tossing in mashed sweet potato or a dollop of canned pumpkin. Instead of traditional syrup, top with sliced fruit, or even make your own fruit compote topping by blending whatever frozen fruit you have on hand with a few teaspoons of sugar and apple juice to thin. Serve with fruit and turkey bacon for the ultimate cozy meal.
Double Take: Breakfast Pizza
Toss aside the pepperoni and cheese and make way for breakfast for dinner faves on your pie. Dice tomatoes, onion, and pepper and sprinkle on top of a ready-made pizza crust along with four scrambled eggs, leftover meat, and whatever cheese you please. Slip it all into the oven and heat until the cheese melts. A simple green salad mixed with orange sections and dried cherries makes a great side to serve, too.
The Bottom Line
After a long day, breakfast for dinner satisfies your need for a quick-to-the-table meal, and also gives you great family-pleasing comfort food, while still keeping it healthy.  A win-win for all of your goals!

Alumni: University of Tennessee, Knoxville – Beth Sumrell Ehrensberger is a Registered Dietitian and holds a Master Degree in Public Health. An experienced nutrition counselor, writer and public speaker, Beth specializes in translating complex nutrition information into practical concepts. Beth was awarded a Nutrition Communications Fellowship to the National Cancer Institute, and has worked on the internationally recognized Nutrition Action Healthletter of the Center for Science in the Public Interest.