Written By: Owennie Lee, RD
Last Updated on:
With its lovely flavor and proven health benefits, salmon has earned its right to stardom. Although they are all delicious and good for us, the flavor profiles and nutrient contents do vary among different species of salmon. Let's take a deeper dive and get familiar with the salmon species! All information is based on a 3.5 oz raw edible portion.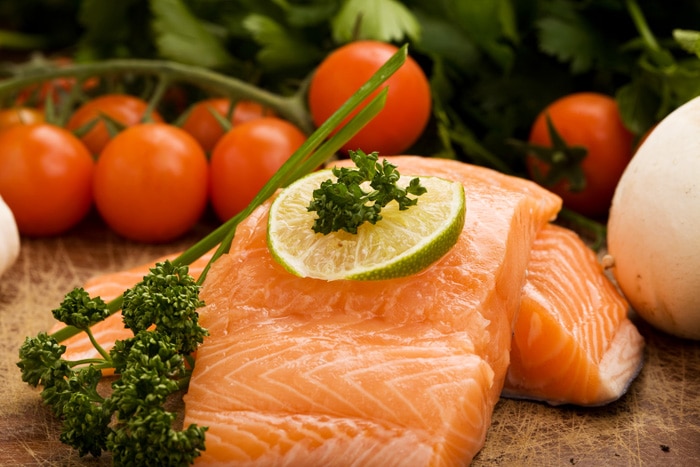 Wild Pacific Salmon
Chinook (King or Spring)

Chinook has the highest fat (10.4 g) and omega-3 fats (2.0 g) among wild Pacific salmon species. In addition to steaks, fillets etc., it is also commonly smoked due to its high fat content and attractive deep red color. Chinook is the richest and most flavorful, and is suitable for most cooking methods, especially grilling.
Chum

Chum is the lowest in fat (3.7 g) and omega-3 fats (0.9 g) among all salmon species.  It is often used in processed products such as patties and might appear under the name "keta" when canned. Chum's firm flesh makes it suitable for all cooking methods, including grilling as long as it is marinated and basted to ensure adequate moisture.
Coho (Silver)

Coho, also known as silver salmon, is a popular choice for smoked and canned salmon producers as well. Most similar to sockeye in flavor and color, coho's vibrant reddish orange color makes it an attractive choice for grilling and broiling. Coho has 4.6 g fat and 1.1 g omega-3 fats.
Pink

Due to its mild flavor, pink salmon is also found in processed products such as burgers and sausages, as well as canned. Since pink's fat content is relatively low (6.7 g fat, 1.4 g omega-3 fats), moist heat is the preferred cooking method with this species.
Sockeye

The high fat content (8.6 g fat, 1.2 g omega-3 fats), intense flavor and firm textured flesh of sockeye make it an all-time favorite salmon species. Available fresh, frozen, smoked or canned, sockeye's well-rounded profile lends itself to any cooking style.
Farmed Salmon
Farmed salmon and Atlantic salmon have almost become synonyms, as Atlantic salmon accounts for over 95% of farmed salmon production. Other species such as Pacific Chinook and coho account for the rest. While fresh wild salmon are only available certain months of the year (variable among species), fresh farmed salmon can be enjoyed year round.  Atlantic salmon is also the highest in fat (10.9 g) and in DHA and EPA omega-3 fats (3.9 g) among all salmon species. It is also important to note that PCB, a harmful environmental contaminant, is found at a higher level in farmed salmon than in wild salmon, as PCB tends to accumulate in fat.
Where Does Salmon's Distinctive Flesh Color Come From?
Consumers look for a pink or red flesh color when they buy their salmon. This color is a result of astaxanthin, a naturally occurring carotenoid pigment, which wild salmon obtain by eating krill or other small crustaceans. Farmed salmon, on the other hand, receive the same pigments from their feed through the addition of synthetic astaxanthin, according to the Salmon of the Americas "Salmon Facts" website.
The Bottom Line
Whether it is farmed Atlantic or wild Pacific, salmon is a great choice – and not only because of its robust flavor and attractive color. Naturally low in saturated fat and rich in omega-3 fats DHA and EPA, salmon of all species have gained the stamp of approval from heart-health advocates.

Owennie is a registered dietitian with a soft spot for chocolate and coffee. She is a believer in balance and moderation, and is committed to keeping healthy eating enjoyable and fun. Owennie received her dietetics training in Vancouver, and is a member of Dietitians of Canada and the College of Dietitians of British Columbia. She has experience in a wide variety of settings, such as clinical nutrition, long-term care and outpatient counseling. Owennie has also worked for a community nutrition hotline and participated regularly as a guest radio host, where she enjoyed sharing her passion and knowledge about food and nutrition with people.