Beer Calories Guide

Research Assistant: Kei C Lau
Cold drinks are essential for any summer barbecue party. For many Dads, their favorite beer may be the only choice of drink! This Father's Day, why not help Dad explore other beer options that may have less of a hit on his calorie intake and health.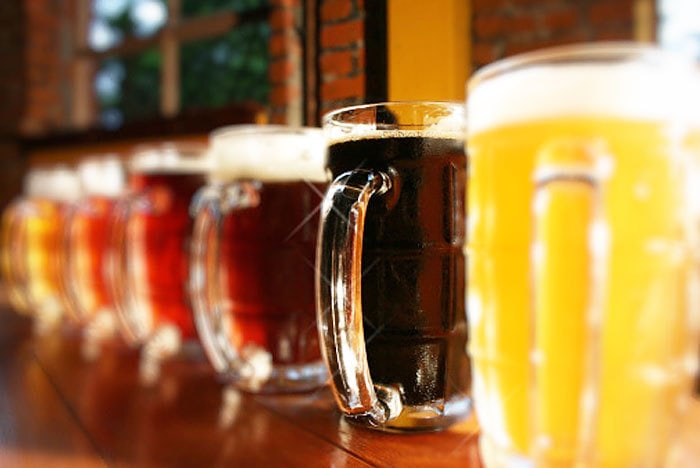 Beer Calories Guide
Regular Beer
Regular beer, mostly lagers and ales, usually contains not more than 5% alcohol.
Budweiser: 145 calories (10.6 g carbs)
Coors: 149 calories (12.2 g carbs)
Heineken: 150 calories (11.5 g carbs)
Corona Extra: 149 calories (14 g carbs)
Beck's Pilsner: 138 calories (11.7 carbs)
Light Beer
Light beer usually contains less alcohol (~4.2%) and fewer carbs, giving it a lighter taste and fewer calories. Ultra light beer, with even lower carb levels, are also available – they are often marketed as low-carb alternatives.
Bud Lite: 110 calories (6.6 g carbs)
Coors Lite: 104 calories (5.3 g carbs)
Natural Light: 95 calories (3.2 g carbs)
Michelob Ultra: 95 calories (2.6 g carbs)
Dry Beer
To produce minimal aftertaste, dry beer is usually made with fewer carbs.
Bud Dry: 130 calories (7.8 g carbs)
Asahi Super Dry: 149 calories (10.7 g carbs)
Draft Beer
Bottled draft beer is marketed as beer tasting and appearing like beer from a keg. It is usually filtered, which results in a lighter tasting beer.
Miller Genuine Draft: 143 calories (13.1 g carbs)
Stronger Beer: Stronger beer, like porters and stouts, usually has a higher alcoholic content (sometimes as high as 8 – 9%).
Guinness Extra Stout: 174 calories (12.4 g carbs & 5.6% alcohol)
Sierra Nevada Porter: 194 calories (18.4 g carbs & 5.6% alcohol)
Michelob Porter: 196 calories (17.4 g carbs & 5.9% alcohol)
Gluten-free Beer
There are even beer options for the Dads who are intolerant or allergic to wheat! These beers are usually made with gluten-free grain sorghum.
RedBridge: 160 calories (16.4 g carbs, made from sorghum)
Bard's: 155 calories (14.2 g carbs, made from sorghum)
Non-alcoholic Beer
For the Dads who are not able to drink alcohol for health or religious reasons, or who simply prefer a non-alcoholic option, non-alcoholic beer (< 0.5% alcohol content) is a great substitute for the real thing that has way fewer calories, too.
O'Douls: 65 calories (13.3 g carbs & 0.4% alcohol)
Coors Non-Alcohol: 66 calories (14.8 g carbs & 0.5% alcohol)
Note: Nutrition information quoted above is based on a 12-oz serving from US formulations.
The Bottom Line
Dads may have a special license for drinking. Researchers from the University of Florida found that men who are regular, light drinkers are 29% less likely to develop heart disease than men who never drink alcohol or only drink alcohol occasionally. So enjoy your beer this summer! The current recommendation is no more than 2 drinks of alcohol per day for men – that works out to two 12-oz beer bottles.

Alumni: University of British Columbia – Gloria Tsang is the author of 6 books and the founder of HealthCastle.com, the largest online nutrition network run by registered dietitians. Her work has appeared in major national publications, and she is a regularly featured nutrition expert for media outlets across the country. The Huffington Post named her one of its Top 20 Nutrition Experts on Twitter. Gloria's articles have appeared on various media such as Reuters, NBC & ABC affiliates, The Chicago Sun-Times, Reader's Digest Canada, iVillage and USA Today.