Butter or Margarine – Which One Is Better For My Health?
The debate on whether butter or margarine is better for our health is still as hot today as when it first arose. To determine which one is better for heart health, let's look at the fat content of both butter and margarine.
Butter – Saturated Fats and Cholesterol
Butter, as an animal fat, contains both saturated fats and cholesterol – the two dietary ingredients that increase blood cholesterol. Saturated fats can raise LDL cholesterol (also known as "bad" cholesterol), which raises total blood cholesterol as well. Cholesterol in foods, on the other hand, has little effect on blood cholesterol in most people. But for some, even a little dietary cholesterol can cause a soar in blood cholesterol levels.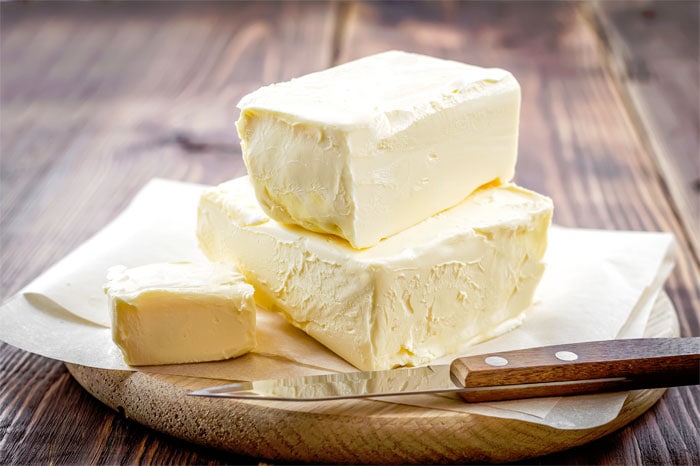 Margarine – Trans Fats (…..in the past)
When margarine was first introduced to the marketplace, it was loaded with trans fats. The trans fats were created through hydrogenation – the very process used to solidify liquid vegetable oil into a spread.
Just like saturated fats, trans fats increase LDL cholesterol ("bad" cholesterol) and lower HDL cholesterol ("good" cholesterol).
In recent years, food manufacturers and the general public began to realize the negative health effects of trans fats. As a result, manufacturers have created non-hydrogenated margarine, which is now widely available. Non-hydrogenated margarine contains no trans fat, and it's softer than the first-generation margarine stick.
Instead of hydrogenating liquid vegetable oil, manufacturers now add a tiny amount of modified palm and palm kernel oil to enhance the spreadability of margarine, creating a soft margarine that's trans fatty acid free.
Recommended Intake per day

Soft-tub Margarine

(1 tbsp)

Stick Margarine (1 tbsp)

Calories
2100 kcal
102 kcal
60 kcal
101 kcal
Total Fats
~70 g

(~30% of total kcal)

11 g
6 g
11 g
Saturated Fats
< 23 g

(<10% of total kcal)

7 g
1 g
2 g
Trans Fats
< 2.3 g

(<1% of total kcal)

0.3 g
0 – 0.5 g
3 g
Cholesterol
< 300 mg
33 mg
0 mg
0 mg
*Please note that the recommended intakes are provided for healthy average individuals age 24 – 49 calculated at an average intake of 2100 kcal. For individuals with heart diseases, the American Heart Association recommends to limit saturated fats to <7% of total calories (i.e. 16 g) and cholesterol to
Another note: Butter naturally contains trans fat, but it's a good kind of trans fat.
Butter or Margarine: the Verdict?
BOTH saturated fats and trans fats can raise total cholesterol and LDL cholesterol. Therefore, you should try to minimize the intake of BOTH saturated fats and trans fats.
When we add up the numbers, it's clear that butter contains more saturated fats and trans fat. And remember that butter also contains dietary cholesterol.
Choose non-hydrogenated soft margarine.
Choose soft margarine: The American Heart Association recommends the use of margarine as a substitute for butter. We are excited that many brands of soft margarine do not contain trans fat anymore. Check the Nutrition Facts label and choose one with zero trans fat and no more than 2 g of saturated fats per tbsp and with liquid vegetable oil as the first ingredient.
Here are some brands of soft margarine and cholesterol-lowering spread that meet the criteria:
Becel
Benecol
Blue Bonnet Soft Spread
Canola Harvest Non-Hydrogenated
I Can't Believe it's not Butter
Promise
Smart Balance Light
Alumni: University of British Columbia – Gloria Tsang is the author of 6 books and the founder of HealthCastle.com, the largest online nutrition network run by registered dietitians. Her work has appeared in major national publications, and she is a regularly featured nutrition expert for media outlets across the country. The Huffington Post named her one of its Top 20 Nutrition Experts on Twitter. Gloria's articles have appeared on various media such as Reuters, NBC & ABC affiliates, The Chicago Sun-Times, Reader's Digest Canada, iVillage and USA Today.