Diabetes Management and Air Travel
The holidays can be a hectic time for air travel and it's often hard to anticipate exactly what we'll need if our travel plans change or are suddenly delayed. For people with diabetes an air travel delay could jeopardize meal plans and good blood sugar control. Most flights that are less than 2-3 hours don't offer snacks or meals – many only offer a beverage, if that. That's why it's important for people with diabetes to plan ahead and keep an eye out for healthy meal options at the airport.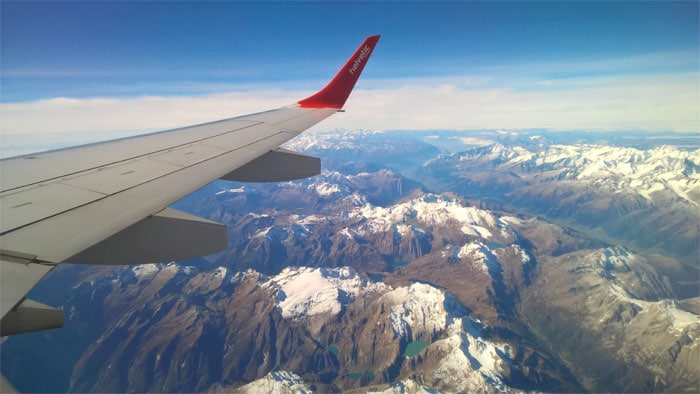 Better Choices at the Airport for People with Diabetes
Airports are filled with food courts ready to serve hungry travelers. From coffee shops to family-style restaurants, the options are limitless. For people with diabetes it's important to choose wisely, because many of the meals can be high in calories and carbohydrates. The usual "fast food" items like hamburgers, pizza, fries, and nachos are the most readily available. However, people with diabetes can make healthy selections and stick to their meal plans. Here are some tips to help guide you during air travel:
Order baked or grilled items instead of fried foods and sandwiches. Chick-fil-A carries grilled chicken sandwiches and wraps that are lower in carbohydrates and fat than their usual sandwich.
Ask for salad dressings or sauces on the side so you can control the amount of calories your meal contains. Some salad packets have over 400 calories per serving, so use sparingly.
Choose fresh salads, baked potatoes, or soup instead of mega-size burgers with fries.
Pick low fat yogurt parfaits or fruit smoothies instead of specialty coffee drinks. A Starbucks 16 oz Mint Mocha Chip coffee drink has 71 grams of carbs, while a McDonald's Fruit'n Yogurt Parfait has 24 grams of carbs.
Check in airport gift shops for dried fruit, baked chips, trail mixes, or granola bars. Protein bars like Odwalla bars (41g carbs) or Cliff bars (45g carbs) can be substituted for heavier calorie meals.
Packing with Diabetes in Mind
Another option is to bring food with you that you can keep in your carry-on luggage. A turkey and swiss cheese sandwich with a medium piece of fruit or a salad with your favorite toppings can help to tide you over till you reach your destination. Think twice before bringing beverages with you during air travel. You are allowed to take on travel size toiletries less than 3 ounces, but usually beverages, including water, are not allowed past security. Once you are cleared through security you may purchase a beverage that can be taken on the flight or fill up your water bottle at that time.
The Bottom Line
As air travel becomes more common during the holidays, delays also become more frequent. For people with diabetes, planning ahead is essential. You can do a search on the internet to look for which restaurants you'll find at the airports you'll be using. Compare the nutrition facts for different food options prior to your air travel. Keep an eye out for grilled, baked, and lighter fare choices at food courts. Healthier options are becoming more and more available because people with diabetes, as well as people without diabetes, are watching what they eat. Meal planning and traveling with diabetes can be smoother than you think.

Alumni: University of Florida – Sejal is a registered dietitian, a certified diabetes educator and she holds a masters degree in nutrition and health. Sejal was the project coordinator for the Veteran's Administrations (VA) national weight loss program and previously worked for the VA hospital in Tampa, FL as a Spinal Cord Injury dietitian.
Sejal has had numerous clinical and community education experiences, including pediatric and intensive care nutrition support. She has also had the opportunity to teach nutrition courses at the community college level to students interested in pursuing health professions. One of her favorite areas of education is diabetes management.