Written By: Sofia Layarda, RD
Last Updated on:
Are you expecting vegetarian guests at your holiday table this season, and completely clueless about what to serve them? Whatever your reason may be for considering vegetarian alternatives in your holiday celebration, rest assured that they include a wealth of items beyond salads and breads. We polled the pros and summarized their tips and suggestions below, so that the vegetarians at your party can have the full meal deal, instead of just the veggie sticks and dinner buns.
Pass the seitan, please
A challenging task for a home cook unfamiliar with vegetarian meals is finding a meat alternative. Seitan (pronounced SAY-tan) is a meat substitute derived from wheat gluten (basically the protein portion of wheat). The advantage of seitan is that it works well (taste- and texture-wise) in many dishes that you traditionally would make with meat. Do not be intimidated by the unfamiliar name; you have tasted seitan if you have tried any type of "mock meat" in a vegan restaurant. Ready-made seitan can be purchased from places like Whole Foods or Westsoy, or you can purchase dry mix. Adventurous souls can try making their own seitan from scratch.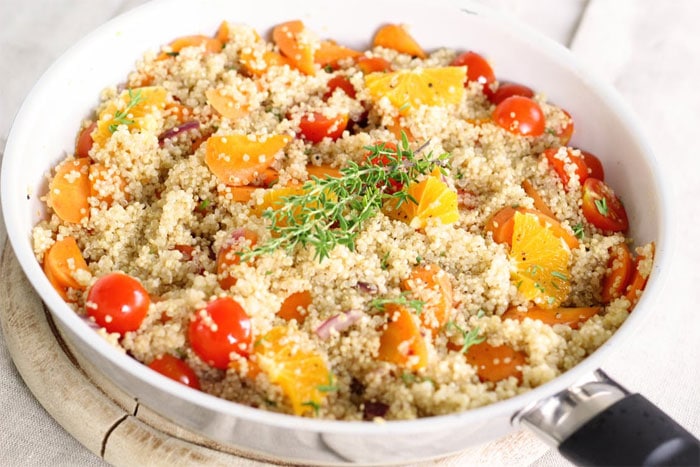 Dairy-free whip, anyone?
When it comes to dessert, the "icing on the cake" is the whipped cream atop a piece of pie. For a dairy-free option, we definitely do not suggest the over-engineered "cream-like" product sold in grocery stores that contains partially hydrogenated oils! Instead, whip up an alternative from scratch. Mark Reinfeld, founder and executive chef at Blossoming Lotus and co-author of the book Vegan Fusion World Cuisine, makes a dairy-free maple whip by blending silken tofu, maple syrup, lemon juice, cardamom and cinnamon in a food processor.
Side substitutions
Traditional trimmings and sides such as mashed potatoes and gravy are often considered essential to a holiday meal, so don't disqualify the vegetarians at your party from enjoying them by flavoring them with meat or dairy products. Instead, substitute with vegetarian-friendly, and equally tasty, seasonings. Instead of mashing potatoes with butter and milk, use chopped fresh herbs, vegetable broth, and roasted garlic cloves. And who says gravy has to be made from meat trimmings? An easy no-fuss vegetarian gravy can be made by stir-frying onion, garlic, mushrooms, soy sauce, herbs, and vegetable broth, with a bit of flour added to thicken.
"Vegify" the dips
Serving up a veggie platter as an appetizer? It's very easy to offer vegetarian-friendly dip options, such as various nut butters, hummus (traditionally made with chick peas, or go green and make it from edamame instead).
Going meatless where meat used to be
If your traditional holiday meal includes some sort of casserole or stew, look at it as the perfect opportunity to go completely meat- or dairy-free. You can usually omit meat from your favorite recipes for these types of dishes and bump up the fresh herbs and seasonings instead. For example, you can make a veggie-only version of moussaka or lasagna, or use soy milk in place of milk for a green bean casserole.
The Bottom Line
Even the most well-meaning and organized host can be overwhelmed by the thought of putting on a holiday meal that will satisfy everyone! The key to trying out vegetarian meal ideas for the holidays is to be realistic about what you can pull off given your resources (time, money, and cooking know-how), and do only what you can manage. Don't feel like you have to do everything we have listed above, especially if you are new to vegetarian cooking. Pick one or two ideas and do them well, and let the rest of the meal follow your familiar tried-and-true script.

Sofia believes in bringing back fun and pleasure into everyday eating. She loves cooking, and is constantly experimenting with ingredients, creating recipes and trying them out on family and friends. Her latest interest lies in finding realistic and practical ways of environmentally-friendly food/eating habits.