A sore mouth and throat may be caused by radiation therapy, certain medications, chemotherapy and/or infections. Eating can be made easier by taking care of your mouth and carefully choosing the foods that you eat. The following suggestions will help you eat better.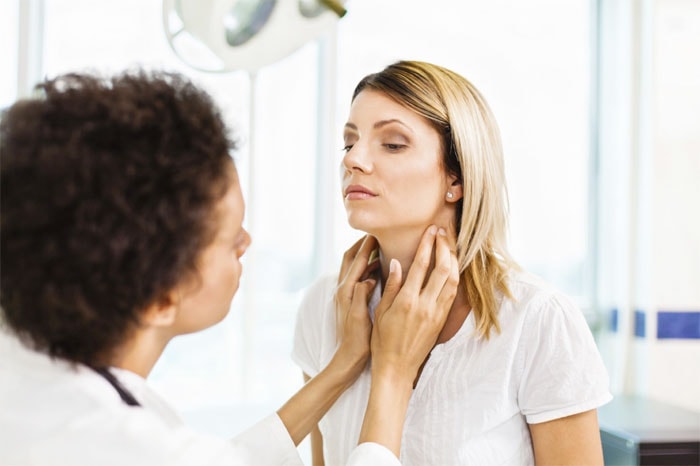 Make sure your doctor is aware of any mouth problems you may be experiencing. Your doctor or nurse will be able to give you tips about mouth care and mediations that will ease mouth or throat pain.
Rinse your mouth with baking soda and water mouthwash often during the day to help clean and refresh your mouth. See below for the recipe.
Drink at least 8 to 10 glasses of fluids daily to avoid dehydration.
Make every bite count. Choose foods and drinks that are high in calories and protein.
Eat and drink frequently during the day. Try eating every two hours and sipping fluids throughout the day.
Choose foods that are easy for you to chew and swallow. Start with high calorie fluids if chewing is difficult for you. Gradually introduce solid foods as you are able. See Foods that may be hard to chew or swallow.
Baking Soda and Water Mouthwash

Combine baking soda and water and mix well.
Eating with a Sore Mouth, Sore Throat?

Foods that may be hard to chew or swallow


Foods to try

Rough or Crunchy Foods:

dry cereals
dry toast, popcorn, nuts, plain rice
fried foods
raw vegetables
and hard fruits

cooked cereals or dry cereals
soaked in milk
pancakes, french toast, pasta
dishes
foods cooked or simmered in
sauces or liquids
soft fruits, mashed or cut up such as bananas, canned peaches, pears and fruit cocktail
baby foods e.g. vegetables and fruits
add butter, margarine or sauces to vegetables

 Dry Foods:

baked or fried meats, chicken
or fish
cookies, crackers, bread and
buns
dry cakes

foods cooked or simmered in liquids (e.g. stews with ground or finely chopped meats, hearty soups)
soft casseroles egg macaroni and cheese, egg dishes
meats that have been chopped,
ground or blenderized
meats served with gravy, sauces
or soups
baby foods e.g. meats
cookies dipped in drinks
crackers or bread soaked in
soup
add butter margarine, mayonnaise
or salad dressing to moisten foods
pour cream or custard sauce
over cakes
puddings, jello, custards

 Beverages:

milk, milkshakes and food supplements
juices (except orange, grapefruit
and lemonade), fruit nectars
flat soft drinks and non-alcoholic beer
add water or milk to drinks if you find them too strong

Tart or Acidic Foods:

foods made with citrus fruits
such as oranges, grapefruits, lemons
foods made with tomatoes( e.g.
juices and sauces)

canned peaches, pears, fruit
cocktail, applesauce, fruit flavoured drinks (e.g. koolaid) or
nectars
sauces made with milk, cream
or cheese

Foods that are too Hot or too Cold:

very hot beverages or soups
very cold beverages or foods

 warm beverages or soups
(let hot foods cool off to a temperature that is best for you)
puddings, milkshakes or melted
ice cream

Highly Seasoned Foods:

pepper, curry, chili seasoned dishes, or salty snack foods

garlic, onion or herb seasonings, cream or cheese sauces