Comparing Nutritional Values of Various Whole Grains

We all know that white flour, white bread, white rice, etc., are nutritionally bankrupt, and that their whole grain counterparts are great sources of fiber, magnesium, Vitamin E, folate, and antioxidants. Although all whole grains are superior to their white or refined counterparts, the various whole grains do differ in nutrient density. We've looked into the nutritional profile of common whole grains, and compare their nutritional values. Based on our analysis, here is what we found.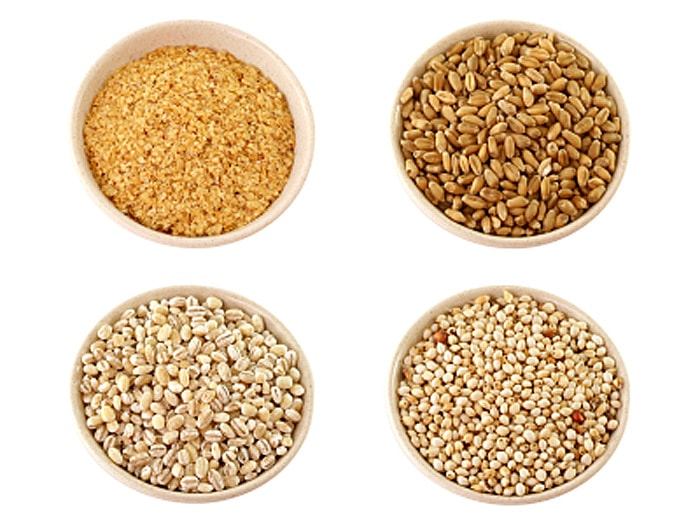 How Whole Grains Stack Up Nutritionally
(per 1 cup cooked serving)
Highest in Protein
1st Place: Spelt
Grains not only supply carbohydrates to fuel our bodies, they can also be a good source of plant-based protein. For example, one cup of cooked spelt provides 10.7 grams of protein and quinoa has 8.1 grams.
Best Source of Fiber
1st Place: Bulgur
Whole grains enjoy a well-deserved reputation of being a great source of fiber. That's because whole grains contain all 3 parts of a grain – bran, endosperm, and germ. Bran is the fiber-rich part that forms the outer layer of a grain. Some whole grains contain both soluble and insoluble fiber, while others only provide mostly insoluble fiber. The highest fiber whole grain is bulgur; it has 8.3 grams of insoluble fiber. Spelt is a close second with 7.6 grams of insoluble fiber. Barley, on the other hand, supplies both soluble and insoluble fiber, totaling 6 grams per cup, while quinoa has 5.2 grams of the same combination.
Top Magnesium
1st Place: Quinoa
Magnesium is an important mineral that may help prevent and control hypertension, diabetes, and cardiovascular disease. Quinoa made it to the top magnesium grain, providing 118 mg of magnesium, while runner-up spelt has 95 mg per 1 cup cooked serving.
Top Source of Vitamin E
1st Place: Quinoa
Certain whole grains are also rich in Vitamin E, a potent antioxidant. The nutrition powerhouse quinoa takes 1st place with 1.17 mg of Vitamin E, while spelt and wild rice also made it to the top 3 with 0.5 mg and 0.39 mg Vitamin E respectively.
The Bottom Line
Despite the fact that only a few kinds of whole grains made it onto the above list, all whole grains are exceptionally nutritious and can add variety to your dinner table. Quinoa and spelt are especially stellar in many nutrients, so be sure to try them instead of your boring white rice if you haven't already done so!

Alumni: University of British Columbia – Owennie is a registered dietitian with a soft spot for chocolate and coffee. She is a believer in balance and moderation, and is committed to keeping healthy eating enjoyable and fun. Owennie received her dietetics training in Vancouver, and is a member of Dietitians of Canada and the College of Dietitians of British Columbia. She has experience in a wide variety of settings, such as clinical nutrition, long-term care and outpatient counseling. Owennie has also worked for a community nutrition hotline and participated regularly as a guest radio host, where she enjoyed sharing her passion and knowledge about food and nutrition with people.