A Single Girl's Guide to Cooking with Style & Grace.
Host: Gloria Tsang, RD
Guest: Jodi Citrin Greebel, MS, RD
Chances are that between the time you head to work, put in a full day, and commute back home, the thought of preparing a healthy dinner for one person (in this case, you) is beyond your scope of daily torture. If you are one of those who think the 4 food groups are boxed macaroni, PB&J, breakfast cereal and diet pop, stay tuned. Joining me today is New York nutritionist Jodi Citrin Greebel – co-author of cookbook – A Single Girl's Guide to Cooking with Style & Grace.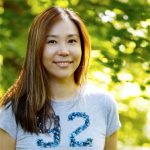 Gloria Tsang is the author of 5 books and the founder of HealthCastle.com, the largest online nutrition network run by registered dietitians. Her work has appeared in major national publications, and she is a regularly featured nutrition expert for media outlets across the country. The Huffington Post named her one of its Top 20 Nutrition Experts on Twitter. Gloria's articles have appeared on various media such as Reuters, NBC & ABC affiliates, The Chicago Sun-Times, Reader's Digest Canada, iVillage and USA Today.