Written By: Sofia Layarda, RD
Last Updated on:
At this time of the year, gloomy weather and hectic schedules conspire to create a perfect storm of grumpiness for many. Fortunately, there is a growing body of research suggesting that some herbs and spices we cook with also have anti-depressive properties, in addition to making our foods taste good.
More Than Just Seasonings: Herbs and Spices to Help De-Stress
1. Saffron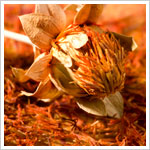 Researchers at the University of Tehran found that saffron was similarly effective to a well-known antidepressant in treating mild to moderate depression, as reported in a 2007 article in the Progress in Neuro-Psychopharmacology and Biological Psychiatry journal. Saffron contains numerous volatile compounds and carotenoids, including crocin, a potent antioxidant that appears to be responsible for the neuroprotective effect.
One of the world's most prized spices, pure saffron is expensive because it is difficult to obtain. (The part of the plant that ends up as the spice is the dried stigma of the flower, which must be picked by hand.) Many cuisines use saffron in their cooking, including Spanish (think of paella), French, Greek, Italian, Indian, Turkish, Moroccan, and Persian.
2. Rosemary
Rosemary is known to have anti-carcinogenic properties. But some emerging research also suggests it helps improve blood flow and circulation in the brain. Brazilian researchers reported that rosemary extract produced antidepressant-like effects in animal models in a 2009 article in the Progress in Neuro-Psychopharmacology and Biological Psychiatry journal.
3. Sage
Sage is actually related to rosemary, and contains one of the same active compounds – rosmarinic acid, which has antioxidant and anti-inflammatory properties. A 2006 review article in the Current Pharmaceutical Design journal highlights sage's ability to inhibit enzymes that play a role in the development of dementia or Alzheimer's disease. Sage extract has been shown to improve the cognitive function of normal, healthy individuals as well as reduce the cognitive decline of Alzheimer's disease patients.
4. Lavender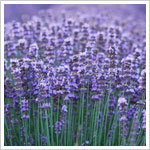 A study looking at the use of lavender tincture found that it was useful as a complementary therapy (in combination with an antidepressant), so that patients taking combination therapy improved earlier and more dramatically than those taking the antidepressant alone. While rarely used in cooking, lavender can be consumed as tea.
The Bottom Line
​While the research is still in its early stages, a couple of spices that are also being studied for their neuroprotective potential are thyme and turmeric.
From a nutritional perspective, seasoning your food with herbs and spices is a great way to flavor food without reaching for the salt shaker. If this comes with the bonus of making your mood and mind better, then that's the icing on the cake!

Sofia believes in bringing back fun and pleasure into everyday eating. She loves cooking, and is constantly experimenting with ingredients, creating recipes and trying them out on family and friends. Her latest interest lies in finding realistic and practical ways of environmentally-friendly food/eating habits.