No More Granola Bars from a Box

Nothing could be easier than picking up a box of commercially prepared granola bars in the supermarket, right? Think again. If you take a closer look, you will find that most products have a lengthy list of ingredients, some of which are hard to pronounce, and many of which we are trying to eat less of (especially sugar, in its various forms).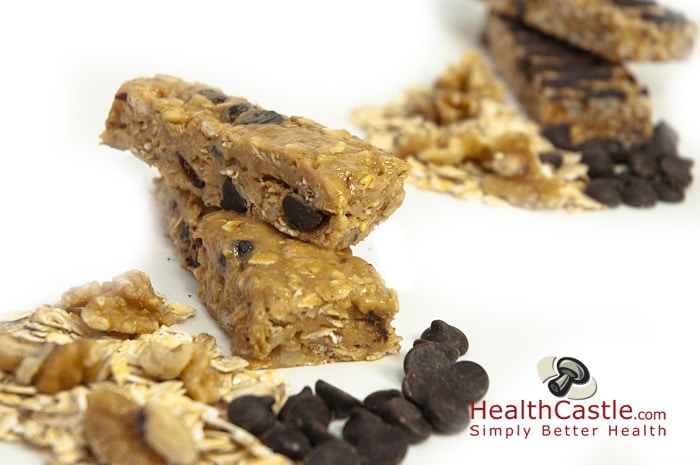 Quaker Fiber and Omega-3 Peanut Butter Chocolate Bar
HealthCastle.com No-Bake Chocolate Peanut Butter Granola Bar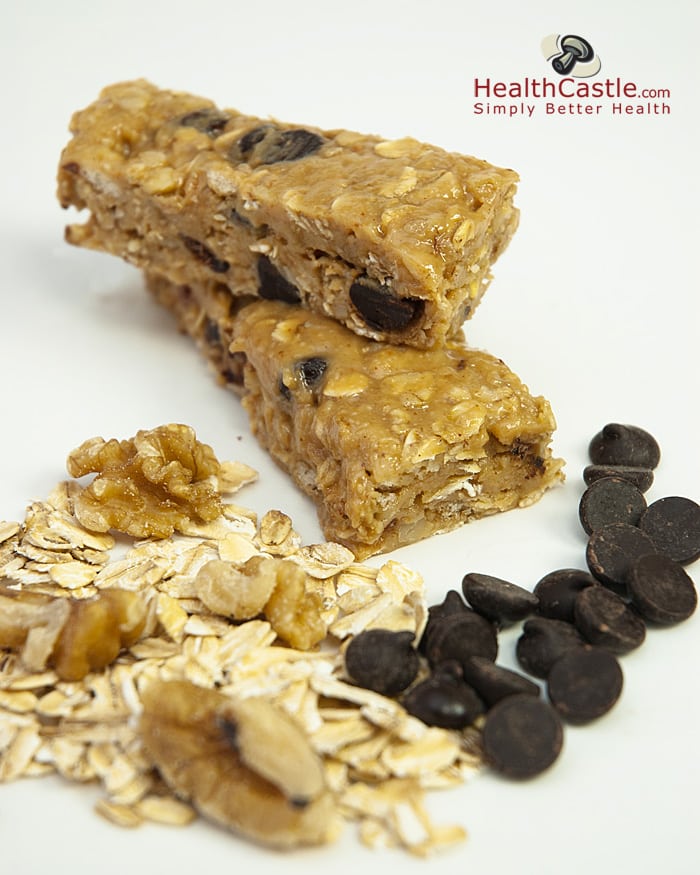 Here is a video of the entire process.
So just how hard is it to make your own granola bars from scratch? We put this question to the test and this is how we fared:
Quaker Fiber and
Omega-3 Peanut Butter
Chocolate Bar

Homemade No-Bake
Chocolate Peanut Butter
Granola Bar

Serving Size:

1 bar (35 g)
1 bar (35 g)

Calories:

150 kcal
178 kcal

Protein:

3 g
6 g

Fat:

5 g
11 g

Trans Fat:

Yes
No

Carbohydrate:

24 g
16 g

Fiber:

5 g
2 g

Sodium:

80 mg
50 mg

Preparation time:

Prep: 5 minutes
Chilling: 2 hours

Price per serving:

$0.80
$0.39

Ingredients:

Granola, crisp rice, corn syrup, inulin, invert sugar, peanut butter (peanuts, sugar, palm oil, salt), semisweet chocolate chunks, rolled oats, milled flaxseed, sugar, glycerin, peanut flavored chips (sugar, palm kernel and palm oil, partially defatted peanut flour, lactose, whey powder, dextrose, corn syrup solids, soy lecithin, salt, artificial flavor), bran strands (wheat bran, oat hull fiber, evaporated cane juice, oat bran, malted barley extract, sea salt, sodium bicarbonate, color), sunflower oil, hydrogenated palm kernel and palm oils, water, rolled whole wheat, brown sugar, cocoa, natural and artificial flavors, soybean oils, whole wheat flour, buttermilk, salt, molasses, soy lecithin, milk-fat, sodium bicarbonate, sorbitan monostearate, caramel color, polysorbate 60, BHT, skim milk powder.
unsalted natural peanut butter, honey, granola, dark chocolate chips, oatmeal, walnuts
How Did the Two Granola Bars Stack Up
Per serving, our homemade bar had more protein and fat, but less carbohydrates and fiber than the store-bought version. But numbers alone don't tell the whole story:
The higher protein and fat in our bar come mostly from the peanut butter and walnuts, which provide healthy monounsaturated fats. Walnuts are also rich in omega-3 fatty acids. (The omega-3 fatty acids in the Quaker bar came from flaxseed).
The Quaker bar used fillers to lower the fat content and added inulin to bump up the fiber amount (but having inulin is not the same thing as getting fiber from whole grain products).
The higher carbohydrate content in the Quaker bar came from multiple sources of sugar, while our main form of sweetener is honey, with some sugar in the dark chocolate chips.
Price-wise, our bar was half the cost of the prepackaged version. The made-from-scratch bar was also a winner in taste: In each bite, you get wholesome nuttiness, sweetness, and pleasant chewiness. This would be an appealing snack bar for a child. The Quaker bar had a crunchier, dry texture that some kids might find harder to chew. The dominant taste was sweet, with not much peanut butter and chocolate flavor, despite the name of the bar. This is not a surprise when we read the ingredients, because the peanut butter used consists of peanuts, sugar, palm oil, and salt, and instead of real chopped nuts, "peanut flavored chips" were used.
The Bottom Line
At half the cost, and with better taste and nutrition, it is a no-brainer: Plan ahead to make a batch of these granola bars from scratch. This would be an easy weekend thing to prepare. It only took us minutes to measure and mix all the ingredients together. The longest time was spent waiting for the mixture to harden before cutting. When finished, wrap each serving individually and store them in the fridge so that they will be ready for you anytime.
Our Granola Bar Recipe
Adapted from the Protein Bar recipe by Matt Dunigan, host of Food Network Canada's show Road Grill
The original recipe yield was 24 servings, but we cut ours into 36 servings to match the size of the store-bought bars. We also reduced the amount of honey by 25%.
Ingredients:
1 cup raw oatmeal
2 cups granola or trail mix
1/2 cup ground walnuts
3/4 cup honey
1 cup dark chocolate chips
2 cups natural unsalted peanut butter (chunky type)
Steps:
Oil a 9×11 baking sheet.
Place all dry ingredients in a large bowl and mix to combine.
Add the wet ingredients and form into a firm paste. You may need to add more peanut butter or honey if the mixture is too dry.
Press the mixture into the oiled container.
Cover the pressed mixture with plastic wrap and place in the refrigerator for 2 hours.
Cut into 36 bars and serve.
Store extras in an airtight container or wrap individually in plastic and store in the refrigerator.

Alumni: University of California, Berkeley – Sofia believes in bringing back fun and pleasure into everyday eating. She loves cooking, and is constantly experimenting with ingredients, creating recipes and trying them out on family and friends. Her latest interest lies in finding realistic and practical ways of environmentally-friendly food/eating habits.