How to Choose the Right Potato For Your Dish

February is Potato Lover's Month. What better time to focus on this sometimes under-appreciated vegetable? (Yes, vegetable.) Potatoes are surprisingly nutritious – they are a good source of both Vitamin C and potassium – and can be a very healthy addition to any meal.  Did you know that there are officially seven types of potatoes? Let's explore which types of potato work best for different dishes.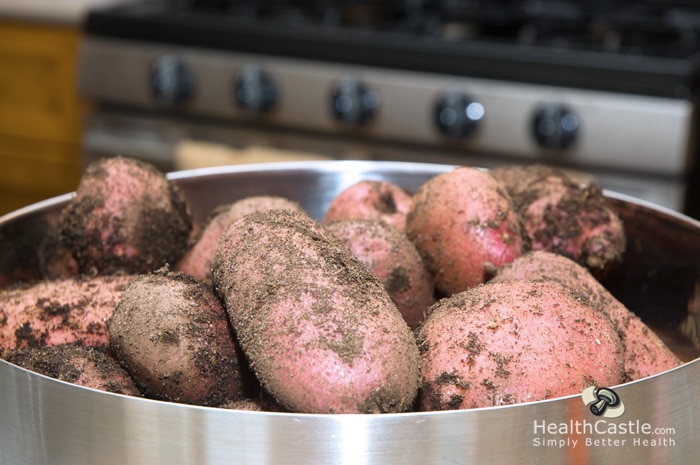 Seven Potato Varieties: Seven Dishes
Russet Potatoes
If you've ever cooked a potato, you've probably cooked a russet potato – they're the most commonly eaten potatoes in the United States. These potatoes are medium to large in size and have that familiar oblong "potato" shape. Their skin is chewy when cooked, and their flesh is very light and fluffy, without too much of its own flavor.
Best use: Baking
Russets are the stereotypical baked potatoes, and with good reason. The contrast of light, grainy baked flesh with the hearty, chewy baked skin can't be matched by any other potato type.
Recipe: Salsa Baked Potatoes
Red Potatoes
Red potatoes get their name from their red skin, which is thin enough to include in most dishes. Their flesh is white and stays firm when cooked. These potatoes are small to medium in size and have a fairly round shape.
Best use: Potato salad
These potatoes have flesh firm enough to be cooked, chilled, and tossed with dressing, and the flesh is thin enough that they don't have to be peeled. Their red color gives potato salad a festive flair.
Recipe: Zesty Dill Potato Salad
White Potatoes
Like reds, white potatoes have delicate skin that you can include in most dishes, but they have a somewhat starchier texture and they're not as sweet. They're small to medium in size and can be round or oblong. Their skin is actually tan in color, and they have white flesh.
Best use: Mashed potatoes
Leaving the skin on mashed potatoes makes the dish much more nutritious, and white potatoes have a skin that adds texture without overwhelming the creamy texture of the dish.
Recipe: Chipotle Mashed Potatoes
Yellow Potatoes
These potatoes range from tiny to quite large, and vary in shape from round to oblong. What they have in common is a sweet, buttery taste that makes them perfect for lighter dishes – since they don't need as much help from butter or other fatty toppings to taste great. Their skin and flesh are both yellow to golden, and the skin can stay on for most dishes.
Best use: Grilling
These potatoes are large and firm enough to hold up to cooking right on the grill, and their flavor means they're great with just a little olive oil and rosemary.
Recipe: Grilled Yellow Potato Planks
Purple/Blue Potatoes
These unusual potatoes are really quite dramatic! Their flesh and skin ranges from deep blue to dark purple, and they are small to medium in size. The flesh can change color when cooking, so if you're cooking for company, be sure to do a test run on your dish!
Best use: Salads
Purple potatoes have a nutty flavor that's unique among the potato family. They're great in regular potato salads, but they really shine when mixed with spinach, arugula or other greens.
Recipe: Blackened Blue Potato Salad
Fingerling Potatoes
Fingerlings seems to be getting more and more popular on restaurant menus. So what are they? They're simply potatoes two to four inches long that are oblong in shape (kind of like a finger!). They come in all colors and have subtle variations in flavor from nutty to buttery to a little sweet.
Best use: Pan frying
Their thin shape makes fingerlings perfect for pan frying without too much prep work.
Recipe: Pan Fried Fingerling Potatoes with Wild Mushroom Sauce
Petite Potatoes
These potatoes are exactly what their name suggests: Small! They can actually be any variety of potato that's under a certain size. You may also see them called marble or gemstone potatoes. They're bite-sized potato treats!
Best use: Roasting
Petites are small enough that you can roast them without cutting them up at all, and they don't need to be peeled – talk about easy prep.
Recipe: Oven roasted potatoes (Note: Don't cut the potatoes, and check on them for doneness each time you toss to avoid overcooking.)

Alumni: University of Victoria – Christina Newberry is a writer and editor whose work has appeared in national and local magazines and newspapers. With a Bachelor's degree in English and Anthropology from the University of Victoria and a Journalism Certificate from Langara College, Christina brings keen curiosity and the love of a good story to her work with HealthCastle.com.
Christina is a passionate traveler and urban gardener with an interest in vegetarian eating and making good, tasty food from scratch. Sharing lessons learned from her own experiences, Christina writes about lifestyle topics for HealthCastle, with a focus on eating well at home and on the road.