Ideas for Managing a Dairy Allergy While Maintaining Good Nutrition

If you're just learning about food allergies, it's hard to fathom that one sip of seemingly innocuous milk can send a dairy-allergic individual into anaphylaxis; unfortunately it's a true fact. Dairy allergy is one of many on the rise in the constellation of food allergies. Fortunately, with planning and creativity, allergy to dairy is one that can be managed while still maintaining a diet that boasts of great taste and nutrition. Read on for some ideas on how to safely manage a dairy allergy – nutritiously!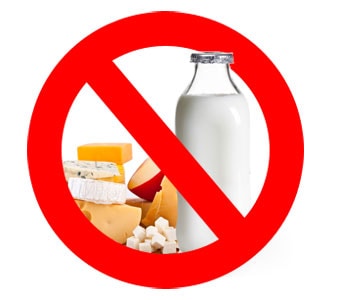 Moo-ve over milk
With a dairy allergy, avoiding mainstays such as milk, cheese, yogurt, butter and ice cream are obvious, but dairy can hide in many foods like loaf bread and fast food hash browns, just to name a few. Plus, you may also note that many seemingly "non-dairy" products contain casein (a milk protein). For example, some meats, like cold cuts, may contain casein as a binder – even select brands of canned tuna do as well! And, like other food allergies, even if the food itself doesn't contain the allergen, it's critical to watch out for cross-contamination. Take, for instance, deli meats: many are safe, but when sliced on the same equipment as cheese, they become contaminated. To stay safe, it's critical to read labels for clues to milk derivatives and take care to avoid cross contamination. Also, keep in mind that it's important to be extra-vigilant when eating out, especially when dining at Mexican and Italian restaurants where cheese turns up in many dishes.
Worthy subs
Rather than focusing on what you can't have if you manage a dairy allergy, try focusing on what you can have – it's a lot! For fluid cow's milk, soy, rice, almond, hazelnut or hemp seed milks (just to name a few) can stand in. Take some time to decide what flavors work for you, and use them as you would cow's milk – drinking plain, pouring over cereal or even baking. The good news is, you can enjoy virtually all of your favorite foods using dairy substitutes: pizza with soy cheese, soy yogurt – even dairy free eggnog (which makes delicious, festive pancakes when you use it in place of cow's milk in a dairy free baking mix!).
No-dairy nutrition
Calcium and other vital nutrients don't have to come from dairy! Many cow's milk alternatives have fortified and naturally occurring vitamins and minerals that rival moo-juice. Many soy milks, for example, have a close profile of calcium, Vitamin A, Vitamin D and riboflavin (Vitamin B-2) to that of cow's milk – just be sure you check the label to be sure the brand you choose is fortified. There's calcium-fortified orange juice, too. Plus, beans and tofu can also supply calcium, as well as dark, leafy green vegetables and broccoli – which also add Vitamin K, important for building bone density.
The Bottom Line
If you have a dairy allergy, that doesn't mean you have to miss out on the health benefits of many popular and widespread foods. There are plenty of worthy substitutions to keep your dairy-free diet full of flavor and nutrition. Learn to carefully read all food labels to uncover hidden allergens, as well as reveal good sources of non-dairy vitamins and minerals!

Alumni: University of Tennessee, Knoxville – Beth Sumrell Ehrensberger is a Registered Dietitian and holds a Master Degree in Public Health. An experienced nutrition counselor, writer and public speaker, Beth specializes in translating complex nutrition information into practical concepts. Beth was awarded a Nutrition Communications Fellowship to the National Cancer Institute, and has worked on the internationally recognized Nutrition Action Healthletter of the Center for Science in the Public Interest.
allergy, cheese, dairy, eggs, milk, soy
Walnuts: The Journey from Orchard to Table