Cheese Snacks Nutrition Face-off: Laughing Cow vs. Mini Babybel (2023 Update)

One of the most popular school snacks for kids is cheese, especially cheese in fun shapes! Our nutrition face-off compares two packaged cheese snacks made by the same company (Bel Brands), Babybel and The Laughing Cow.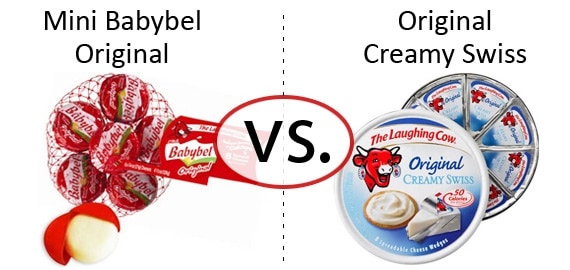 Nutrition Comparison: Laughing Cow Vs Mini Babybel
| | | |
| --- | --- | --- |
| | Mini Babybel (Original) | The Laughing Cow (Original) |
| Serving Size: | 1 piece (20 g) | 1 wedge (19 g) |
| Calories: | 70 kcal | 45 kcal |
| Fat: | 5 g | 3.5 g |
| Saturated Fat: | 3.5 g | 2.5 g |
| Protein: | 4 g | 2 g |
| Total Carbohydrate: | 0 g | 1 g |
| Sodium: | 150 mg | 160 mg |
| Calcium: | 10 % DV | 10% DV |
| Vitamin A: | 4 % | 10 % |
| Vitamin D: | Unknown | 10% |
| Ingredient List: | Pasteurized cultured microfiltered milk, salt, oil, microbial enzymes | Cheddar, Semisoft and Swiss Cheese (Pasteurized Milk and Part-Skim Milk, Cultures, Salt, Enzymes), Whey, Milk Protein Concentrate, Water, Skim Milk, Sodium Polyphosphate, Less Than 2% of Each: Tricalcium Phosphate, Salt, Citric Acid, Vitamins (Cholecalciferole [Vitamin D] and Vitamin A Acetate). |
Table 1. Nutrition Facts of The Laughing Cow and Mini Babybel
Babybel Is Less Processed Than The Laughing Cow
Babybel has a much shorter ingredient list, usually that's an indicator how processed this cheese snack is. Mini Babybel is what you would expect real cheese to be made of: milk, bacterial culture and enzymes, and salt. The Laughing Cow wedge, on the other hand, is a processed cheese product that contains some cheese, but also other food additives such as protein concentrate and sodium phosphate (emulsifier).
Babybel Has Double The Amount Of Protein Than The Laughing Cow
Each piece of Babybel mini provides 4 g of protein, while each wedge of The Laughing Cow provide 2 g. While both products are at similar wedge, this huge difference in protein usually indicates that Babybel contains more real milk than The Laughing Cow. As you can see on their ingredient list comparison, The Laughing Cow has already added with milk protein concentrate, but it still couldn't make up the difference in protein content.
The Laughing Cow Has Been Fortified With Extra Minerals
On the ingredient list of The Laughing Cow, we could see the the following minerals have been added to the product:
Calcium
Vitamin D
Vitamin A
Therefore, the amount of Vitamin A and D is higher in The Laughing Cow. However, since Babybel contains more milk, the amount of calcium is the same between two products. Each Babybel Mini provide 140 mg of calcium. However, we couldn't confirm the exact amount of calcium in The Laughing Cow, as the calcium content is not listed on the product nor their website.
Please note that The Laughing Cow Canadian products are NOT fortified, therefore calcium content is less. In Canada, each wedge of The Laughing Cow is 16.7 g, providing 40 mg of calcium.
Our Pick: Mini Babybel Original
If you want cheese, get the real thing; in our nutrition comparison face-off, Babybel wins, as it contains more real milk.
Tell Us: Which one is your favorite?

Alumni: University of British Columbia – Gloria Tsang is the author of 6 books and the founder of HealthCastle.com, the largest online nutrition network run by registered dietitians. Her work has appeared in major national publications, and she is a regularly featured nutrition expert for media outlets across the country. The Huffington Post named her one of its Top 20 Nutrition Experts on Twitter. Gloria's articles have appeared on various media such as Reuters, NBC & ABC affiliates, The Chicago Sun-Times, Reader's Digest Canada, iVillage and USA Today.