Lighten Up Holiday Cocktails Without Losing the Fun

Everything seems to get a little richer during the holidays – meals, desserts, baking, and even drinks. From rum and eggnog to heavy holiday beers to mulled wine, traditional holiday drinks are fun to drink but heavy in calories – especially at holiday parties, where both food and drinks flow freely.
Fortunately, there are some easy ways to lighten up your holiday drinks without losing out on any of the festive flair. Instead of traditional holiday drinks like those mentioned about, festive cocktails made with just a few high-quality ingredients allow you to experiment with flavor and color without a ton of sugar, fat, and calories.
If you're mixing drinks for your own holiday party, use the tips below to come up with a signature cocktail that will delight your guests. If you're not the host, use these strategies to order something simple that will have your taste buds tingling.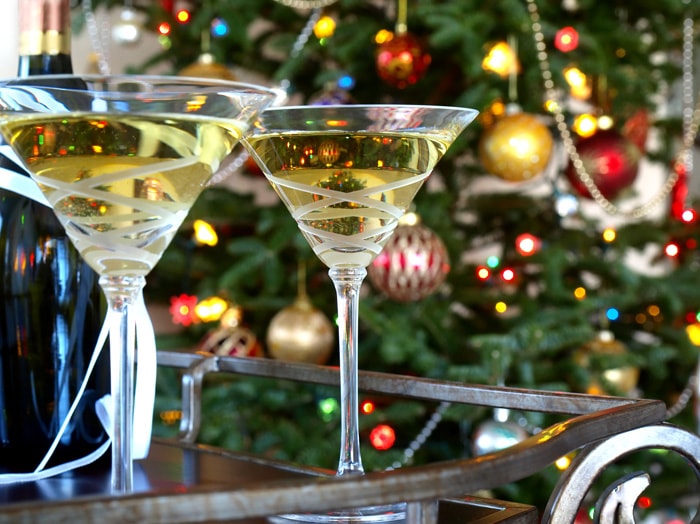 Top 5 Tips For Lightening Up Holiday Cocktails
Skip the syrup: Many cocktails rely on sugar-sodden fruit syrups and mixes that offer none of the benefits of real fruit. Try using the real thing instead, especially citrus and berries. The color is stunning – and without that weird neon glow you sometimes get from fruit-flavored mixes. Try real fruit blended as a base for mixed drinks.
Kick the cola: Cola packs a killer calorie punch, especially mixed with high-sugar spirits like rum or rye. Try a spritzer base instead for a much lighter take on carbonated drinks. Lime spritzer and rum or vodka is a great place to start.
Just a splash of flavor: Start with a basic vodka and soda (club soda has 0 calories) and add a hint of flavor with citrus peel, frozen berries, fresh mint, or even basil. The strong smells give the impression of big flavor, and the colors are great, too. Remember than tonic water is not the same as club soda – tonic water has around 125 calories per can – so don't get them mixed up!
Avoid high proof: Higher alcohol levels instantly up the calorie count, so high-proof liquor bulks up your cocktail in more ways than one – without any extra taste or visual appeal. Stick to the standard-proof brands to get both the calories and the drink strength you expect.
Sip, pause, repeat: Cocktails taste best when sipped slowly – and you'll consume less over the course of the party if you're not throwing them back. (Added benefit: You'll feel better in the morning, too.) Add lots of ice to keep your drink cold to the last drop, or try filling your glass with frozen berries for an extra shot of color, flavor, and antioxidants before you even add any spirits.
The Bottom Line
This holiday season, instead of drinking away your calorie budget, try some new ways to lighten up your holiday cocktails without compromising on taste or losing that festive feel.

Alumni: University of Victoria – Christina Newberry is a writer and editor whose work has appeared in national and local magazines and newspapers. With a Bachelor's degree in English and Anthropology from the University of Victoria and a Journalism Certificate from Langara College, Christina brings keen curiosity and the love of a good story to her work with HealthCastle.com.
Christina is a passionate traveler and urban gardener with an interest in vegetarian eating and making good, tasty food from scratch. Sharing lessons learned from her own experiences, Christina writes about lifestyle topics for HealthCastle, with a focus on eating well at home and on the road.