Written By: Christina Newberry
Last Updated on:
Valentine's Day gifts have become pretty predictable. Flowers. Chocolates. Jewelry. An overpriced dinner in a restaurant packed with other couples vying for the best table. It can all take the romance right out of the day. Instead of a stereotypical (read: boring and expensive) Valentine's Day, why not cook up a little romance at home? It may save your sanity (never mind your wallet) to spend the evening together whipping up tasty treats to share in your own kitchen.
After all, the very act of creating decadent treats together can help set the stage for romance. It's hard not to feel the love when you're surrounded by chocolate and red wine. Of course, overindulging is a sure way to kill that feeling – there's nothing sexy about bloating and gas – so we've cooked up some lighter takes and simpler pleasures that feel truly decadent but won't leave you feeling pangs of regret.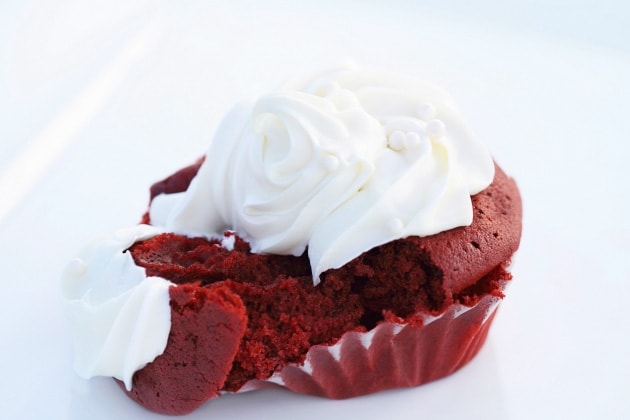 Top Valentine's Day Treats to Make Together at Home
Red velvet cupcakes: What's more romantic than a red chocolate cupcake? Unfortunately, that red color is often achieved with a hefty dose of food dye. Boiled and pureed beets can be used instead for a more natural version that sneaks in a little nutritional value, too. You'll definitely want to wear aprons for this one – beets can get very messy! But the end result is moist, decadent, and truly delicious.
Chocolate-covered strawberries: Start by melting good quality dark chocolate over the stove. If you have a fondue set, you can set it up with a tray of stemmed berries for dipping. Otherwise, just dip strawberries (with stems attached) into the melted chocolate and place on parchment paper to cool.
Strawberry champagne: Nothing says "celebration" like a little bubbly, so it's the perfect drink to celebrate your love. Strawberries make it extra special. You can either puree the strawberries, or just place a stemmed berry at the bottom of each glass.
Raspberry and port chocolate cups: Place a raspberry or two in a mini dark-chocolate cup and top with port, your favorite liqueur, or even red wine. It's an incredibly simple desert that's clearly fit for a special occasion. Total prep time: 30 seconds.
Chocolate nut bark: Start by toasting your favorite nuts in the oven. Then place the toasted nuts on a parchment-paper-lined baking sheet and mix in a good serving of your favorite dried fruit. Pour melted dark chocolate over the baking sheet and allow to cool.
The Bottom Line
Store-bought candies may come in heart-shaped boxes, but they tend to be either poor quality or outrageously expensive – and they're not exactly the most original gift. The treats here are better for you – and your relationship – than anything you'll buy in a store. If you're in the mood to surprise your partner, make any of these treats ahead of time and bring them out to share on the 14th.

Christina Newberry is a writer and editor whose work has appeared in national and local magazines and newspapers. With a Bachelor's degree in English and Anthropology from the University of Victoria and a Journalism Certificate from Langara College, Christina brings keen curiosity and the love of a good story to her work with HealthCastle.com.
Christina is a passionate traveler and urban gardener with an interest in vegetarian eating and making good, tasty food from scratch. Sharing lessons learned from her own experiences, Christina writes about lifestyle topics for HealthCastle, with a focus on eating well at home and on the road.