Written By: Gloria Tsang, RD
Last Updated on:
As we are approaching year-end, healthy eating is again on everyone's mind. If you are a label reader, you may notice that recently the Nutrition Facts table was updated with some changes. The mandatory vitamins and minerals list went from four nutrients to three. The old label required listing Vitamins A, C, Calcium and Iron; the new label as required by Health Canada is now listing Potassium, Calcium, and Iron. I am indeed excited about this change, with potassium receiving more of a spotlight. Another change is sugar. In addition to listing the total amount of sugar, it is now required to list a %DV (% Daily Value).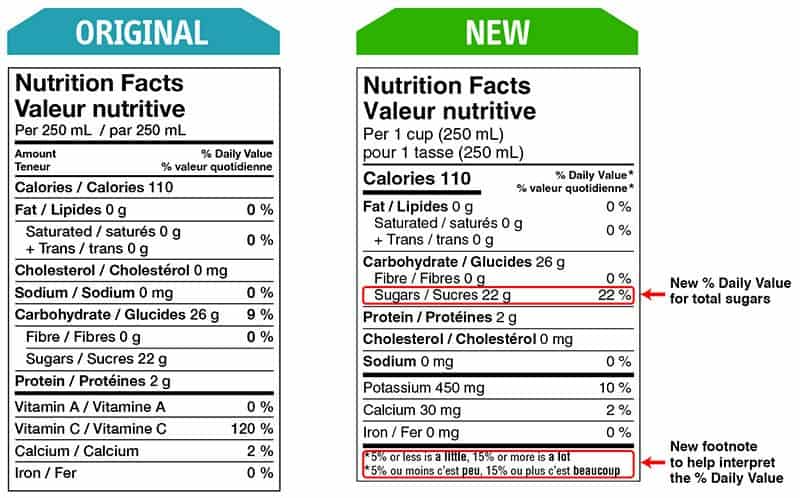 The Daily Value percentage for sugar is 100 grams per day; it is equivalent to 20% of a 2,000 calorie diet. Now, this is NOT a recommended level of intake. In other words, you do not need to aim at eating 100 grams of sugar; but if you are at 100 grams or less at the end of the day, it is consistent with a healthy eating pattern.
Every time I discuss sugar, many of us are worried. Yes, we should be conscious of not eating and drinking too much added sugar. However, natural sugar is also present in many healthy foods; this is not the same as added sugar. For instance:
A cup of milk contains 12 g of natural sugar
A cup of unsweetened almond milk contains 2.1 g
A serving of plain unsweetened Greek yogurt has 6 g
1 cup of fresh berries has 14.7 g
1 cup of sliced, fresh strawberries has 8.1 g
1 cup of pumpkin puree has 8 g
You get the point! Sugar has a place in a healthy diet. So when the Canadian Sugar Institute contacted me and asked if I could create a healthy 100-gram sugar menu, I gladly took up this challenge and am eager to show how a 100-gram-sugar-day can indeed be wholesome.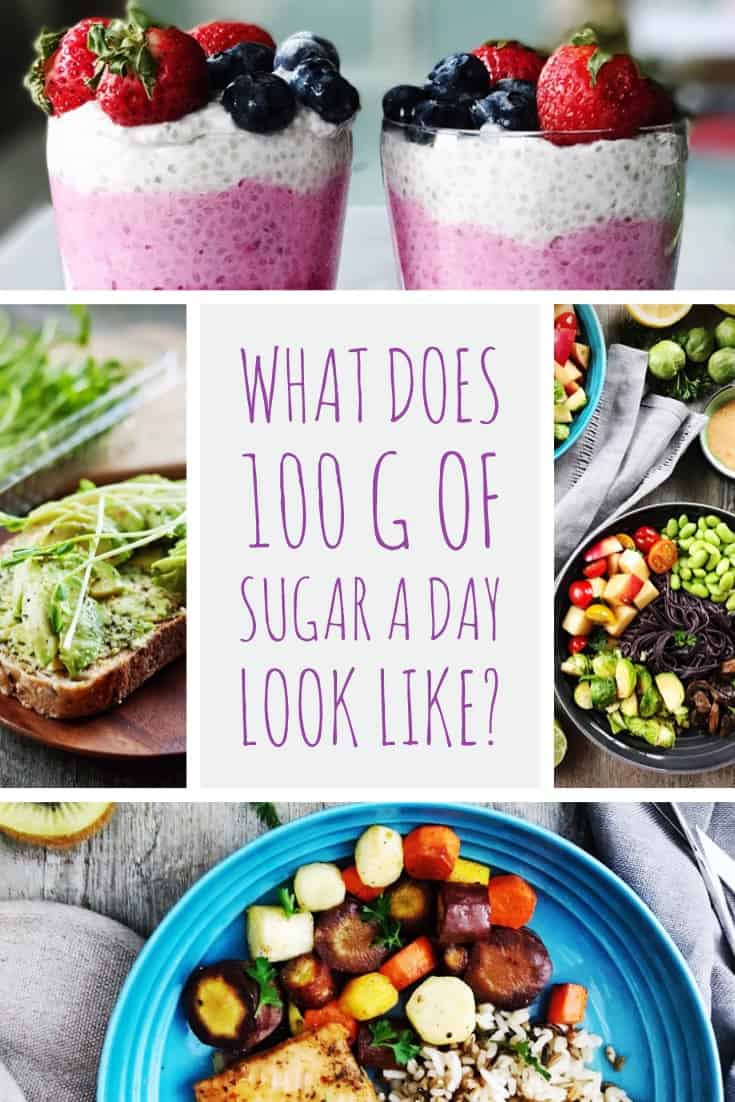 The following menu provides ~2,000 calories. Not every woman needs 2000 calories a day; some need more, some need less. For an 1,800 calorie-day, your %DV for sugar is 90 grams (20% of 1800 kcal); for a 2,200 calorie day, your DV for sugar will be 110 grams.
Breakfast: Chia Pudding + Grande Latte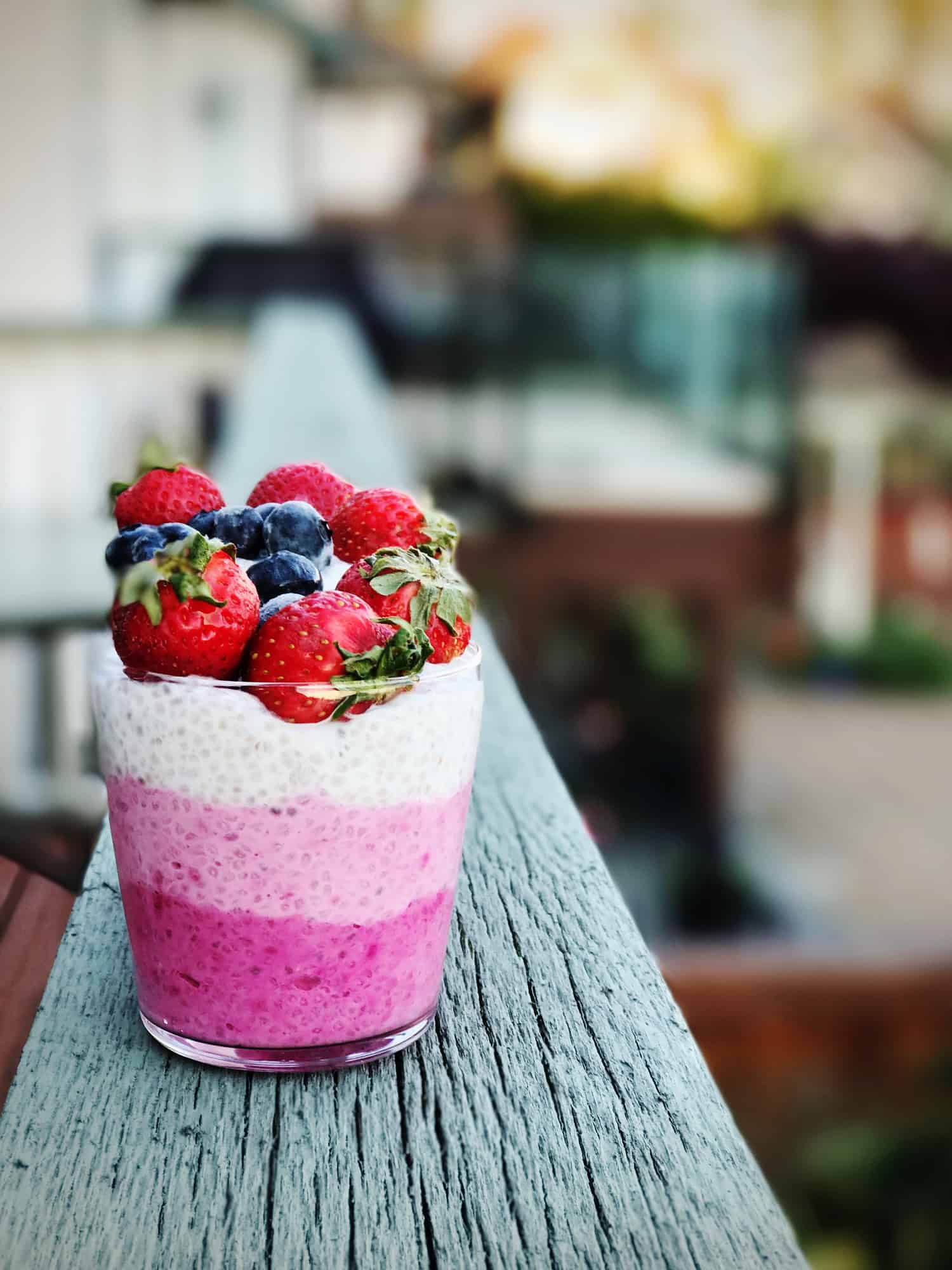 Nutrition Info for Breakfast (Chia Pudding + Latte):
Calories: 501 kcal
Sugar: 33.4 g
Protein: 30 g
Click here for Chia Seed Pudding recipe.
Lunch: Buddha Bowl with Black Rice Noodles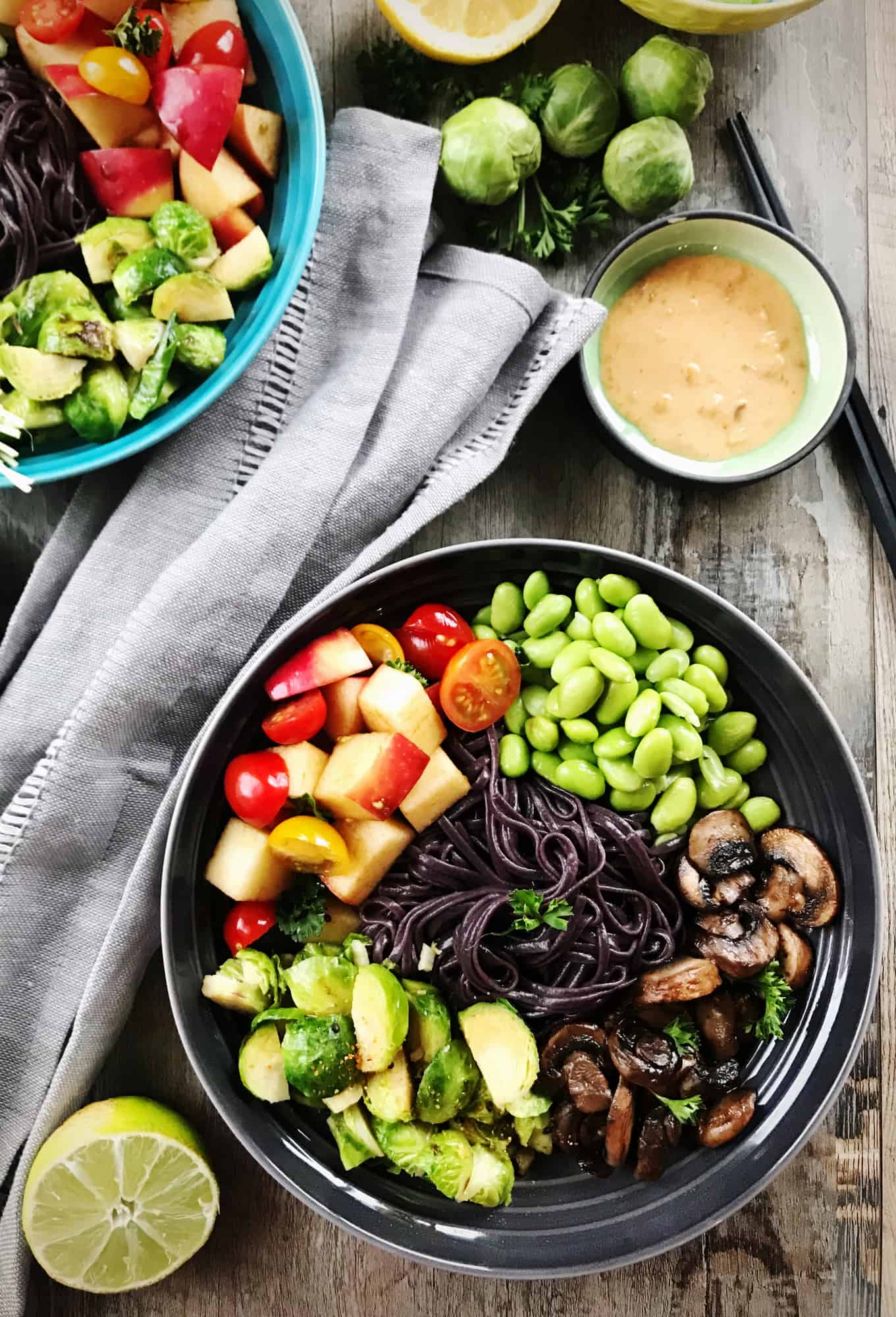 Ingredients: Black rice noodles + edamame + Brussels sprouts + marinated crimini mushroom + balsamic apple-tomato salad
Nutrition Info:
Calories: 521 kcal
Sugar: 14.7 g
Protein: 15.3 g
Afternoon snack: Avocado Toast with Hemp Hearts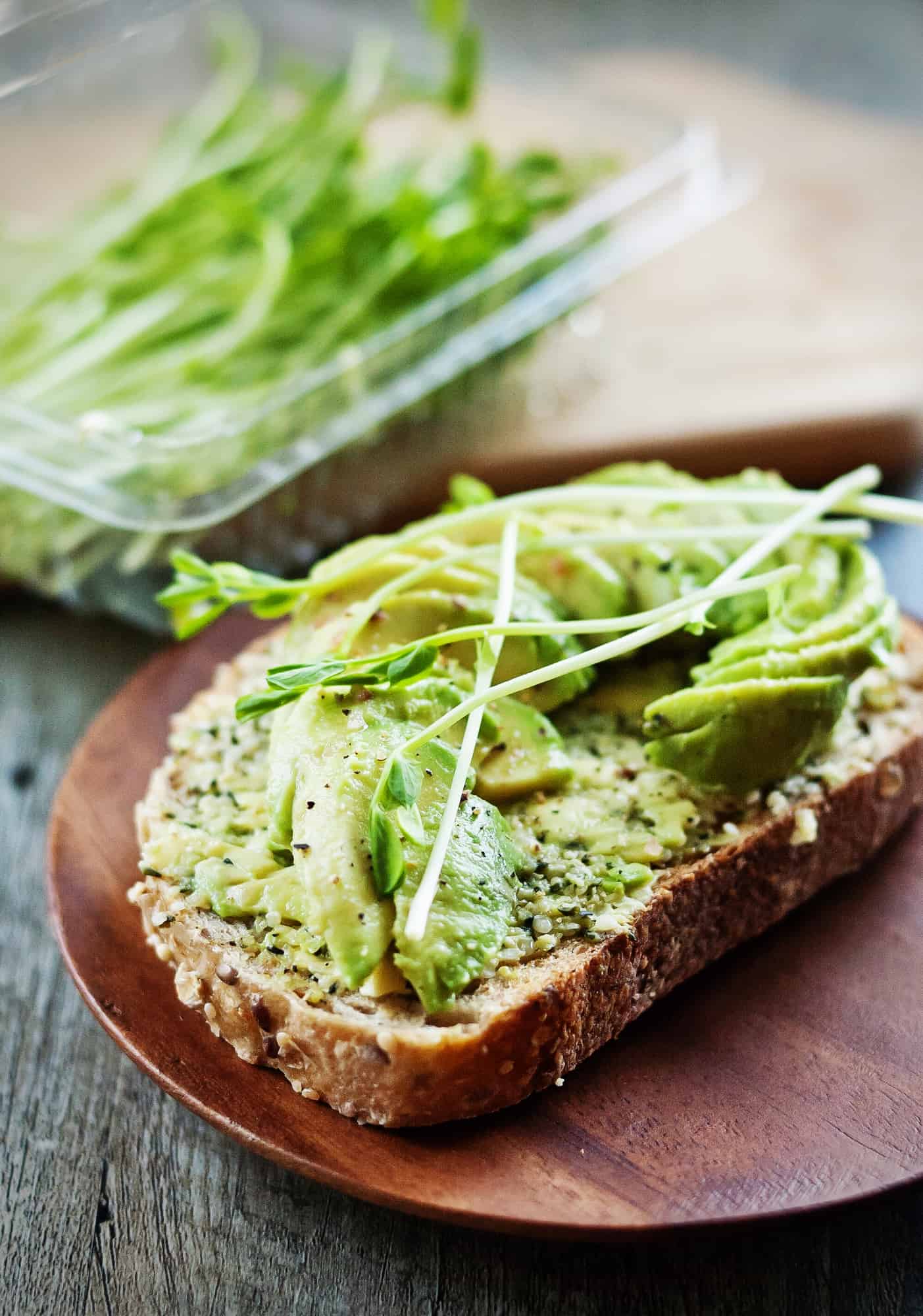 Ingredients: 1 piece of whole wheat sourdough bread + 1/2 avocado + 1 Tbsp hemp hearts
Nutrition Info:
Calories: 311 kcal
Sugar: 0.5 g
Protein: 10 g
Dinner: Oven-Baked Maple Salmon with 7-Grain Rice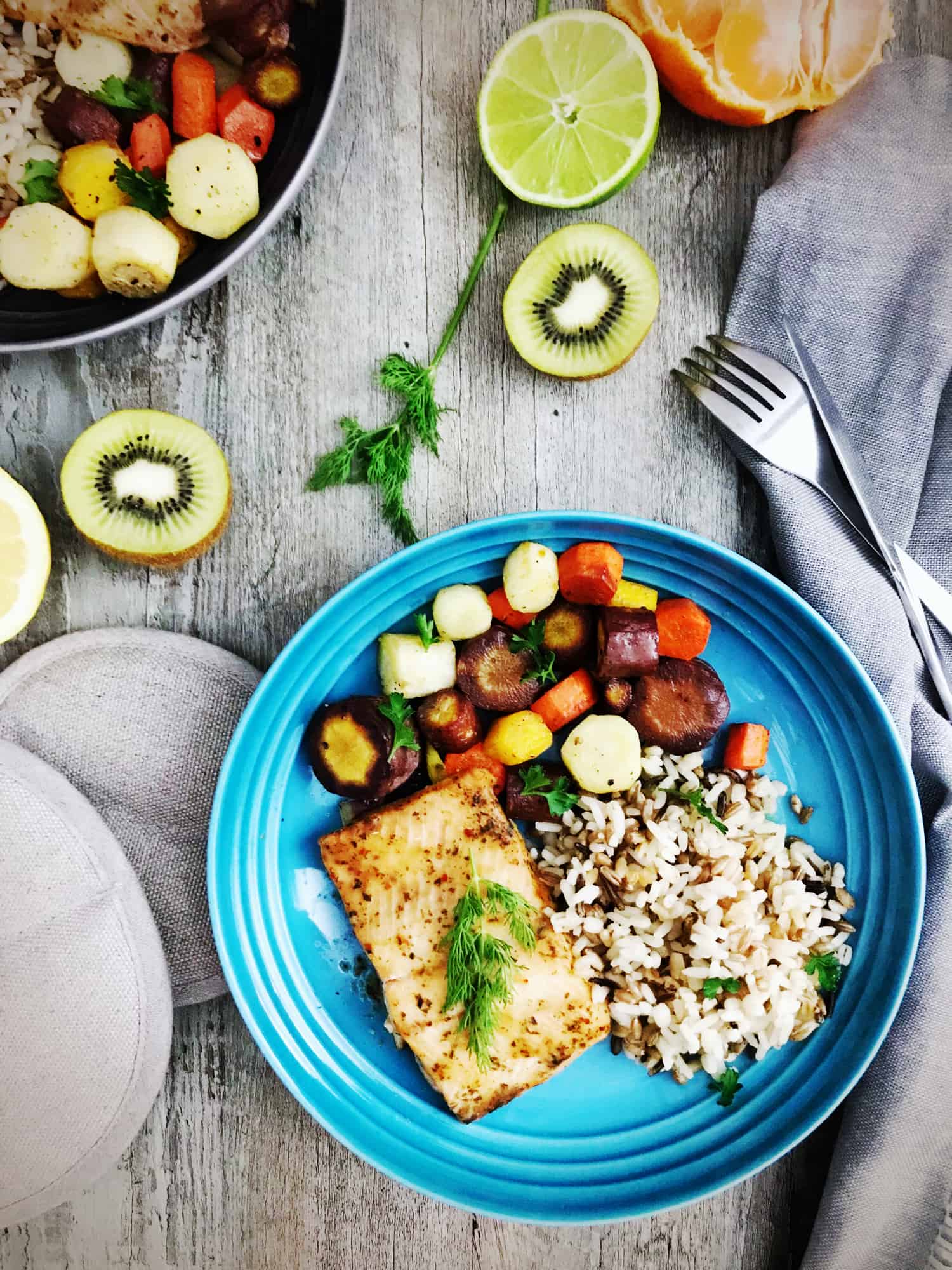 Nutrition Info:
Calories: 406 kcal
Sugar: 22 g
Protein: 28.7 g
Click here for Oven-Baked Maple Salmon recipe.
After-meal Dessert: Vanilla Greek Yogurt + Kiwi
Ingredients: 3/4 cup of vanilla Greek Yogurt + 2 small kiwis
Nutrition Info:
Calories: 244 kcal
Sugar: 31.4 g
Protein: 15.6 g
My one-day menu provides 1,983 calories and 102 grams of sugar.
Take Home Message
As you can see in the pie chart below, healthy meals can contain sugar and there's nothing scary about that. As long as you are conscious about eating whole foods most of the time, even a 100-gram sugar meal plan is consistent with a healthy eating pattern!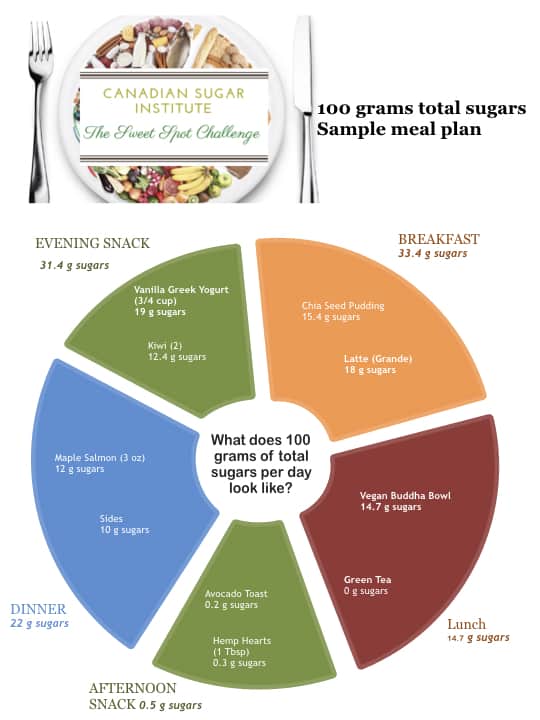 Gloria Tsang is the author of 6 books and the founder of HealthCastle.com, the largest online nutrition network run by registered dietitians. Her work has appeared in major national publications, and she is a regularly featured nutrition expert for media outlets across the country. The Huffington Post named her one of its Top 20 Nutrition Experts on Twitter. Gloria's articles have appeared on various media such as Reuters, NBC & ABC affiliates, The Chicago Sun-Times, Reader's Digest Canada, iVillage and USA Today.