No More Alfredo Powder Sauce Mix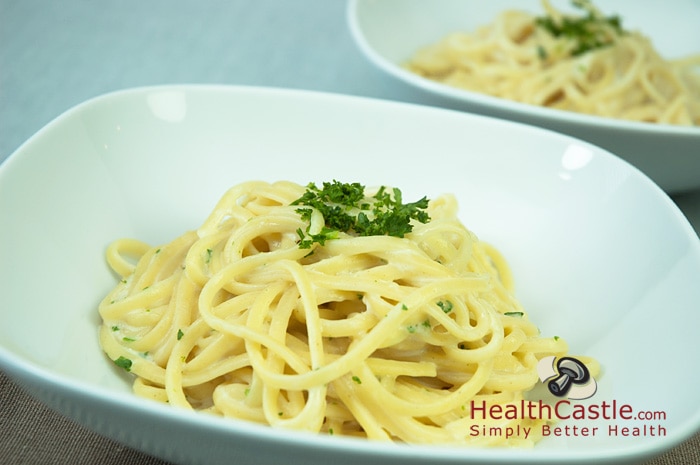 When it comes to serving pasta, do you have a white-sauce fanatic at your dinner table? While the red (tomato-based) sauces are generally healthier, not everyone is a fan. You worry about cream and fat in traditional Alfredo sauce, but what is the alternative? The powdered sauce mix packages may be lower in calories, but tend to contain many fillers, preservatives, and trans fats.
Knorr Alfredo Pasta Sauce Mix (powdered, reconstituted with milk)
Homemade Fettuccini Alfredo
Here is a video of the entire process.
We discovered that it is possible to make a lower-fat version of the beloved Alfredo sauce that uses real milk and cheese. Here we compared it to a powdered version:
Knorr Alfredo
Pasta Sauce Mix
(powdered)
Homemade
Fettuccini
Alfredo
Serving Size:
1/2 cup (120 ml)
1/2 cup (120 ml)
Calories:
160 kcal
170 kcal
Protein:
2 g
12 g
Fat:
6 g
9 g
Trans Fat:
0.4 g
0 g
Carbohydrate:
12 g
9.4 g
Fiber:
0 g
0 g
Sodium:
826 mg
455 mg
Calcium:
20% DV
38% DV
Preparation time:
10 minutes
10 minutes
Price per serving:
$1.19
$0.85
Ingredients:
Modified milk ingredients, modified corn starch, dehydrated Parmesan, cheddar, and blue cheeses (milk ingredients, bacterial culture, salt, rennet and/or pepsin and/or microbial enzymes, calcium chloride), wheat flour, salt, maltodextrin, hydrolyzed corn protein, hydrogenated soybean oil, canola oil, garlic powder, sodium phosphate, dried parsley, spices, corn syrup solids, mono & diglycerides, citric acid, lactic acid, and sulphites
Low-fat milk, grated Parmesan cheese (milk, bacterial culture, salt, lipase, microbial enzymes, calcium chloride), evaporated skim milk, garlic, all-purpose flour, olive oil, salt
How Did the Two Versions Compare?
While the calorie count is similar between the homemade and the packaged versions, the homemade version contains more protein and calcium, and less carbohydrate and sodium than the packaged version. This is no surprise, since our sauce used real cheese and milk instead of fillers! The homemade version was also cheaper, clocking in at 34 cents less per serving. Making the sauce from scratch also avoids the unsavory trans fat and sulphites that lurk in the powdered mix package!
The taste and texture of the homemade sauce were miles ahead of the dry-mix competitor. The homemade Alfredo sauce was rich and cheesy, and it stayed evenly distributed within the noodles throughout the photo shoot, while the reconstituted sauce from the package separated from the noodles and pooled at the bottom of the bowl. The homemade version of the sauce invited enthusiastic thumbs-up from tasters (one remarking that it was "restaurant quality"); the sauce had a nice undertone of garlic that contrasted nicely with the sharp Parmesan cheese. If you like garlicky sauce, you can definitely use more garlic than what is in the recipe. Freshly chopped parsley also adds a nice texture. This was great with lots of freshly ground pepper.
The packaged sauce tasted basically like a salty white sauce with no detectable hint of garlic, cheese, or parsley.
The Bottom Line
It was no contest: In the amount of time it took to boil water for pasta, we made a lovely sauce from scratch that tasted better, cost less, and was a true nutritional alternative to the packaged mix, with no trans fats anywhere in sight! Next time you crave something rich and creamy for pasta, look no further and try this out.
Fettuccini Alfredo
Modified from a recipe by Elie Krieger for Food Network (The original recipe calls for zucchini cut into ribbons mixed into the pasta, which is not included here.)
Yield: 4 servings
1 tablespoon olive oil
1 clove garlic, minced
12 ounces Fettuccini pasta, preferably whole wheat
1 tablespoon all-purpose flour
1 cup cold 1% low-fat milk
1/2 cup evaporated skim milk
1/2 teaspoon salt, plus more to taste
3/4 cup freshly grated Parmesan cheese
1/4 cup finely chopped fresh parsley leaves
Directions
Cook the pasta al dente according to the directions on the package. Ladle out a half cup of the pasta water and set aside. Drain the pasta and return it to the pasta pot.
Meanwhile, make the sauce. Stir the flour into the low-fat milk until it is completely dissolved. Put a tablespoon of olive oil in the skillet and heat over a medium-high heat. Add the minced clove of garlic and cook for 30 seconds. Add the flour-milk mixture and cook until the mixture begins to boil, stirring constantly. Reduce heat to low and cook, stirring, for 2 minutes more. Add the evaporated milk, salt, and cheese and cook, stirring, until the cheese is melted, about 1 minute. Season with additional salt to taste.
Add the sauce and 3 tablespoons of the parsley to the pasta in the pot and toss to combine. Add a little of the reserved pasta water as necessary to loosen.
To serve, place pasta mixture on each plate and garnish with remaining parsley.

Alumni: University of California, Berkeley – Sofia believes in bringing back fun and pleasure into everyday eating. She loves cooking, and is constantly experimenting with ingredients, creating recipes and trying them out on family and friends. Her latest interest lies in finding realistic and practical ways of environmentally-friendly food/eating habits.