Written By: Owennie Lee, RD
Last Updated on:
What would a movie night in be without a big bowl of popcorn to munch on? Popcorn can be a really healthy snack due to its low calories and high fiber content – if you pop your own without drowning it in butter and salt, that is. If you resort to those bagged microwave popcorns, do you know what you are sacrificing?
Microwave Popcorn in a Bag
Homemade Microwave Popcorn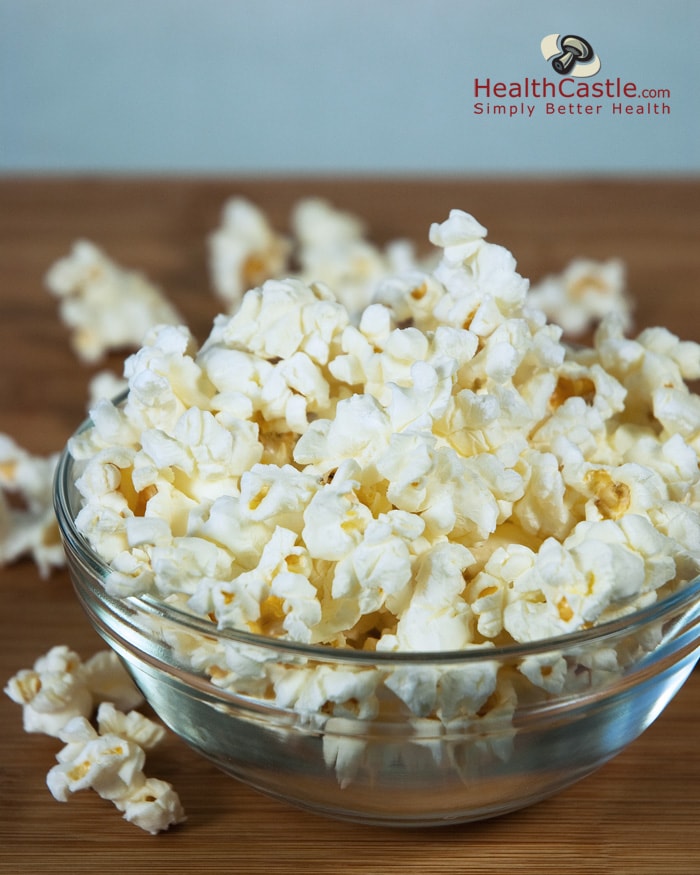 Here's what we found when we compared pre-packaged microwave popcorn to our homemade version:
Microwave Popcorn
in a Bag (1 bag)

Homemade
Microwave Popcorn

Serving Size:

4 cup
5 – 5 1/2 cup

Calories:

190 kcal (~ 48 kcal per cup)
292 kcal (~ 55 kcal per cup)

Protein:

3 g
5.8 g

Fat:

11 g
15.8 g

Trans Fat:

0.1 g
0 g

Carbohydrate:

21 g
34.4 g

Fiber:

4 g
5.8 g

Sodium:

230 mg
88 mg

Preparation time:

Total: Popping ~2 minutes
Total: Preparation: 1 minute + Popping: 2 minutes = ~3 minutes

Price per serving:

$ 0.90
$0.29

Ingredients:

100% whole grain popping corn, palm oil (contains TBHQ, citric acid), salt, potassium chloride, natural and artificial butter flavor (contains milk), butter, color
corn kernels, salted butter, vegetable oil
How Did the Two Stack Up?
It was surprisingly easy to make our own microwaved, no-mess popcorn. All it took was a brown bag and some kernels, and we were good to go. The resulting popcorn was white, like it is supposed to look, and the melted butter drizzled on top gave the popcorn a real buttery flavor. On the other hand, the instant version yielded yellowy popcorn with a buttery flavor that is undeniably fake. Since the final yield between the two varied significantly (4 cups instant vs. 5 1/2 cups homemade), and the carbohydrate content of the homemade version was higher (34.4 g vs. 21 g), we decided to look inside the instant bag before we popped it. We found that there was actually less than 1/4 cup of kernels including the orange-colored paste. No wonder the instant bag did not yield 5 1/2 cups, the amount the package claimed it would yield.
Because our homemade version actually had 1/4 cup kernels to begin with, all the nutrient contents (fat, calories, carbohydrates, etc.) were higher. We were fairly liberal with the butter drizzle, but if you need to watch your weight, you could cut that down and save some calories and fat. Not only does the microwave popcorn in a bag give you less popcorn, you are also getting palm oil (saturated fat), and artificial color and flavor, which you may not really need.
The Bottom Line
For absolutely no difference in the amount of work and time it takes to pop your own kernels in the microwave, why even bother using the instant bags? You will be in control of what you add to the popcorn and you get to skip artificial ingredients – so why not?
Our Microwave Popcorn Recipe
Yield: 5- 5 1/2 cups
Ingredients:
1/4 cup corn kernels
1/2 tsp vegetable oil
1 tbsp of salted butter, melted
Steps:
Mix vegetable oil with corn kernels. Place them in a brown lunch bag. Fold twice and tape close. Microwave on high for about 1 minute 45 sec, or until popping subsides. Mix with melted butter immediately.

Owennie is a registered dietitian with a soft spot for chocolate and coffee. She is a believer in balance and moderation, and is committed to keeping healthy eating enjoyable and fun. Owennie received her dietetics training in Vancouver, and is a member of Dietitians of Canada and the College of Dietitians of British Columbia. She has experience in a wide variety of settings, such as clinical nutrition, long-term care and outpatient counseling. Owennie has also worked for a community nutrition hotline and participated regularly as a guest radio host, where she enjoyed sharing her passion and knowledge about food and nutrition with people.