No More Bottled Sweet and Sour Sauce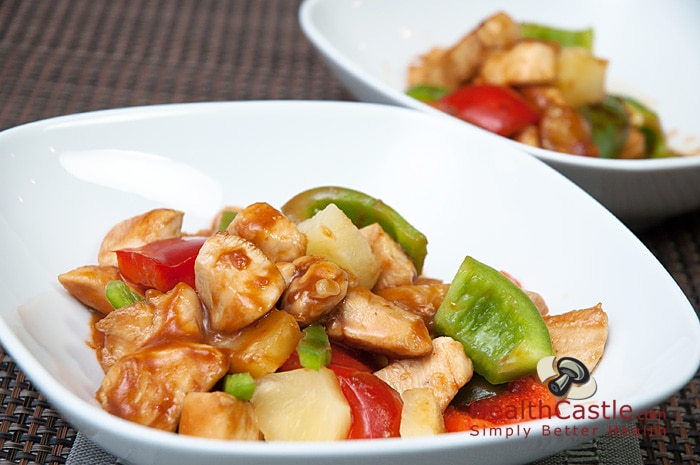 It's time to celebrate Chinese New Year again, so this month we decided to try to create our own version of the most popular Chinese dish – sweet and sour chicken. Instead of using a ready-to-use bottled sauce, we decided to try a homemade recipe and see how we fared.
Sweet and Sour Sauce From a Bottle
Homemade Sweet and Sour Sauce

Here is a video of the entire process.
Here's what we found when we compared a stir-fried chicken dish made with bottled sweet and sour sauce to our homemade sweet and sour chicken:
Kikkoman
Sweet & Sour Sauce

Homemade
Sweet and Sour Sauce

Serving Size:

2 Tbsp
2 Tbsp

Calories:

60 kcal
43 kcal

Protein:

1 g
0 g

Fat:

0.4 g
0.3 g

Trans Fat:

0 g
0 g

Carbohydrate:

14 g
10.4 g

Sodium:

290 mg
316 mg

Preparation time:

Total: 2 minutes (to heat sauce)

Mixing sauce: 2 minutes
Cooking sauce: 2 minutes
Total: 4 minutes

Price per serving:

$0.43
$0.24

Ingredients:

water, sugar, naturally brewed soy sauce (water, wheat, soybeans, salt), brewing starter (aspergillus sojae), tomato paste, vinegar, concentrated pineapple juice, modified corn starch, onion powder, fermented wheat protein (wheat protein, salt, corn maltodextrin, brewing starter (aspergillus sojae)), garlic powder, green bell pepper, xanthan gum, paprika extract, spice
water, vinegar, sugar, tomato paste, corn starch, Worcestershire sauce, salt
How Did the Two Stack Up?
The first main difference that struck us was the color. The bottled version was mainly brown, while our homemade one looked deliciously orange. Upon cooking, we discovered that the Kikkoman bottled sweet and sour sauce actually did not carry any sweet or sour flavor beyond a generic Asian savory taste. On the other hand, our simple homemade version has a nice balance of sweet and sour, which brings the flavor of the chicken breast to life.
The homemade sauce was not only easy to make with a few simple ingredients, it was also much less expensive than the bottled sauce. The long list of ingredients couldn't compare to our short simple list to create a tasty dish, but you still end up paying for the perceived convenience. We say perceived because it only took us 2 minutes (or less) to measure out the ingredients for our homemade sauce, and you don't even have to go to the store to buy a specific bottle of sauce for a specific dish. Wouldn't you like to create an authentic sweet and sour sauce for your chicken or pork dish, during and outside of Chinese New Year?
The Bottom Line
Our Sweet and Sour Chicken Recipe (Adapted recipe, courtesy of Agnes Chiu, Chinese Cooking Instructor and Author of "Infused with Love: Celebrating the Joy of Dining")
Yield: 2 servings
Ingredients:
1/2 lb chicken breast, boneless and skinless
1/2 green bell pepper
1/2 red bell pepper
2 slices of pineapple
1 spring onion
1 clove garlic
Sauce:
1 Tbsp sugar
1 1/2 tsp corn starch
1/4 tsp salt
1/2 tsp Worcestershire sauce
1 Tbsp tomato paste
1 1/2 Tbsp vinegar
1/4 cup water
Steps:
Dice chicken breast into 1 inch cubes.
Cut green pepper, red pepper and pineapple into small chunks. Mince garlic and cut spring onion into 1 inch sections.
Stir-fry chicken breast cubes with a splash of oil until almost cooked. Remove and set aside.
Heat oil in frying pan. Stir fry garlic, red and green peppers until fragrant. Add sauce and bring mixture to a boil. Stir in pineapple chunks and spring onion sections. Mix in chicken breast cubes, stir fry until done.

Alumni: University of British Columbia – Owennie is a registered dietitian with a soft spot for chocolate and coffee. She is a believer in balance and moderation, and is committed to keeping healthy eating enjoyable and fun. Owennie received her dietetics training in Vancouver, and is a member of Dietitians of Canada and the College of Dietitians of British Columbia. She has experience in a wide variety of settings, such as clinical nutrition, long-term care and outpatient counseling. Owennie has also worked for a community nutrition hotline and participated regularly as a guest radio host, where she enjoyed sharing her passion and knowledge about food and nutrition with people.