No More Boxed Brownie Mix
Planning on baking something sweet as a treat for Valentine's Day? This February, it's a brownie challenge. We wondered whether it would be possible to bake up great-tasting brownies from scratch without resorting to a boxed mix full of food additives.
Betty Crocker Brownie Mix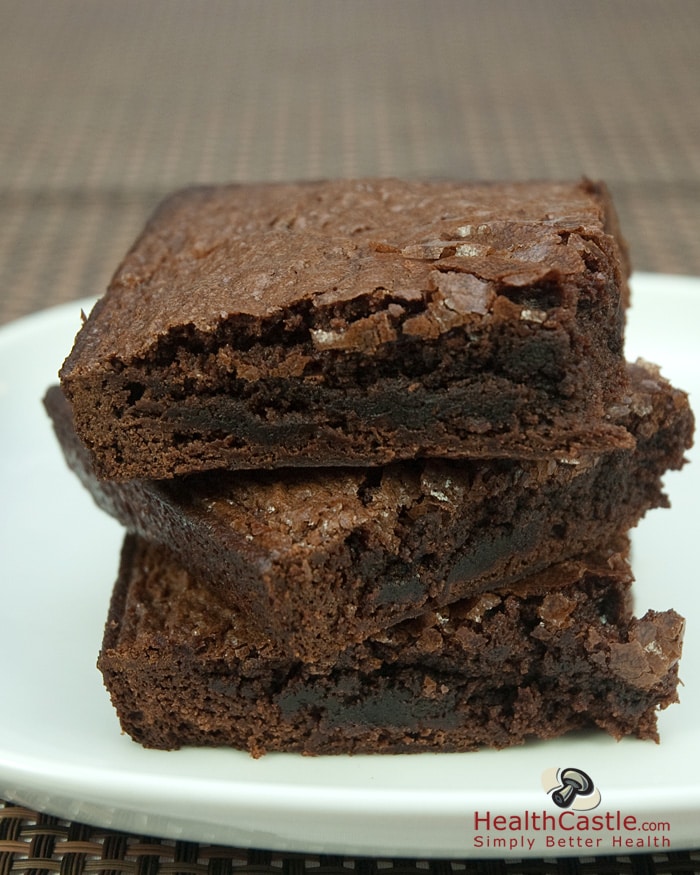 Homemade Brownies
Check out the following table for the comparison between a boxed brownie mix and our homemade version:
Betty Crocker
Brownie Mix

Homemade
Brownies

Serving Size:

1 x 50-g piece
(9 servings total)
1 x 100-g piece
(9 servings total)

Calories:

283 kcal
424 kcal

Protein:

1.7 g
6.7 g

Fat:

4.2 g
24.8 g

Trans Fat:

0.83 g
0 g

Carbohydrate:

47 g
49 g

Sodium:

192 mg
232 mg

Preparation time:

Prep : 10 mins (including preheat oven)
Baking: 40 mins
Prep: 15 mins (including preheat oven)
Baking: 30 min

Price per serving:

$0.53
$0.81

Ingredients:

A very long list, including items such as: soybean and/or cottonseed oil shortening, high maltose corn syrup, sodium stearoyl 2-lactylate, sodium acid pyrophosphate, tricalcium phosphate, sodium hydroxide
sugar, flour, cocoa powder, egg whites, baking soda, vegetable oil, vanilla, walnuts
How Did the Two Stack Up?
The homemade recipe is supposed to yield 16 servings, but for comparison, we cut the finished product into nine pieces, to match the number of servings from the boxed version. Per piece, the homemade version was double the height and weight of the boxed brownie, as the photo shows. (Can't accuse us of skimping on the portion!)
While the larger serving of the homemade brownie results in higher calories per serving, on a per-gram basis, the homemade brownie is actually lower in calories than the boxed mix. The star ingredient in the homemade version is cocoa powder; it produced a super-chocolatey taste without any chocolate chips. The use of vegetable oil and egg whites makes it heart-friendlier than the trans fats found in the boxed version. In addition, the homemade version required only basic baking ingredients, while the boxed version comes with a long list of scientific-sounding names, most of which are food additives for sweetening, leavening, emulsifying, and anti-caking.
The Bottom Line
Brownies are intended to be treats, enjoyed occasionally. As our test shows, the preparation time between the boxed version and homemade version did not differ much, so the old "I don't have time to make it from scratch" excuse won't fly! Take charge of making your own, so you know what ingredients go into that special treat when you do decide to indulge your craving for something sweet.
Our Homemade RecipeThe brownie recipe is courtesy of Bon Appetit.
Ingredients:
1 1/2 cups sugar
1 cup all purpose flour
3/4 cup unsweetened cocoa powder
1 teaspoon baking soda
1/4 teaspoon salt
3/4 cup vegetable oil
4 egg whites, beaten to blend
2 teaspoons vanilla
2/3 cup chopped walnuts
Steps:
Preheat oven to 350°F. Grease 8-inch square pan with 2-inch-high sides. Combine first five ingredients in large bowl. Add oil, egg whites, and vanilla and blend. Stir in walnuts. Transfer to prepared pan. Bake until brownies are slightly puffed in center and edges are beginning to brown, about 30 minutes. Cover hot brownies in pan with foil and chill overnight. Cut brownies into 16 2-inch squares.

Alumni: University of California, Berkeley – Sofia believes in bringing back fun and pleasure into everyday eating. She loves cooking, and is constantly experimenting with ingredients, creating recipes and trying them out on family and friends. Her latest interest lies in finding realistic and practical ways of environmentally-friendly food/eating habits.
brownie, home cooking, no more packaged foods, recipes
Celebrating Vancouver, BC: Home of the 100-Mile Diet