No More Pancakes from a Box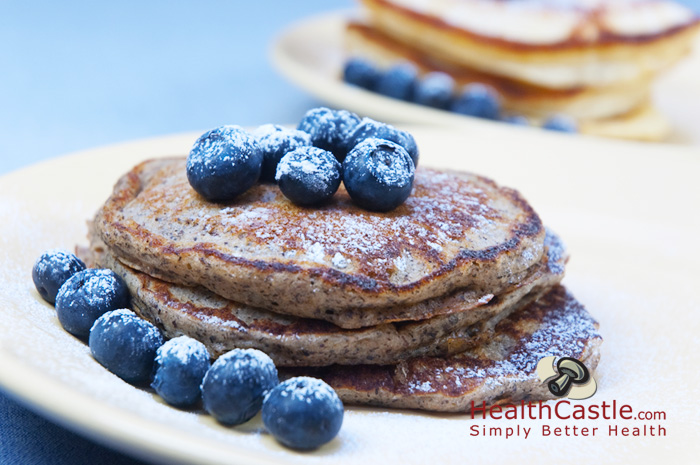 If the thought of making your own pancakes from scratch seems intimidating, let us assure you that it is one of the easiest hot breakfasts you can get ready for your family. Many pancake mixes come with extras that we don't need or want, though – ingredients such as trans fat-laden shortening, tricalcium phosphate, and salt. We used a store-bought pancake mix and compared it to a homemade version.
Betty Crocker Bisquick Pancake Mix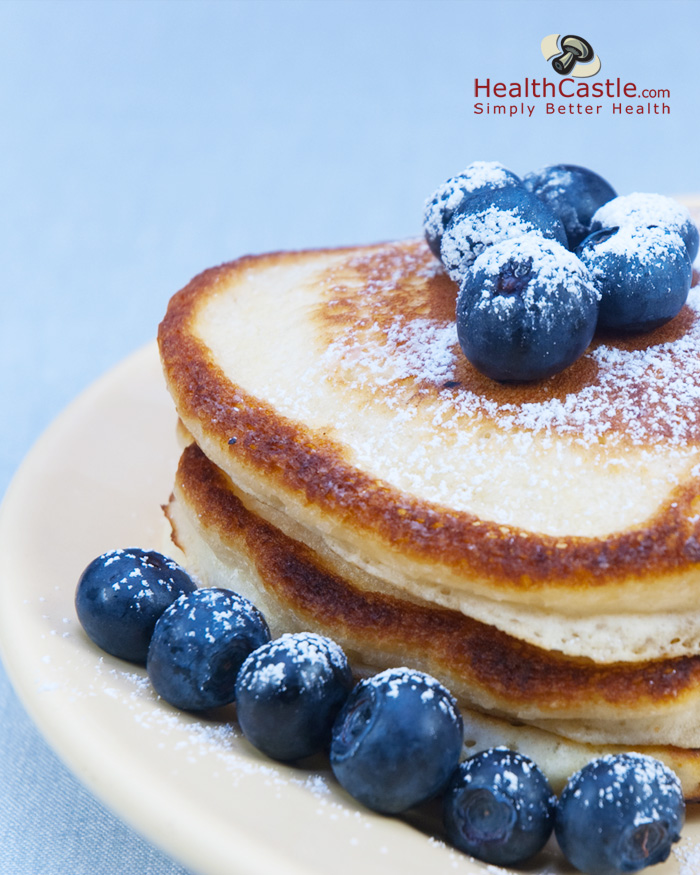 Homemade Healthy Pancakes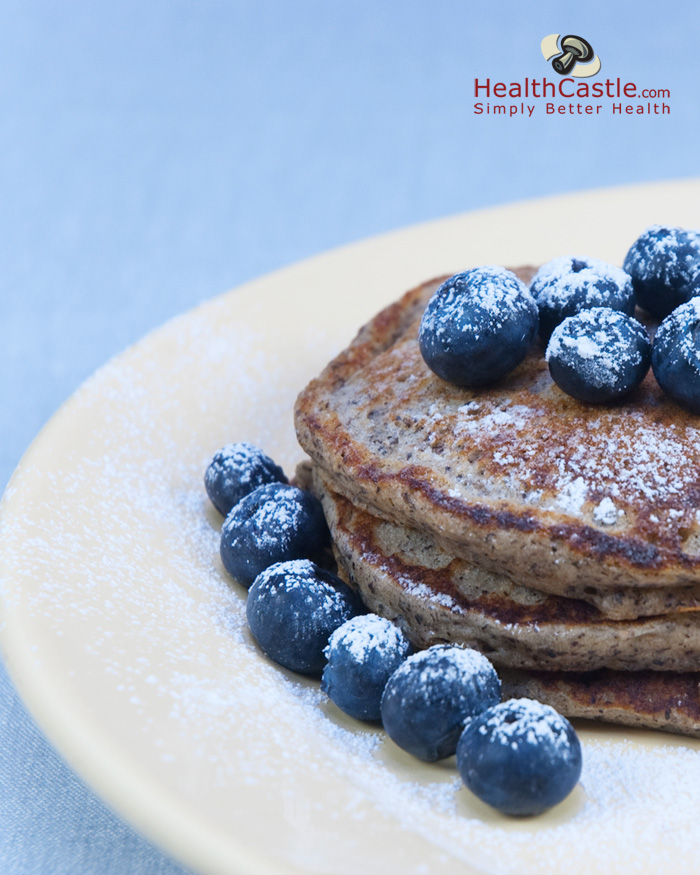 Here's how we did:
Betty Crocker Bisquick
Pancake Mix

(store brand)

Homemade
Healthy Pancakes

(made with buckwheat flour, whole wheat flour, low-fat buttermilk and blueberries)

Serving Size:

2 pancakes
2 pancakes

Calories:

210 kcal
211 kcal

Protein:

8 g
8 g

Fat:

8 g
7 g

Trans Fat:

1.5 g
0 g

Carbohydrate:

26 g
29 g

Fiber:

1 g
4 g

Sodium:

420 mg
283 mg

Iron:

10% DV
10% DV

Calcium:

10% DV
16% DV

Preparation time:

16 minutes
18 minutes

Price per serving:

$0.58
$0.57

How Did the Two Stack Up?
The cost and calorie count were pretty similar between the two versions, but the homemade version had much less sodium, no trans fat, and more fiber than the boxed version. The homemade recipe uses whole wheat and buckwheat flours, which yielded darker-colored pancakes than the ones made with white flour only. If you are unsure how your pancake eaters will react to the darker-shaded pancakes, start off by using half white and half whole wheat flour.
The Bottom Line
Don't bother with another boxed mix! With a bit of planning, you can have a nutritious, hot pancake breakfast made from scratch and ultimately be in control of what ingredients you put into your body.
Our Blueberry Pancakes Recipe:
The original recipe is courtesy of Ellie Krieger.
Ingredients:
3/4 cup buckwheat flour
3/4 cup whole wheat flour
1 1/2 tsp baking powder
1/2 tsp baking soda1/4 tsp salt
1 cup low-fat buttermilk
3/4 cup nonfat milk
1 tbs honey
2 large eggs
2 tbs canola oil
2 cups fresh or thawed frozen unsweetened blueberries
Cooking spray
1/2 cup pure maple syrup
Dusting sugar
Steps:
In a large bowl, whisk together the flours, baking powder, baking soda, and salt. In a medium bowl, beat together the buttermilk, nonfat milk, honey, eggs, and oil. Stir the wet ingredients into the dry ingredients, mixing only enough to combine them. The batter will be somewhat lumpy. Stir in 1 cup of the berries.
Coat a large nonstick griddle or skillet with cooking spray and preheat over medium heat. Use a 1/4-cup measure to ladle the batter onto the griddle or skillet. Flip the pancakes when they are golden brown on the bottom and bubbles are forming on top, about 1 1/2 minutes. Cook the other side until golden brown, about another 1 1/2 minutes. Keep the pancakes warm in a 200F oven as you finish cooking the remaining ones. Serve topped with the remaining blueberries and the maple syrup.

Alumni: University of California, Berkeley – Sofia believes in bringing back fun and pleasure into everyday eating. She loves cooking, and is constantly experimenting with ingredients, creating recipes and trying them out on family and friends. Her latest interest lies in finding realistic and practical ways of environmentally-friendly food/eating habits.