Squash: Health Benefits and Easy Prep for 5 Common Winter Squash Varieties
Generally split into two groups – summer and winter – squash is a group of vegetables that are fleshy on the inside and protected by a hard rind on the outside. The most common varieties are pumpkins, zucchinis, acorn squash, and butternut squash. These colorful fall favorites are loaded with wonderful nutrition: Vitamin C, Vitamin A, and dietary fiber. With many varieties offering distinct flavors, squash is an excellent addition to soups, pastas, and chilis that can help keep you warm on those cold late-autumn days.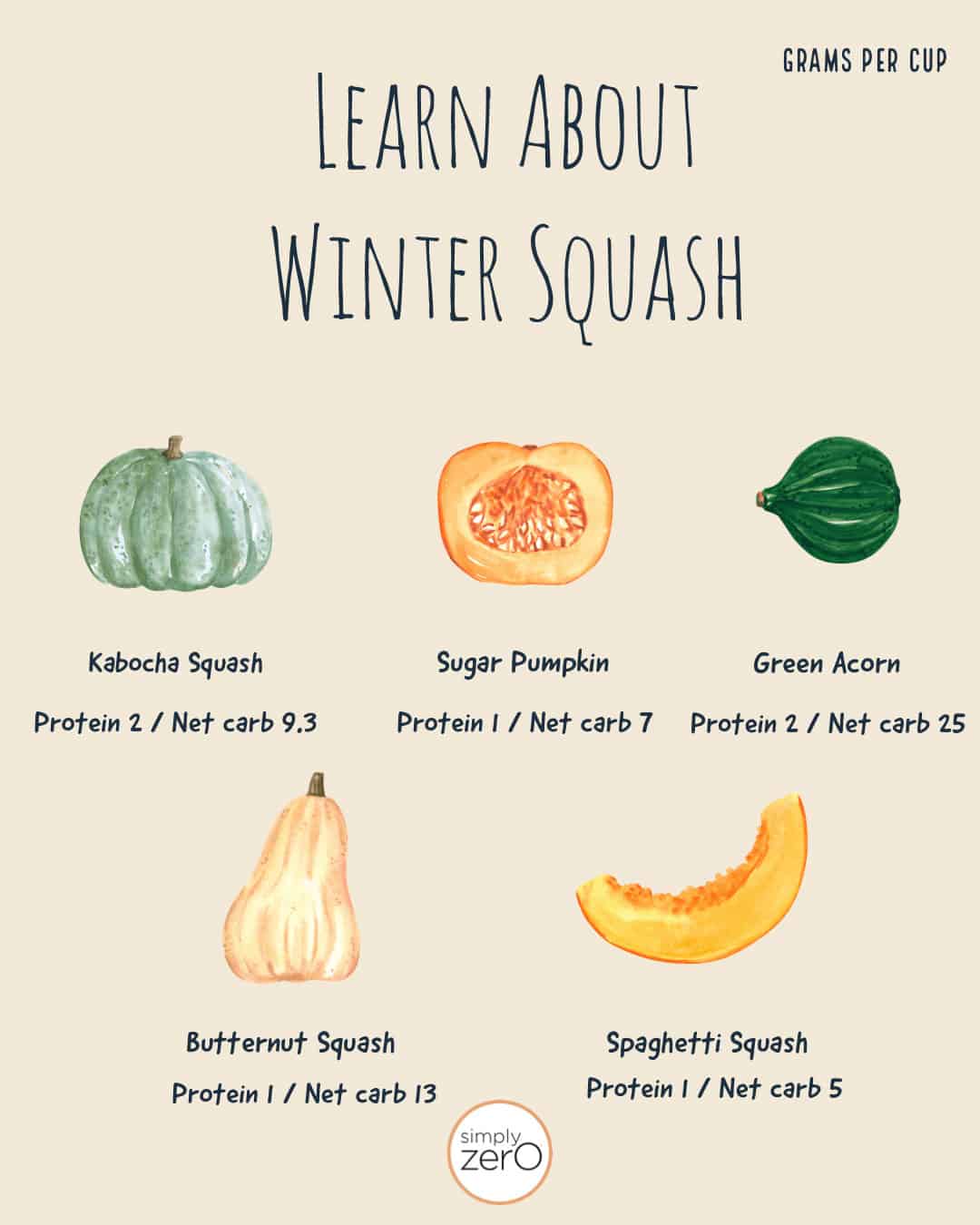 Nutrition Tidbits for Squash
Squash has been a staple part of the North American diet since long before Europeans arrived, and it's easy to see why. Easy to store and prepare, squash provides a simple way to add nutritious vitamins and extra fiber to every meal. Just one cup of baked winter squash provides more than 100% of the daily recommended value of Vitamin A (in the form of beta-carotene), and 25% of the daily recommended value of fiber. The beta-carotene in squash is a powerful antioxidant and has anti-inflammatory properties. That's a lot of nutrition packed into only a food with only around 100 calories.
Easy Prep for 5 Common Winter Squash Varieties
1. Butternut Squash
With a mild, nutty flavor, butternut squash is an easy addition to a variety of dishes. Steam chunks until tender, then puree with a little skim milk, a tablespoon of Greek yogurt, salt, pepper and cinnamon for a creamy side dish that squeezes in more nutrition than traditional potatoes. If you're looking to pump up your (or your kids') mac and cheese, just stir some of the puree into the pasta pot. Alternately, butternut squash is perfect for a warm winter salad. Try our Roasted Butternut Squash Warm Kale Salad recipe.
One cup of cubed butternut squash provides:
Calories: 63
Fat: 0
Protein: 1 g
Carbohydrates: 16 g
Fiber: 3 g
2. Acorn Squash
Good news! There's no need to worry about peeling this one. Simply cut in half crosswise and scoop out the seeds and fibers. For a sweet side, fill the hollow with a mixture of chopped pear and dried cranberries with a little cinnamon, butter, and brown sugar. For savory flavor, rub the cut flesh with olive oil and sprinkle with whatever fresh herbs you have hand (try sage and garlic for a change), then garnish with shaved parmesan just before serving. No matter whether you go sweet or savory, baking your squash in a 350 degree oven for about 45 minutes (or until it's tender) is all you need to do.
One cup of cubed acorn squash provides:
Calories: 115
Fat: 0.3 g
Protein: 2.3 g
Carbohydrates: 29.9 g
Fiber: 4.4 g
3. Kabocha Squash
Kabocha squash is also known as buttercup squash or Japanese squash. Kobocha is by way my favorite winter squash! It's small enough to carry home, cut without worrying breaking my knife, and sweet enough without adding any condiments. In fact, its taste profile is quite similar to sweet potatoes. Just as with acorn squash, you can prepare it simply by halving, seasoning and baking until tender. Shake up your menu and try it in recipes that call for sweet potato – like soups or stews. I also love slicing them to make squash tempura.
One cup of cubed kabocha squash provides:
Calories: 49
Fat: 0.2 g
Protein: 1.8 g
Carbohydrates: 12g
Fiber: 2.7g
4. Spaghetti Squash
Spaghetti squash's unique, stringy flesh is just like the name implies. So, add a family-friendly veggie punch to your meal by tossing a portion of spaghetti pasta with an equal portion of cooked spaghetti squash. Then, mix in some white beans and top with your usual sauce and a sprinkle of parmesan. It's easy to cook spaghetti squash – simply pierce with a fork and bake whole at 375 degrees for an hour. If you're in a big hurry, you can also pierce the flesh generously with a knife and pop into the microwave for 10 minutes; For both cooking methods, simply cool before cutting, then use a fork to scrape away seeds to uncover the spaghetti-like strands. Alternately, cut squash in halves, then remove seeds before putting it into the oven. Then fluff up the flesh once baked.
One cup of spaghetti squash provides:
Calories: 31
Fat: 1 g
Protein: 1 g
Carbohydrates: 7 g
Fiber: 2 g
5. Pumpkin
Don't forget the most popular squash of them all! Skip the big pumpkins – they're only good for jack o' lanterns – and and go with 2-5 pound sugar pumpkins (aka sugar pie pumpkins) meant for cooking. Despite being called "sugar pumpkins", they are not as sweet as other squashes such as kabocha squash. Hence it's more ideal to be used in dessert dishes or other dishes that will have sugar in the recipe. For instance, you can use pumpkin puree – whether you go fresh or canned – makes a great addition to waffle batter or whole wheat muffins. For a vegan option in baking, simply sub ¼ cup pumpkin puree where the recipe calls for eggs. ash.
One cup of cubed pumpkin provides:
Calories: 30
Fat: 0 g
Protein: 1 g
Carbohydrates: 8 g
Fiber: 1 g
Ways to Include More Squash in Your Diet
Add squash to your favorite pasta recipe – or make it the feature by tossing with pasta, olive oil, and parmesan cheese.
Puree roasted squash with onion, vegetable broth, and a little low-fat milk to make a warm, hearty soup.
Top a salad with roasted squash for a warm nutrition kick. Add a cup of roasted squash to your favorite waffle recipe to make savory waffles.
Puree cooked squash and top with a drizzle of maple syrup for a healthy dessert.
Use the noodle-like inside of spaghetti squash instead of pasta.
Dust with chili power and olive oil and roast in the oven for a tasty side dish.
Alumni: University of British Columbia – Gloria Tsang is the author of 6 books and the founder of HealthCastle.com, the largest online nutrition network run by registered dietitians. Her work has appeared in major national publications, and she is a regularly featured nutrition expert for media outlets across the country. The Huffington Post named her one of its Top 20 Nutrition Experts on Twitter. Gloria's articles have appeared on various media such as Reuters, NBC & ABC affiliates, The Chicago Sun-Times, Reader's Digest Canada, iVillage and USA Today.